So, that happened. Republican front-runner and caramelized Weisswurst Donald Trump famously has been all over the map with his position on reproductive rights, but this week he managed to sail straight into "here be dragons" territory. During an interview with Chris Matthews of "Hardball," he suggested that women should face legal sanctions for having abortions. "There has to be some form of punishment," Trump said, clarifying after later questioning that he was referring to the procedure's recipient. We lead off this week's "So That Happened" with a discussion of Trump's "gaffe."
It was maybe the only thing a candidate could say about abortion to get both defenders of reproductive freedom and their antagonists angry, and condemnation from both sides was so swift that it managed to knock Trump a-kilter. But lost in the ensuing controversy and Trump campaign walk-backs was an essential truth: Trump was just "saying bluntly what the actual implications of longstanding Republican policies" on abortion are, co-host Zach Carter argues. Also lost: In many ways, Trump is the moderate candidate in the GOP race when it comes to reproductive rights.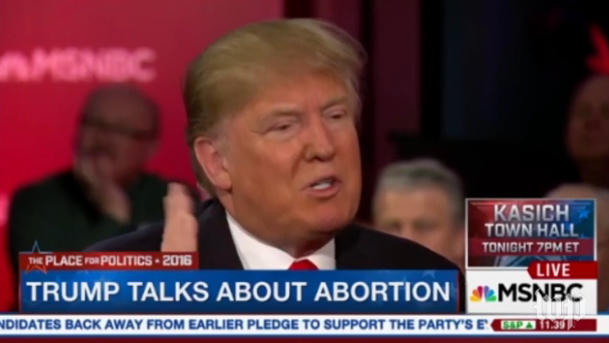 Also on this week's podcast: Documents obtained by Fairfax Media, The Huffington Post's media partner in Australia, have revealed energy contractor Unaoil as an almost comical practitioner of corporate graft, bribing its way across the developing world on behalf of well-known Western corporations. The documents expose many companies to prosecution, but they also uncover the twisted nexus of corporate corruption, failed states and global terrorism. We'll break down the story.
And in some better news for major U.S. corporations, Georgia Gov. Nathan Deal (R) defied his party this week by vetoing a religious freedom bill that would have enshrined legal discrimination against the LGBTQ community. We have Disney and the NFL, among others, to thank for this, proving once again that cash rules everything around us.
Finally, what is it like to fall into the burning ring of fire produced by Trump's legion of social media fans? Our own Christina Wilkie found out for herself, and has some of the vile details to share with us.
"So, That Happened" is hosted by Jason Linkins, Zach Carter and Arthur Delaney. Joining them this week are Huffington Post reporters Nick Baumann, Jen Bendery, and Christina Wilkie.
This podcast was produced, edited and engineered by Christine Conetta.
To listen to this podcast later, download our show on iTunes. While you're there, please subscribe to, rate and review our show. You can check out other HuffPost podcasts here.
Popular in the Community