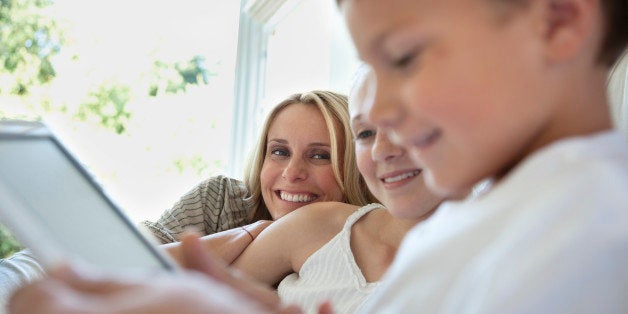 You researched and researched. You read reviews, posts, and blogs. You looked into the iPad 4 versus the iPad mini. You posted on Facebook asking your friends for their opinion. You even called Santa to ask him for advice. Until finally... you did it. You took the plunge and bought your child an iPad. Now what?
You probably didn't have to show your child too much about how the iPad works. They probably turned it on and started opening apps like they have been doing it their entire life. I've seen 2-year-olds touch the Netflix app and find a movie all on their own. The simplicity of the iPad's touchable screen allows instant access to a plethora of games and learning apps.
Perhaps you and your child have already perused the app store and found many of the free apps that claim to be educational and fun at the same time. I did the exact same things when the first iPad came out and we got one from Grandma and Grandpa for the Christmas of 2010. I still remember when my youngest tore the wrapping off the box and opened it up to exclaim, "Oh my gosh! It's a GIANT iPod!" I am sure you were as overwhelmed as I was with the vast amount of apps out there claiming to be the one that will teach your child to... fill in the blank. I found myself searching and searching for the best "free app." Downloading anything and everything that may catch my child's eye. But I learned quickly, that most of the apps I was downloading weren't actually all that great and definitely not worth my child's precious time.
The biggest lesson I have learned from teaching in a 1:1 iPad classroom and allowing my own children to use the family iPad is...
As a parent I am sure you know how to minimize the time. But how do you maximize the experience?
You need to ask yourself, what do you want your child to gain from their experience with the iPad? Do you want your child to primarily be using the iPad to consume content? Examples of using an iPad to consume content would be watching movies and playing games like Angry Birds.
Or do you want your child to spend their time on the iPad creating content?
If you really want to maximize your child's experience, teach your child about the many ways they can use their iPad as a creation tool. You may have to spend some money to get some really great apps, but what your child will gain from their time with their iPad is far more beneficial than becoming a consuming zombie. So let's get our children creating!
Here are some great apps to maximize your child's time with their iPad:
Explain Everything:
This app allows you to screencast using a variety of tools such as text, drawing tools, and the ability to insert images or videos. Screencasting means that as you draw or create on a blank page you can record what you are doing. Explain Everything will record the screen and your voice as you draw or annotate. Then you can upload this video to YouTube or straight to your camera roll. This is a great way for your child to record their drawings as they create. Encourage your child to storytell as they draw. This app is $2.99.
MoMa Art Lab
At this time this app is free! This app was created by New York's Museum of Modern Art and is a great way to get your child exploring digital art. I love the way this app is set up for all types of learners. It has an audio option for pre-readers and a large amount of activities for your child to explore line, shape, and color. There are nine different activities inspired by master artists. Some of my childrens' favorite activities are creating sound compositions and making line designs. I have been known to find myself playing with this app as well!
iStop Animation
This app has two main functions. You can create stop animations (or clay animations) or create a time lapse. Basically the way the app works is you take tons of still images and the app puts the images together at a fast speed and it creates the appearance of an object being animated. My daughter and I used our wooden train set to create a stop animation. Basically our wooden train set had been a neglected toy in our house for several years. However, one day we busted out the box, put together the track and took pictures of the train moving around the track. Each time we took a picture we moved the train forward a tiny bit more until we had the train travel all the way around. Then we had our characters get off the train and somehow our characters ended up falling in love and living happily ever after.
Another great way to use this app is while creating a Lego set. Set up your iPad on the table and turn on the time lapse option. The iPad will take pictures every 10 seconds (or however you set it) until you tell the iPad to stop when you have finished building your Lego set. The app will put the images together to make it look as if it took only a minute to make your Lego creation! This is an expensive app but it is well worth the $9.99.
iMovie
My daughters love the trailer function in the iMovie app. The trailer function walks you through a storyboard to create a movie trailer. This is incredibly easy. The app suggests what type of images or video to capture, it suggests text that should be added (or you can edit the text), and then puts your movie trailer together in a way that looks like it was professionally done. My youngest daughter loves to use her My Little Ponies to create her movie trailers. What could your child use? This app is free if you have recently purchased an iPad or iPhone or it is $4.99 in the AppStore.
Book Creator
The Book Creator app allows your child to create and publish their own book! Your child can add text, images, or draw right within the app to create a book that can be uploaded to their iBook app to read. You can also save the book as an epub or pdf and email it to family members so everyone can enjoy your child's creative outlet. I know as a child, I would have loved this app as I was always writing and creating little books for my friends, teachers, and my mom. There is a free version of this app that allows you to make one book at a time, but for $4.99 in the AppStore you can create as many books as you like and save them within the app.
Minecraft
You may have really been enjoying my suggestions so far and got to this one and said, "Wait a minute! Isn't this a consumer type app?" Well I am here to say that this app is considered a creative app! Here is why. This app allows you to play in two modes: creative mode and survival mode. If you want to avoid the creepers and zombies then have your child use the creative mode or in the survival mode go to options and change the difficulty level all the way to easy. Now here is the next step. Give your child little challenges like, can you build our house with all the rooms in the right location? Can you build your school? Can you build something that you are learning about in school? Last year one of my fourth grade students created his California Mission project in Minecraft. Minecraft Pocket Edition costs $6.99. There is a free version however it does not save your child's work when you close it.
Google Earth
I can't think of a more fascinating app than Google Earth. Personally I can find myself lost in this app for a very long time visiting locations all around the world. With just a swipe of your fingers you can find yourself on the street level of San Francisco or visit a 3D version of the Coliseum. You can learn facts about places you have never visited or visit the Google Earth gallery to find maps such as real time earthquakes around the world. You can even create your own maps or annotations if you login to your Google account. This app is free!
Now that I have shared some of the ways your child can get creative with their iPad beware... if you continue to download hundreds of apps onto your child's iPad or add too many gaming apps, your child will not likely go to the creative apps. Its like offering broccoli in a candy store. For most kids consuming content is so much easier and mindless. Help your child understand that their iPad is a creative tool and guide their time spent on their iPad to enhance their learning experience. If you find your child is spending their time creating, communicating, collaborating, and doing critical thinking activities your child will gain critical 21st Century skills from their iPad experience. So get creating and enjoy playing on the iPad with your child.
I blog regularly on my webpage AppEducation.com. I am not paid to blog about any of the above apps. I only recommended these based on my experiences as a parent and as a teacher in a 1:1 iPad classroom.
Popular in the Community