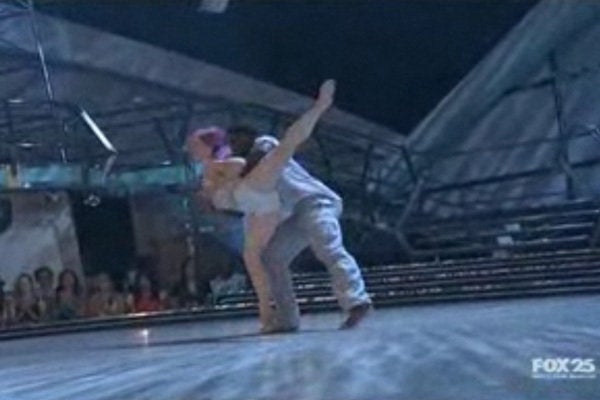 Once in a great while, there are moments worth watching on network television. Usually I miss them, since I'm not much of a TV fan. However, thanks to social networking and connectivity with readers here on the HuffPo, it seems I'm never very far out of the loop. My thanks to Sunshine Sally DeGamble Johnson, a reader of this post, who shared a link to one of those moments worth watching through our connection on Facebook.
The moment came on So You Think You Can Dance last week. Just in case there are any other non-fans reading this, SYTYCD is a dance competition with paired contestants, a panel of judges and the typical elimination format, including viewer votes. Contestants vie for a cash prize of $250,000 and the title, America's Favorite Dancer. The top 10 finalists perform in a national tour, which give them additional exposure to talent scouts. The show has landed 10 Emmy nominations for outstanding choreography, winning three.
Along with the panel of judges and most people in the audience, I was moved to tears watching contestants Melissa Sandvig and Ade Obayomi's beautiful tribute to one woman's journey through breast cancer, brilliantly choreographed by Tyce Diorio.
The judges were uncharacteristically choked up afterward. Nigel Lythgoe, a judge and one of the show's producers, was reminded of the power of dance to portray emotions without words and remarked, "If this isn't a [an Emmy] nomination next year, I'll be hugely surprised."
It must be every choreographer's dream to have dancers bring something ineffable to a performance that has them transcend the steps and become the dance itself. And so it was this time. Tyce Diorio was obviously moved by the dancers' performance.
The message of this dance speaks to the courage of the human spirit. Pay attention to the judges comments after the performance.
@
200,000 women will be diagnosed with breast cancer this year. Four months ago, I became one of them. I'm fortunate to have detected it early, gotten treatment and am still recovering from surgery.
The lessons of breast cancer are still being revealed. So far, I've learned that where we're the most vulnerable, there lies our true strength. How ironic that it takes something like cancer to strip away the "faux courage" of the personality to reach the true courage of the spirit.
It's one thing to forge one's way through life on sheer will power and determination. Much can be accomplished through those means. I should know. I've been very good at it most of my life. Up until now.
Breast cancer has taught me about the strength of surrender. Most people think of surrender as "giving up". Surrender involves giving up, but not in a conventional sense. Just as the willow tree surrenders to the will of the wind and finds strength through flexibility, so the human spirit finds its true strength and courage by allowing what is, to be so without resisting it. To surrender then, is to give up resistance to what already is. This is more aptly put by Tai Chi master Cheng Man-ch'ing as "using the yielding to overcome the unyielding".
Anyone who receives a diagnosis of cancer, no matter what the stage, is immediately faced with the reality of their own mortality. In my last post, I touched upon the tendency for human beings to be in denial about their own death. The subject of facing death was also addressed by Huff Post blogger, Jim Selman, in his post Learning How To Die. Ultimately, the question of our death turns us towards looking at how we choose to live.
A little more than three weeks on the other side of surgery, my journey with breast cancer is now about healing and the lessons of surrender continue. Some days are easier than others. Some days remind me of the toll on my body and that it needs rest. This warrior woman I've always been is learning to dance with the healing process, and embrace its path. I am on a journey of "yielding to that which is unyielding" and growing a little bit stronger each day.
This was all so beautifully portrayed in the video. I do hope you'll share it, especially with anyone you know who has or has had breast cancer. I dare them to keep a dry eye.
Cancer is not the only way we learn to surrender. Lessons come to us in many forms, most often through life's greatest challenges. What have been your challenges and what lessons have you learned from them? I hope you'll take the time to leave a comment here or on my personal blog at Rx For The Soul, http://www.judithrich.com.
An update: Due to a scheduling conflict, I will be rescheduling the tele-seminar series, Living On Purpose, for later this fall and will provide updated information on my website as it becomes available.
Thanks much for stopping by. I love receiving your links and materials you think would make for interesting blog material. Facebook is a good interface for sharing. If you'd like to be a FB friend, please send me a friend request and let me know you're a reader. You can also leave personal messages for me on my website. To receive automatic updates of my posts here, please click on the Become A Fan button.