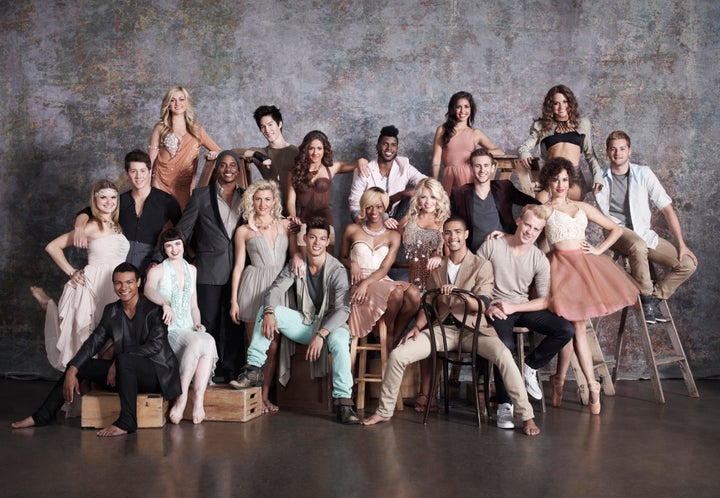 This week's comments, questions and concerns come without any technical dance knowledge and no actual dance skills ... just straight up love for "So You Think You Can Dance."
Well, let's get right to it. This year's new format is changing things up -- we'll have only one episode a week and we'll have two winners, a male and a female.
So, here is how it will all work: The top 20 dancers hit the floor tonight, dancing in randomly selected pairs, with randomly selected genres. At the close of the show, voting is open for two hours, where we have been instructed (by the lovely Cat Deeley), to vote for our favorite individual dancer, not couple. We can vote for whomever and however many times we'd like.
When next week's show arrives, the three male dancers and three female dancers with the lowest amount of votes will be on the judges chopping block and four (two guys and two gals) will be eliminated. So, whoever you like best ... vote, vote, vote away!
Guest Judge: Kenny Ortega
Group Dance
Choreographer: Christopher Scott
"Architect Of The Mind" by Kerry Muzzey
This opening group number is like "Mad Men: The Musical" and ended sort of how I feel at the end of the day.
Witney & Chehon
Choreographer: Louis Van Amstel
"Jump" by The Cube Guys & Lucinana
Witney is a firecracker. Fact. Mary put her on the hot tamale train after this number and all I could think while she danced was, "There is no way she is a teenager." Poor Chehon was a little out of his element in this samba style, seeing as he is a ballet dancer and all; but he's clearly talented so I doubt he'll go anywhere. Sidebar: Everytime Nigel says ballet dancer, I think he says belly dancer. Another (fun) fact.
Tiffany & George
Choreographer: Sonya Tayeh
"Turning Page" by Sleeping At Last
Sonya said the stars were aligning for this dance and indeed they did. This dance was beautiful, I really loved it, but -- and there is always a but -- I sort of feel like these two dancers left no impression on me. Nigel literally disagreed almost word for word with what I'm saying, telling the pair, "America will love this couple," so maybe I'm wrong. But I personally loved the dance, not the dancers.
Janaya & Brandon
Choreographer: NappyTabs
"Take Care" by Drake feat. Rihanna
Kenny said, "It was like your bodies were speaking" and do you know what they were saying? They were saying, "We are awesome." The judges had some technical critiques for these two after this hip hop routine and Nigel offered them some sound advice, saying they're both going to need to "pull [their] socks up and do even more because the standard this year is fantastic." And that is pretty much exactly what they were, standard.
Alexa & Daniel
Choreographer: Sean Cheesman
"Hey Hey" by Dennis Ferrer
Based on the little glimpse of rehearsals, this dance looks hard as hell. But these two extermely blonde people made it look effortless during the performance. The dance didn't actually move me -- cheesy, I know, but it's true -- but I do recognize how incredibly difficult it was. Kenny put my thoughts into words, saying, "Though I was impressed with the exercise, I wasn't as impressed with the performance."
Amber & Nick
Choreographer: Jason Gilkinson
"Nights in the White Satin" by Tina Arena
Usually when watching ballroom, I think, "Awesome, so good, so beautiful, great," which totally happened here. Amber really did a beautiful job of floating across the floor, but, I did notice that her legs sometimes looked weird or out of place or not as graceful as they should have. That's obviously not a technical critique and the dance was still pretty amazing. Quickly need to give a hat tip to Nigel for the "Dance Moms" reference. Very fitting, you clever man.
Amelia & Will
Choreographer: NappyTabs
"The Lovecats" by The Cure
I'll be honest: I didn't think I'd like this routine one bit. I don't like cats (send the hate mail!) and I'm still sort of iffy on Amelia. (keep the mail coming!) But Will is too adorable and NappyTabs are so great, so against my will, they made me love it. The quirkiness of the alley cat character scooched its way over from the negative to the positive. Whether you like it or not, you'll remember it, which is arguably more important.
Janelle & Dareian
Choreographer: Sean Cheesman
"Jungle" by Hilight Tribe
I very rarely watch the male dancer. Call it sexist, call it lazy, call it whatever you want, but normally I'm drawn to watching the female being thrown and tossed on stage. But not this time. Dareian was no joke in this African dance routine. It looked like he had springs attached to his feet. Janelle was also quite good and I did enjoy the entire performance. Mostly, I can't believe how tiny these two are next to Cat.Seriously. They're tiny little cake toppers!
Eliana & Cyrus
Choreographer: Tyce Diorio
"Run and Tell That" from Hairspray
Well done, Tyce, for choreographing a routine that would work for this pair. The Broadway routine was super high energy, fun and definitely had my toes tapping. I didn't like it quite as much as Mary did, as she exclaimed, "People are going to google you up!" I don't know if she meant gobble or actually google, but either way, I guess I agree.
Audrey & Matthew
Choreographer: Travis Wall
"Unchained Melody" by The Righteous Brothers
OK, we're really doing this? Really channeling Jack & Rose? We really are, but we're going to throw a little Sam & Molly in there for the portion of the evening when "Titanic" meets "Ghost." This was good, like really, really, I-will-watch-you-again-tomorrow-on-YouTube-good. Audrey literally dove off the chaise lounge into Matthew's arms, right at the crescendo of the music and chills ran down my arms. I will give it to Travis, the little mad genius that he is -- he really knows what works for this show.
Lindsay & Cole
Choreographer: Jason Gilkinson
"Unstoppable" by E.S Posthumus
This performance was super intense and the judges gave it really great technical praise, calling them brilliant and wonderful and all that jazz -- hah, pun intended. But honestly, the only thing I could think of while this performance charged across my TV screen, was how the music made me want to watch Sunday Night Football?
Comment: Overall, this was a really strong first episode. All received good reviews, some better than others, but all really good.
Concern: The dancers are going to have to spend the week practicing for next week, learning new routines and then get eliminated? That can't be right, can it? Well, if it's right, it's not very nice.
Another Comment: Tabitha is so darn cute with that little pregnant belly she was sporting! I can't wait for their little hip hop baby to be a contestant on Season 27!
REAL LIFE. REAL NEWS. REAL VOICES.
Help us tell more of the stories that matter from voices that too often remain unheard.