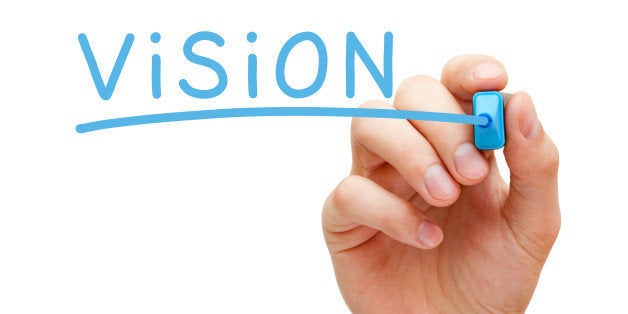 Fantastic! The world has never needed great leaders more than right now. With the presidential contest in full swing, most Americans are bemoaning their options in November. But this election offers an opportunity for us to truly examine what it means to be a great leader. After working with the CEOs of three Global Fortune 500 companies, two four-star generals and Sen. John McCain (R-AZ), I have observed a common attribute great leaders share: vision.
So, what does it mean to have a vision? Webster's Dictionary defines vision as "the power of anticipating that which will or may come to be." So, the first thing I ask my clients to do is to articulate a clear, simple, inclusive vision. It sounds easy, but in fact, communicating a vision can be the single most difficult thing for leaders to do. Why? Because leaders are rarely chosen for their ability to articulate a clear path forward, they are often selected based on their personal ability to get things done. The problem is that being a great leader goes well beyond getting things done. Great leaders motivate and amplify the performance of the people they lead to achieve the results they want.
When I was working as a publicist at the Fox News Channel, I was young and spent my days in a windowless office in its D.C. bureau, far from Roger Ailes, Chairman and CEO and his C-suite executives in New York. But despite my distance from the Channel's senior leaders, I knew exactly who we were destined be--the number one cable news network in America. With one sentence, Ailes communicated his expectations and his faith in all of us--effectively informing how everyone did their job. He defined the destination and empowered us to do our part to achieve the goal. That's how leaders paint the future and motivate the rest of us to realize it.
So, what if a leader doesn't have a vision? He or she gets the job done. It matters, because leaders without a vision will waste companies billions of dollars' worth of loss time, energy and talent. When leaders lack a clear vision, they spend a lot of time managing day-to-day problems rather than keeping the organization focused on the goal. And while possessing a vision does not preclude problems from arising, great leaders know it is easier to solve them when they are challenges on the way to a destination rather than a stop on a road to nowhere.
While a vision is the foundation for becoming a great leader, leaders also know how to motivate people with their words and gestures. Too often, employers overly rely on salaries and bonuses to show their appreciation for employees. And while I would never eschew making more money, money isn't everything. And in fact, employees routinely do not cite compensation among their top reasons for leaving a job. Why? People want to make money, but they need to feel what they do matters. I've seen countless executives who made a king's ransom walk away for jobs that appreciated them more but paid them less. Consider politics: every election countless high-priced lobbyists, attorneys and consultants forego their big salaries to work for a campaign or an elected official. Why? Because money alone is not enough to motivate most people.
Now, you might say, it's easy for someone making a king's ransom to walk away and do something meaningful, but what about the lowest paid employee who's just scraping by. Of course, more money is helpful, but sometimes it's not possible for companies to give raises to everyone who might deserve them. That's why leaders should never underestimate the value of two little words: Thank you. Saying "Thank You" or a well-timed handwritten "Thank You" note can pay real dividends for an employer. Not only will an employee feel appreciated and recognized for their contribution, he or she becomes your company's best PR agent. They will boast to other colleagues--showing them that their leaders care and recognize their efforts. Suddenly, other employees will strive to be worthy of the same recognition. They will tell their friends and family how they received a note from the CEO thanking them for their hard work. Now, you have motivated an employee and created a genuine brand ambassador for your products and services which will result in a greater perceived value of your company. Leaders who take care of their employees, have employees who take care of their customers.
Great leaders know the value of making everyone feel a part of the team. They understand the impact of small consistent gestures. They know that it boosts morale and fosters loyalty that results in an employee that is proud to do more than the minimum requirements of their job.
If more leaders communicate a clear vision and appreciate all of their employees consistently and not just around bonus time, they'd see just how enthusiastically people would support and advance their vision of the future.