I'm on the road, sitting all day every day in a series of large rooms, waiting for a different person to sing at me every ten minutes.
This is an odd enough way to make a living, to be sure. But it's the people on the other end of these rooms who really defy description. Wanting to be a performer, a singer - that's familiar enough to all of us from reality TV and YouTube. But an opera singer? Who does that? And how?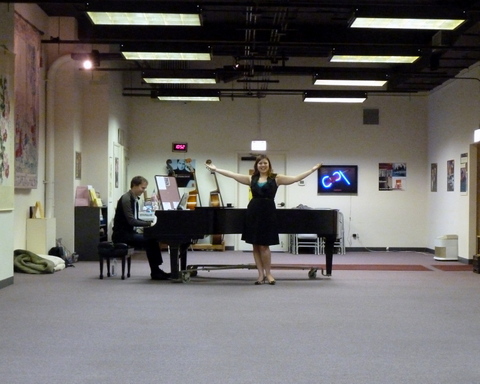 It's the fall 2012 Wolf Trap Opera audition tour, spanning eight states in four weeks. We're in New York City, our third stop, with San Francisco and Seattle behind us. We're auditioning 500 singers, looking for a couple dozen for next year's company. And meanwhile, we're trying to find out what makes these aspiring professional musicians tick.
I decided to be overt about the data collection, and we've been placing an anonymous survey form in our waiting area. In it, we ask these fascinating opera creatures to tell us why they are chasing this particular dream, how they have handled bumps in the road, and how they approach this audition racket.
These are some of the things they told us.
Why did you decide to be an opera singer of all things?
Clearly, this is not something that people seem to decide on the basis of a detailed factual analysis. "There was no other option, spiritually or artistically." "It was the only thing I could see myself doing." "I fell in love." You get the gist.
It seems to be a big leap to take on the basis of a gut feeling. But because it's so hard to achieve (supply and demand are not in these singers' favor...), the only thing that gets most of them through this gaunlet is sheer force of will and single-minded focus. We often ask singers if there's anything else in the world they could imagine doing for a living; for if so, they should quit this and do it.

Tell us about a crossroads in your journey so far. What keeps you going when times get tough?
I'll admit that some of these stories almost felt fictionalized. But then again, there's no reason to disbelieve these folks, and life happens.
"During my last year of undergraduate study, I got pregnant and had to take a year off. I had an early birth, lost the baby, had surgery and lost my voice from the breathing tube. But I worked my butt off to get back to normal and now sing ten times better than before. Thinking of my baby, and wanting to become a better person and a better singer kept me going."
"The biggest challenge I had to deal with so far was getting sick last year. I got pneumonia; it held on for seven months and collapsed part of my lungs."
"What keeps me going is my support system - my football-loving dad who comes to all my performances and cries every time I sing - my teachers, coaches and friends who remind me why I do this."
"Just after finishing my undergraduate education, I donated my kidney to save a life. As one might expect, a surgery of that magnitude takes quite some time to heal from."

What will a successful opera career look like for you?
The goals to which these talented and idealistic young people aspire are beautifully spread out at opposite ends of the spectrum - sometimes with a single individual inhabiting both poles.
At one end: "Making enough money to sustain my family." "Always working, big or small." "Being able to pay the bills."
At the other: "Bringing joy to others." "Having a regular place to immerse myself in music." "Touching as many souls as I can."
These singers are the boy and girl next door, and they are the future of our art form. Like many young people, they want to make the world a better place. But they choose to do it in half a dozen foreign languages, through stories that span centuries of civilization, with just their bodies instead of microphones, on a different stage in a different city every few weeks. God bless 'em.
Support HuffPost
The Stakes Have Never Been Higher
Related
Popular in the Community