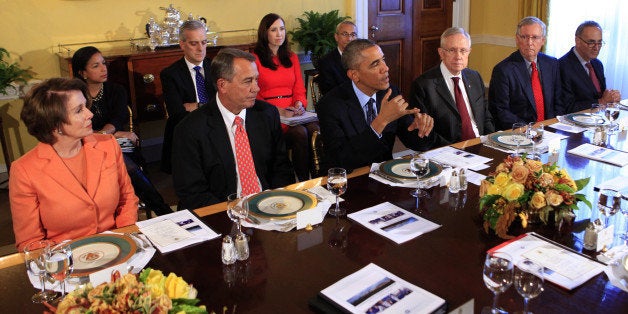 Income inequality is all the rage. The issue likely to frame the 2016 election has Democrats and Republicans jockeying to prove to anyone who will listen that they care the most about the middle class and working families. But don't let their rhetoric fool you. Until candidates start proposing how they plan on increasing Americans' skills, nothing they say matters.
The most surprising addition of elected officials advocating for the middle-class are, of course, Republicans. Set aside that a majority of Americans believe they are more interested in helping the rich. It is a good sign for our country that both parties at least appear concerned about reducing inequality and helping the middle class.
The problem, however, is that Republicans have spent the entire Obama years opposing policies aimed at helping the middle class. And even with Republican majorities in the Senate and House, it's difficult to understand how an agenda that includes repealing Obamacare and demanding a pipeline be built that will create fewer than 50 permanent jobs exactly helps middle class families.
Democrats, on the other hand, haven't fared that much better. Yes, President Obama's budget proposes tax cuts that will put more money in the pockets of middle class families, and pundits have been applauding his attempt to revive education as a driver for economic growth. But reforming community college, taxing the wealthy and expanding the earned tax income credit does not deal with the root cause of widening inequality. Nor have other proposals from Democratic lawmakers that fail to recognize that the global currency of 21st century economies is skills -- not paycheck bonus tax credits.
Instead of short-term solutions, Democrats and Republicans ought to reevaluate how we are preparing everyone to succeed in a changing economy by proposing policies and partnerships that promote skills. They should be spending time making sure classrooms feel relevant to students; facilitating cross-sector partnerships that integrate career readiness and project-based learning opportunities in schools; helping parents and caregivers support their children's well-being; investing and improving the teaching profession; and providing community leaders access to state-of-the art facilities and training programs.
With the proliferation of startups and initial public offerings, and the ease of developing products, Americans already understand that what you know matters less than what you can do. But the shift from a knowledge to skills-based economy happened along an American education system that has gone through less change than iPhone iterations -- an education system that for far too long has been fixated on pushing students and schools towards "proficiency" instead of providing them useful life and work skills.
As a result, according to the Economic Policy Institute, 5.7 million workers were not participating in the labor market in January, in part because of a skills-mismatch. While a report issued by Pew in 2014 found that only 46 percent of employed Millennials believe their education was very useful in preparing them for a job or career.
To be clear, the best way to help Americans climb ladders into the middle class is not by increasing funding in programs or by shifting responsibilities to families. Handouts don't improve skills. Nor does school choice, which is meaningless if families have no high quality choices. Moreover, while the January jobs report demonstrated that increased wages are lagging behind what is an otherwise impressive recovering job market, continuing to talk about putting more money in Americans' pockets will not fundamentally help those still struggling and searching for a job.
If Democrats and Republicans are serious about addressing inequality and helping the middle class, they must move beyond empty political rhetoric and articulate how they will help everyone gain skills that have currency in today's labor market. It doesn't matter if these solutions veer towards market innovation or government intervention. What matters, if we consider the Chinese proverb, is that middle class policies begin teaching a man to fish instead of giving a man a fish.
So the next time you read that 2016 candidates like Jeb Bush is talking about opportunity gaps or that Hillary Clinton is preparing a robust economic agenda, ask yourself, where are the skills? The party that focuses on strengthening Americans' skills will not only position itself to win in 2016, but would actually be worthy of carrying the banner of the middle class.
Calling all HuffPost superfans!
Sign up for membership to become a founding member and help shape HuffPost's next chapter