He stands less than three feet tall and yet still I think about his future incessantly. Will he be a baseball player or an engineer? Will he be a picky eater or an adventure seeker? I don't know the answers to these questions but the one thing I can guarantee is that no matter what my little guy grows to love, I will always love him. I am after all his Mama. I'm the #1 women in his life, at least for now.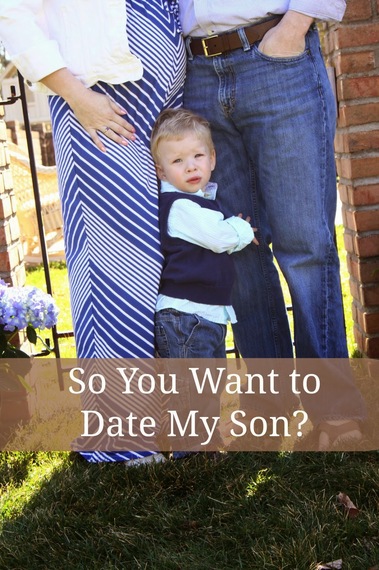 Before long another someone special will claim a piece of my son's heart, and while my place as mom will remain, my priority in his life will forever change. I know that one day I will simply be there to love and support him while he loves and supports his new someone special, but before that happens I have a big job on my hands. I have to teach him to be a man worth dating, a man worth knowing and loving, a man like his daddy and his grandfathers.
First and foremost, I need to teach my son to be a man of God. A man who prays in the privacy of his home on his knees in the dark and still has the courage to pray openly for those who might desperately need to hear the Word of God.
I want to teach my son the virtues of integrity, honesty, humbleness, and courage. I want him to know what it's like to suffer great loss and the effervescent feeling of victory. I hope that I teach him that hard work is one of the most valuable assets he has to offer the world but the gift of loving, supporting and providing for others is his duty as a man, a lover, a father and fellow human being. I don't expect for his life to be easy but as long as I'm living he will have my unwavering support. That support doesn't always mean I'm going to be his best friend or agree with his decisions. It means that I will do my best to unconditionally love him through all his ups and downs.
Before my son finds someone else to take priority in his heart I want him to explore the world and see the faces of different cultures and the landscapes of multiple continents. I want him to ask questions. I want his wisdom to grow just as vast, and as quickly, as his curiosity for life. I want him to see a Broadway play, a college football game and eat an exquisite meal. I want him to swim in multiple oceans, I want him to indulge on art and music and compete in a sport that will forever challenge him. I want him to seek out and find friends that are worth having for a lifetime. I want him to think about his legacy and the mark he will leave on the world and understand the heritage on which he stands and the roots that have given him life. I want him to know that his word is worth his weight in gold and that anything that he commits to is deserving of his endurance and unwavering efforts.
I plan on teaching my son that his family is his backbone. That love isn't easy. That affection is a necessity and that death is a reality.
When he meets that special someone I hope that my husband and I have provided him with a strong, positive example of marriage and life-long love. I pray that he loves and respects, adores and praises, hugs and kisses and remains faithful in all ways to his new #1.
If you want to date my son I hope you hold him to high standards. I hope you cherish every inch of him as much as I do. I hope you realize that he is my greatest achievement and life-long love project. I have poured my heart and soul into his character. I couldn't love anyone or anything more and if he chooses to love you, you my dear, will be immensely loved by me. So until the day comes when you take my place I will work diligently to provide you with the most amazing man I can possibly raise, my own flesh and blood, my boy, my son.
Related