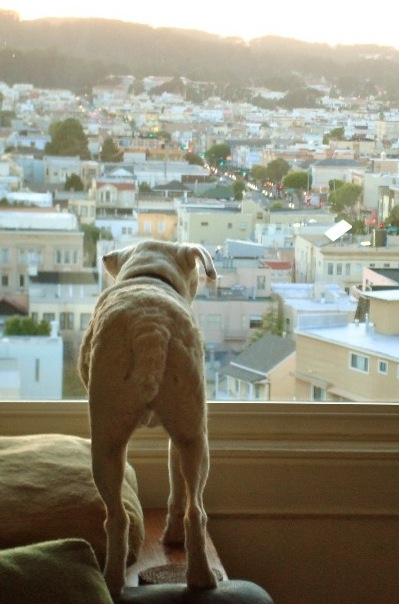 Ever since college, I always dreamed of writing a novel (not The Great American Novel -- just a 'Good Enough' one), but never had the material that seemed worthy of such an undertaking.
And then my dog died. His name was Petey, and he was a blind, 14-and-a-half year-old Jack Russell terrier whose last year of declining health forced my wife and I to put him to sleep. It was one of the most strangely profound experiences that I've ever had to go through. I'm not sure if that's because I've been lucky to lead a relatively tragic-free life so far, or I just really, really missed my dog.
Over the years, there have been powerful books on death and grief -- Joan Didion's The Year of Magical Thinking comes to mind -- but not many covering the delicate issue of pet bereavement. Prior to Petey's death, I had wrongly assumed that those who suffered the pangs of pet loss were just overly sensitive animal lovers or crazy, emotionally-immature cat and dog freaks. But after months of mourning the loss of our furry child, I was still having a hard time letting go because the little beast had been such an important part of the family. I even developed a temporary ear-ringing condition for weeks after he passed away, presumably from trying so hard to bury my feelings. Good grief! Grown men don't mourn this long over a stupid pet, right?
So, to get a grip, I set out to write a novel in honor of my fallen hound.
As most pooch lovers know, the dog book has a long pedigree in publishing with some of American literature's most celebrated authors tackling the dogoir genre, including John Steinbeck (Travels With Charley), Stephen King (Cujo) and Jack London (White Fang). And dog tomes have taken a bite out of many bookshelves with their enduring legacy of old school tearjerkers (Old Yeller, My Dog Skip) and new school heartbreakers (Marley & Me, A Dog's Purpose, and The Art of Racing in the Rain).
However, unlike the unique mutts featured in those popular tales, my boy, Petey, was just, well, Petey. He wasn't as charmingly cranky as Grumpy Cat, nor as photogenic as Boo: The World's Cutest Dog, or as heroic as the military-trained dogs in Trident K9 Warriors. He was just a normal dog without the typical heart-wrenching backstory -- so it was my job to make one up!

Employing the benefits of fiction, I took some artistic license by transforming Petey into the beloved pet muse of a world famous dog painter (a.k.a. "The Picasso of Pooch Portraits"). In my story, the dog dies unexpectedly, and then comes back to haunt the grief-stricken artist as a brash, wisecracking ghost dog after the painter adopts a new puppy. The plot is similar to the 90's movie, Ghost, except if Patrick Swayze came back to woo Demi Moore as a sarcastic Jack Russell. (Yes, it's a talking dog book -- what, you were expecting Jane Austen?)
When I told friends and family that I was working on a novel inspired by my deceased dog, I drew quite a few raised eyebrows before they awkwardly changed the conversation. But that didn't discourage me because my old Petey was back! And now I had an excuse to relive the glory days, reminiscing about our adventures together at the dog park, beach, and Yappy Hour parties, while I scribbled out a 'ruff' draft. (Sorry, couldn't resist.)
After completing several rewrites, I emailed a dozen literary agents to pitch my pet project, but was met with an in box full of rejections -- with one agent saying the animal book trend was so 2009. Not willing to give up on my dead dog opus, I chose to self-publish, which has recently become fashionable given the meteoric rise in popularity of Kindle ebooks. For Pete's sake, I also offered to donate 50 percent of my royalties to Muttville, a local senior dog rescue, during the book's summer launch.
After a few more months of edits and converting the manuscript file into ebook format, I uploaded my little dog book tribute to Amazon in hopes that it would make some noise.
And then the reviews came.
There's an old adage that compares publishing a book to giving birth, but I've found that it's more like having puppies. Some folks will find your words sweet and adorable while others, quite frankly, won't -- and don't mind telling you right to your face. Okay, not to your face, but sometimes worse by leaving nasty anonymous reviews. A few even got personal by picking on my phantom Pete with their comments:
"... the dog character was a jerk."
"Silly dumb ghost dog... "
Hey, c'mon, criticize the writing all you want -- but don't beat a dead dog!
Fortunately, the harsh responses faded away once I began receiving kind, heartfelt emails from readers all over the world -- mostly former dog and cat lovers who had reached out to share their own painful pet loss experiences. They told me how the book brought back memories of their precious, unforgettable pups: there was Jake, the corn-on-the-cob-eating Beagle; Powder the angelic snow white Samoyed; and Pebbles the swimming pool-loving, leukemia-surviving cat. Although each pet owner had his or her own poignant story to tell, the overall message was clear: You are not alone. There are lots of us who have been devastated by the loss of a hairy loved one.
Sadly though, in the end, all the encouraging messages, 5-star reviews, and appearances in the Amazon Bestseller rankings weren't going to bring my Petey back. Even though I had reached a personal milestone in finally publishing a novel, it was just a book, after all. As much as I had secretly engaged a bit of magical thinking by hoping this book might conjure up another return visit from my old dog, that chapter in my life was now over.
However, looking on the bright side, this creative experiment has proven effective in other ways. I no longer break down when a 'Petey song' plays on the iPod, or get teary-eyed when one of those super sad Sarah MacLachlan ASPCA commercials comes on TV. Plus it was way cheaper than therapy. Still, I probably didn't need to bother writing an entire novel to get over my dearly departed dog. Whether it was the power of self-help or self-publishing, I sincerely, truly, madly, deeply hope that this story would've made ol' Petey proud.
Actually, on second thought, Petey wouldn't have cared less. He didn't read books. He'd rather go see the movie.
Russ Ryan looks forward to getting a new dog in 2014. His novel, It's Just A Dog, is available in Kindle and paperback at Amazon.com.
Related
Popular in the Community