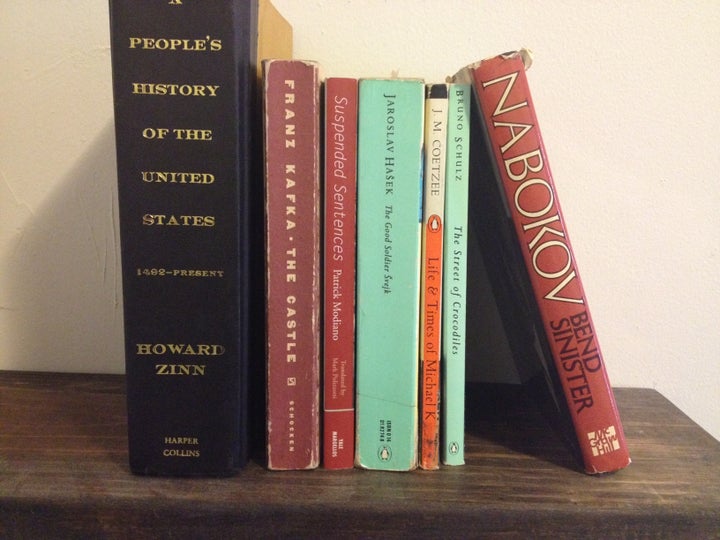 Let's indulge in a hypothetical or two.
Let's say your country experienced an unexpected upset at the polls. Maybe a hard-right regime is settling into your government's offices and starting to flex its muscles. Maybe you want to turn to literature for a little humanistic reassurance but Amazon is fully sold out of 1984.
In the kind of crazy, unimaginable world where all those things could occur, one might perhaps find solace in a few of the works listed here.
The only caveat is, well, a lot of them do not have "happy" endings, either in the stories themselves, or in the stories of their authors. That said, it's still nice to know that someone has been there before ― and made some lasting art from it to boot.
Bend Sinister by Vladimir Nabokov
Arguably, much of Nabokov's work has an anti-authoritarian undercurrent – he fled Russia after the Bolshevik revolution, then fled Europe altogether in the years before World War II – and certainly some works reflect this more than others. But this story of a philosopher's relationship with his country's new leader – whom the philosopher bullied as a kid – is perhaps the Lolita author's finest blend of literary artistry and strident anti-authoritarianism.
The Street of Crocodiles by Bruno Schulz
Bruno Schulz, a Polish Jew, was murdered at the age of 50, shot by a German Nazi in 1942 while walking home with a loaf of bread. It would be tempting to say the last act of his personal history lends his slender body of work a nightmarish tone, but that tone is already present in his stories even without any knowledge of Schulz's death. This collection, by turns lucid and feverishly visionary, is a good place to start.
The Castle by Franz Kafka
Because sometimes, bureaucracy is just another word for loneliness.
The Good Soldier Švejk by Jaroslav Hašek
Hašek's life paralleled Kafka's in some ways – both were born in Prague in 1883; both suffered premature deaths, Hašek at 39, Kafka at 40. But Hašek trades Kafka's absurdist realism for madcap hijinks, and the cheerfully slow-witted Švejk's meandering journey across Austria-Hungary includes a colorful cast of characters, an abundance of comic twists, and scene after scene of how-did-we-get-here situations. Joseph Heller also acknowledged Švejk as a major influence for Catch-22; fortunately for us, Švejk is better.
In this surreal, dreamlike novel, an exiled Turkish poet returns to his homeland as a journalist, investigating an epidemic of suicides among teenage girls in an isolated town. After heavy snows, the town is cut off from the rest of the country, and quickly becomes a microcosm through which Turkey's history during a rocky 20th century is retold, complete with artists, politicians, and an enigmatic revolutionary.
Where I Was From by Joan Didion
If the goal of the state is a consolidation of power, and power is consolidated through the construction of a system of mythologies, who tells the myths that the state expects us to hear? According to Joan Didion, we do, and her examination of California's self-perception – one of exceptionalism and a certain kind of hubristic libertarianism – is an eye-opening take on a region's folk mythos.
A People's History of the United States by Howard Zinn
Here's another hypothetical: Let's imagine the country now under authoritarian rule is the United States. Would you find evidence that this has always been the case comforting or frightening? How about both?
The Master and Margarita by Mikhail Bulgakov
For my ruble, this is the finest work that Soviet literature ever produced. Sure, Lydia Chukovskaya may have been more open-handed with her pathos, and Ilf and Petrov may have nailed the satire just as well, but Bulgakov's magnum opus stands head and shoulders above the rest for its blend of inventiveness, melancholy, comedy, and academic rigor. Plus, few other works of Soviet literature (or any other, for that matter) involve a demonic talking cat.
I'm Not Stiller by Max Frisch
While traveling under an American passport, a man is arrested, accused of being the missing Swiss sculptor Stiller. Though the man denies this, Stiller's acquaintances – including his wife – visit and identify him as Stiller. Themes of punishment, identity, and history abound; a grey tabby plays a minor role.
Suspended Sentences by Patrick Modiano
The 2014 Nobel Prize winner's collection of three novellas includes an in-depth rumination on crimes committed by the Rue Lauriston gang (the French Gestapo) during the occupation of Paris in World War II. Modiano's own father was involved in the gang's black market activities, and the author's exploration of this has spurred much of his work.
The Life and Times of Michael K. by J. M. Coetzee
In this deceptively simple story of a gardener's journey from Cape Town to the rural home of his mother, Michael encounters government officials, police, rebels, farmers, doctors, and nomads in a dizzying picaresque of South African society during Apartheid.
Is your favorite tale of life beneath the boot of the state missing from this list? Join the discussion and share your thoughts in the comments below.
REAL LIFE. REAL NEWS. REAL VOICES.
Help us tell more of the stories that matter from voices that too often remain unheard.
BEFORE YOU GO