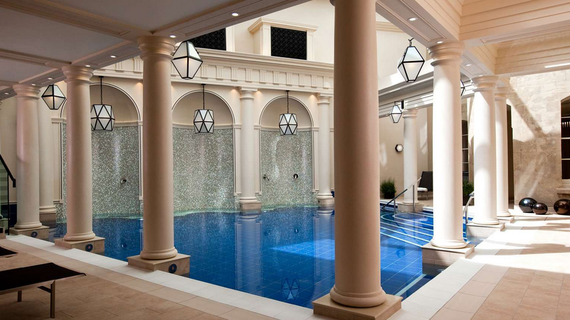 BATH, England -- This British city has always had it all: history, culture, cuisine, dazzling architecture, luxury shopping, nearby Cotswolds villages to explore, and easy access by train or road from London. And, of course, the reputedly healing waters bubbling up from deep within the Earth.
The one thing it didn't have, until now: a choice of full-service five-star hotels.
Although visitors have long enjoyed the 45-room Royal Crescent Hotel and Spa, for over 30 years it was the only option.
Late last year, the Gainsborough Bath Spa hotel debuted, and, as a recent visit revealed, it's now the place to stay in this World Heritage city.
Fashioned from several buildings -- a hospital, hotel and large private villa -- all dating from the 1800s, most of the 99 high-ceilinged rooms are exactly the same size (about 320 square feet), a feat achieved by completely gutting the interior walls of the buildings while keeping the historic facades intact.
The location couldn't be better: in the very center of the city. There's an adequate fitness room with Technogym equipment, a complimentary minibar (mineral water and soft drinks), whisper-silent air conditioning, excellent bedside and bathroom lighting, and plenty of electrical outlets (both U.S. 120-volt and U.K. 240-volt).
But the most unique feature is the hotel's expansive spa, fed directly by Bath's famous thermal mineral springs. Guests have free, unlimited access to the very thing that put Bath on the map in the first place (stay anywhere else and you'll have to pay extra to soak away whatever ails you).
Like many hotels these days, the Gainsborough encourages direct bookings rather than through third-party sites. The incentives here are a bottle of Champagne and a 60-minute massage per room, per stay (book this well before arrival). Rates were recently as low as $262 per night for a midweek January 2017 visit, which is quite a bargain for a hotel of this sort. With the free massage and bubbly it's an even better deal.
thegainsboroughbathspa.co.uk
Beau Street, Bath BA1 1QY, England
Email: enquiries@thegainsboroughbathspa.co.uk