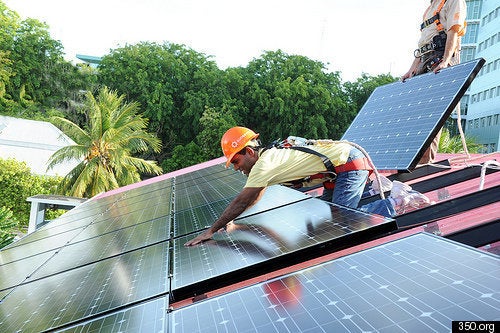 LOS ANGELES -- Shades of '99-'00, it feels like the Tech Boom Act II. Otherwise known as the Solar Power International show, held Oct. 12-14 at the L.A. Convention Center.
A feeling of seemingly limitless optimism filled the hallways and auditorium, as 1000s of senior executives from top renewable energy and solar companies participated in SPI. For those who think the solar business is a fringe industry, think again. Many of the world's top venture capitalists have plowed hundreds of millions if not billions into solar power, much less the governments of China and Germany to name a few. If any naysayers don't believe in the power of green jobs and the positive impact the solar industry can have on the U.S. economy, I sincerely wish they could have been in attendance to see and feel the continued momentum of the solar industry.
The lack of a federal energy policy has hurt the U.S. solar business to be sure, but federal, state and local subsidies have been what's needed to overcome this problem in the interim. Did you know that about 80 percent of the world's solar panel production goes to supply Europe, as the Continent is way ahead of us in creating consumer acceptance for home solar and subsidies to match. Germany has the world's best incentives, which has fueled the growth of the European solar market. This was reflected in attendance at the SPI show, as a hefty percentage of the exhibitors were European.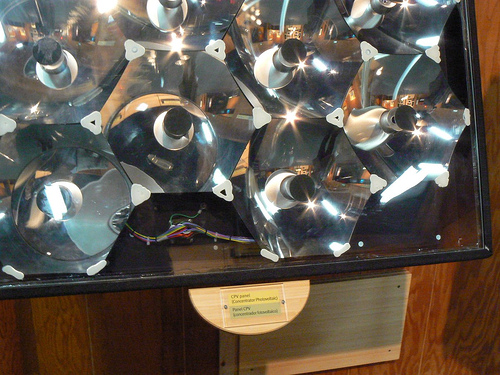 After exploring booth after booth of traditional, clunky solar panels, one thing caught my eye -- the prominence of CPV development. CPV stands for Concentrated Photovoltaics, and it represents a new technology that generates significantly more power and efficiency per square inch of solar panel. The benefits of this are obvious: fewer and smaller panels can make and store even more power than their conventional photovoltaic panel counterparts. According to SolFocus VP of Sales and Marketing Nancy Hartsoch, CPV is a nascent technology that will work best in desert-like conditions, as in very hot, sunny, dry climates like Nevada, Arizona, or inland Southern California. Product has been deployed commercially as we speak. I was particularly impressed with examples being developed by SolFocus of Mountain View, CA. SolFocus has raised over $200 million, and is being hotly pursued by Aminox, another CPV startup with backing from Kleiner Perkins. Another promising CPV cell developer is EPIR of Naperville, IL, outside of Chicago. (I should mention in the spirit of journalistic integrity that I have done some consulting for EPIR.) By 2011 we will hopefully see 150 MW of CPV deployed and by 2012, up to 515 MW. If these figures are correct, CPV could be a huge step forward in finding a tipping point for both the consumer and utility markets. Continued improvements in technology and price cuts are essential for solar to go en masse.
Speaking of which, one of the most interesting characters I met at SPI was Lyndon Rive, the South African-born CEO of consumer and commercial solar provider SolarCity. Foster City, CA-based Solar City is essentially a full-service provider of home and commercial solar panels and installation, providing the key additional services of leasing packages and assistance filing all the necessary forms to obtain federal, state and local incentives and rebates. SolarCity uses panels made by leading solar companies such as Yingli Green Energy, First Solar, Kyocera and Sharp, among others. Currently operating only in California, Oregon, Colorado, Arizona and Texas, Solar City has aggressive expansion plans and employment is scheduled to grow from around 1,000 to over 2,000 by the end of 2011. Like many green businesses, profitablility is not happening quite yet because of the sizable investment required for a startup of this magnitude. However, Rive says that SolarCity is cash flow positive, they just have to recognize revenue according to GAAP accounting procedures so this occurs over a 20 year period on each lease. As the company expands into other states, profitability should dramatically increase.
I hope you can feel the excitement that continues to build around home (and commercial) solar electricity that permeated the L.A. Convention Center's Solar Power International. Next time, I'll tell you more about this compelling conference and the companies that participated. Amidst the uncertainty of our economy and rampant unemployment, this is a bright spot -- one that you should be thinking about when you cast your votes for various candidates and state propositions on November 2nd.
Calling all HuffPost superfans!
Sign up for membership to become a founding member and help shape HuffPost's next chapter