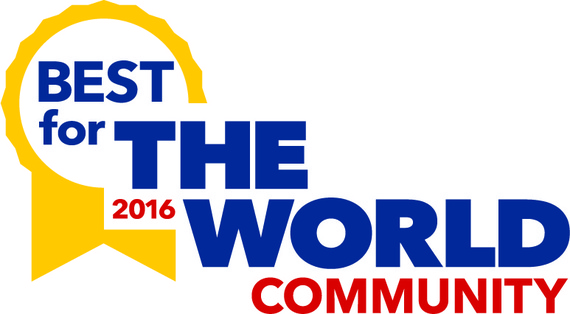 Recently SoapBox was recognized by B the Change Media's "Best for the World" as a business that is leading in the community category. This award is far more rewarding than the title we get to hold; it is truly a huge milestone, as a B-Corp, that we have accomplished with our motivation stemming from our consumers and those we serve with our donations.
What does it mean to be B-Corp? To be certified as a B-Corporation you must meet the standards held by the nonprofit B Lab on social and environmental performance, accountability and transparency. It is a six step process that leaves no dust under the rug. SoapBox became a certified B-Corp two years ago and the entire team was involved in the effort to obtain this certification that we've wanted for so long. Being a B-Corp allows us to hold ourselves to a high standard and adds a nod of approval from an outside agency that certifies that we're doing what we say we're doing. It's easy to say one thing and do another, but at SoapBox we want our consumers to feel confident in the work we're doing, because we're doing it together.
So what exactly is Best for the World? It's an annual award honoring companies whose business models are best for workers, best for communities and best for the environment. Honorees are businesses that B Lab has determined have scored in the top 10 percent of all Certified B Corps on the assessment. Of the 1,800+ business that are certified B-Corp, only 515 made this cut and we're honored to be amongst them!
So what does this award mean to us? Well, it's beyond being the best; it's about doing our best. Being recognized is a humbling honor. Our whole team's hard work has made this possible and it shows our consumers what type of company we are. We hope that this recognition inspires other companies to make an impact in their local and global communities. It isn't as hard, as some business leader might think, to make a lasting impact in the communities they serve.
Ever since we started in my college kitchen six years ago we always wanted to be amongst the companies that share this award with us. It's an honor to take a moment to celebrate how far we've come, but this award also serves a reminder of how far we have to go. We can't wait to see how we can challenge ourselves to be even better for the world.
For more info on the Best For The Word awards follow the link! here
Calling all HuffPost superfans!
Sign up for membership to become a founding member and help shape HuffPost's next chapter