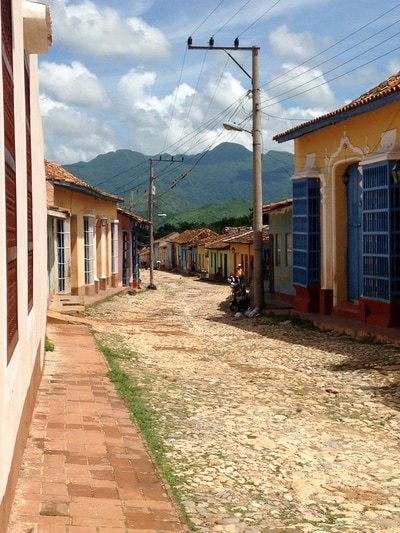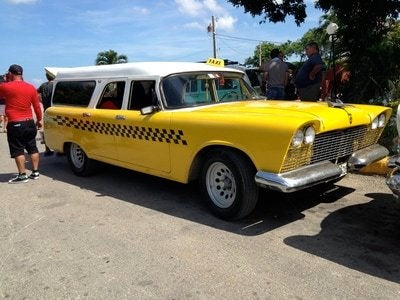 In the land of mojitos and Cuba Libres, it is possible to stay sober. My visit to Cuba, where the rum is cheaper than bottled water, proved to me that even under trying situations alcohol-free travel can be done. Travel is not always carefree for me and despite generalized anxiety, I have not let fear tamp down my curiosity for other cultures, and, my untethered soul simply won't allow my physical body to remain stationary for too long. ​Although I collected many tales as a wild drunken solo female over the years, my globetrotting adventures continued throughout my recovery from alcohol and drugs. Recently I shared some of my suggestions as to how to keep off the sauce while on the road.
Bitten by the travel bug as a child, I took my first solo trip the summer after 6th grade. (The three-week adventure was through an amazing Girl Scouting opportunity.) In 2000, I quit my bartending job and bought a one way plane ticket to Europe and a Eurorail ticket. Since 2006 I have slowly made my way through Central America during the summer months. My time spent in a country has varied: the longest was seven and a half weeks in Guatemala, and the shortest, one week in Belize.
The largest island in the Caribbean has been on my radar for a few years. Although I am accustomed to traveling solo, I loved having a travel pal in Cuba to share the joys and frustrations, as well as to split costs. While visiting Belize in April of 2016 I met Tonya, a Chicagoan and a kindred traveling spirit. There is a certain and almost indescribable kinship between solo travelers, a shared desire for the hands-on experience of culture and a yearning for learning more than what our immediate surroundings have doled out to us. Tonya had been making her way through Central America and planned to embark on an adventure to Cuba in the summer. Since I already made my way through Central America, I decided to rendezvous with her. Having met Tonya on a previous trip, she knew I was sober, which was a safety net for me. Without a travel itinerary, Tonya and I rejoined in Havana in the brutally humid days of August. (Although Tonya is not sober, neither is she of the Girls Gone Wild spring-breaker variety of traveler.)
Coming from a New York summer, the humid 100 degree weather shouldn't have bothered me a bit. Yet Havana assaulted my senses in a way that I was completely unprepared for: my introduction to Cuba happened via a '56 Chevy taxicab ride from the airport to La Habana (as the locals would say) in such oppressive heat and humidity that I could barely breathe. The cab's busted seat cushions, with wires poking my legs and butt and the windows opened only one inch, made it a memorable jump-start to my adventure. Brightly colored 1950s and 1960s American muscle cars dazzled my eyes, contrasting with the dilapidated buildings and dirty storefronts. Diesel fumes hung thickly in the air, without a breeze to stir them. Once on foot, the delicious smell of fresh baked bread mingled with urine evaporating on the streets.
To keep myself grounded, sane and sober, I try to practice a few things when I travel: morning readings, journaling, meditation, email or "Whats App" connections back home, and recovery meetings. At times I am able to practice them all, other times only one, but regardless, these things keep me from losing my mind and/or sobriety while on the road and in very different surroundings. I do have an anxiety disorder for which medication manages extremely well. (Foreshadowing: Probably not the best decision I have ever made was to leave my medication at home during this trip.)
I spent two days in the busy, colorful city of La Habana towards the beginning of my trip. Next Tonya and I acquired Jo, a chica from Australia, at the hostel and headed to Valle de Viñales via shared collective taxi. Shared travel in an old Chevy taxi turned out to be an easy and economical way to move from place to place. Away from the hustle of the city, the beautiful green Valley of Vinales welcomed me, and enabled me to adjust to this magical caribbean island.
On our first evening, lured by the music playing in the plaza in the center of town, Jo and I joined the festivities. Locals and tourists mingled and swayed their bodies to the live music and drumming. Afterward, the dancing moved to the open-air nightclub where throngs of people grooved to live bands. Beautiful bodies danced bachata, salsa, son, and trova until the band left the stage. I loved being swirled around the dance-floor and learning to move to the Cuban musica. No booze was necessary for me to enjoy my evening. Over and over again, I was offered a mojito or a cuba libre by a dance partner or random person. (Which I turned down with a smile each time.) A fellow from Ireland questioned me, "How is it possible to bachata the night away without drinking a drop of booze?" The idea that alcoholic beverages would make my night more fun made me laugh. Sure, the idea of having a drink occured to me occasionally, but the problem was, that it would never be just one drink for me. Once I awoke the demon, there was no telling what direction it might take me.
After a few days in Vinales, Jo headed back to La Habana and Tonya and I shared a collectivo to Playa Larga. Larga is a humble beach town located on the famous Bay of Pigs. We arrived at our casa before noon, but seemed to be some sort of mix-up about our stay, even though we had confirmed by phone. We were shuffled off to another Casa. We sat in the hot midday sun, yearning for a refreshing swim, while we waited for our accommodation to be sorted out. The manager and workers were apologetic and we were offered a free rum cocktail for our troubles. As we gazed into the crystal blue sea, Tonya indulged in a Pina Colada, while I enjoyed some frozen fruity drink sans alcohol. This was the first of several similar incidents to happen during our travels. Having a travel partner to share these common frustrations makes it all the more palatable.
The last night in Larga was not as restful as if should have been. At 3 am, Tonya and I were awakened by scratching on our room door. We both got up and stood on tiptoes to peer out the window to possibly catch a glance of our late-night intruder. All I could think about was the urban legend- the one about the man with a hook for an arm. The same scratching stirred us from bed two more times before we wrote it off and crashed until morning. Had I been alone at that time, I would most likely have been terrified and freaked the hell out, rather than slightly amused as we both were. Although we had no evidence, the most logical explanation was a lost beach crab. Since we were staying beachfront and had seen dozens of crabs scurrying through the dunes and across roads, we surmised a crustacean came a knocking at that late hour.
Tonya and I visited Trinidad and Camagüey before parting ways. She was headed east and I was making my way to Cienfuegos because I could not continue eastward and still catch my plane in La Habana. Losing my travel bud, the insistent catcalls from men and harassment from the bicycle-taxi drivers suddenly became annoying.
In Cienfuegos, I had a moment where I nearly lost my mind. Panic had set in because I was unable to find my recovery meeting, and the collective conditions made for a perfect storm: my frustrations were high, I had no anxiety medications, and the inescapable sweltering Cuban heat sealed the deal. Walking back and forth, I felt like I lost a pound an hour wandering the streets under the fierce afternoon sun… and then not being able to do what I wanted to do- which was travel to the furthest eastern corner of the country, to Baracoa. Money concerns were frustrating to begin with, but then I worried I might run out of funds. (As an American, I had to carry enough cash on me to last my entire trip, since American credit cards and bank cards do not function in Cuba. There is also a 10% penalty charged on changing US Dollars.) Checking in on "What's App" and email with my sis helped me keep from completely crumbling. After I checked into a room in a casa, solo, I had a breakdown. I sat in the shower, letting water pour over me. Basically, I hunkered down for three days in my casa room, working through my panic, before I could actually enjoy myself again.
One evening, while strolling after dinner, I encountered two young men who invited me dancing. In every town I visited, I found a 'Casa de la Musica' or 'Casa de la Trova', which is a local live music venue. The venues I patronized were all out of doors, with a stage, a bar, tables and plenty of room for dancing. Again, I turned down many drink offers. As I glanced around the space, I noticed that many locals had brought their own bottle of rum with them, and passed it around the table pouring it into plastic cups with coke. I learned salsa and son in the thick night air and practiced Spanish with several dance partners until I tired.
Back in La Habana, although I tried to avoid it, I managed to catch the tail end of Carnival in the city. I was not thrilled about being caught in the middle of an all-out partying festival, yet Carnival pleasantly surprised me. Blocked streets forced celebratory pedestrians along one main boulevard; it was literally hundreds of people dancing and moving in rhythm through the breezeless night. Along the waterfront, stages were set up in several places with all types of bands and musicians playing for the swarming crowds. People, both young and old, gathered in groups, chatted with drinks in their hands while waiting for the music to begin. I wandered around taking in the feast for the eyes with some newly-made friends until we discovered an open spot near the biggest stage. At some point, an announcer appeared before us and hyped up the crowd. A woman took to the stage and by the reaction of the crowd, she was well-liked and famous.The people around me screamed, hollered and whistled as the woman started singing. Five men appeared from the wings and began playing bongo and conga drums. The crowd erupted into dance as if turned on by electricity. I danced with several different men, following their lead and letting go to get swept up in the energy of it all. Parched and sweaty from dancing, I noticed folks drinking juice boxes and decided to get myself some refreshment in a box, only to discover the little boxes were full of cheap rum. Countless times, I turned down juice box offers or swigs from a bottle. Everyone I encountered was generous (though they had very little) with their booze yet nobody was pushy, thankfully.
One afternoon in La Habana, when signing onto Wi-Fi in the park, I noticed groups of older men passing a bottle of rum between them. While wandering and touring the streets, I noted small groups of people on their own step or doorway pouring or passing glasses. Many times, people were quite literally passing around a bottle of rum to pour into their own plastic mugs. At the beach, while sitting under a large tree for shade, two men on the opposite side were passing a bottle of rum, can of cola and a disposable clear plastic cup back and forth. (They were kind enough to offer me a drink, although again, I declined.) It seemed wherever I visited, people shared cups of rum and strangers constantly offered their bottle to me. Is it because I am sober that I noticed how often people were enjoying booze?
Part of the reason I travel is to shake myself up a bit, to separate myself from my comfortable and familiar surroundings. Traveling is usually not glamorous. There are daily frustrations and times you will be uncomfortable. Sometimes things go horribly wrong. But for me, all of that is worth it. Travel is about challenging myself to be a better person by fighting the uncomfortability. Before I got sober, I used alcohol and drugs to ease my nerves and to meet new folks on the road. Despite my meltdown, I loved the warmness of the Cuban people and enjoyed most of my time there. Throughout Cuba, I met lovely people who, although they had very little, wanted to share with me what little they had. Traveling is in my blood, and though I am sober my anxiety won't stop me from visiting new places.
Calling all HuffPost superfans!
Sign up for membership to become a founding member and help shape HuffPost's next chapter
This post was published on the now-closed HuffPost Contributor platform. Contributors control their own work and posted freely to our site. If you need to flag this entry as abusive,
send us an email
.