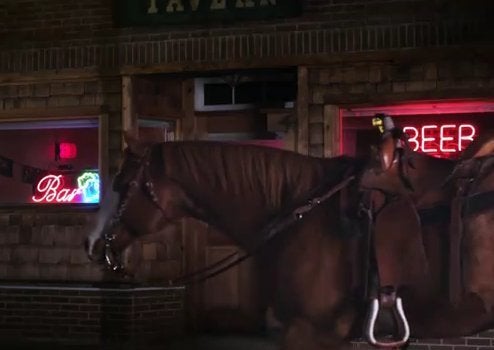 A Montana Department of Transportation public safety video that features a horse picking up a rider at a bar is intended as a metaphor to encourage drinkers to get a ride home.
But it is being taken literally by some in a state well known for its horse culture.
Helena Police Chief Troy McGee says he's received many calls from residents wanting to know if riding a horse while under the influence is legal. McGee tells the Independent Record newspaper that it is.
Montana law carefully defines a vehicle, and excludes those running under animal power.
The popular 30-second video titled "Sober Friend" shows a savvy horse carefully obeying traffic laws on a nighttime journey through town before stopping in front of a bar to pick up a rider.
Much of the talk is not about if the "Sober Friend" ad is realistic, but rather if it is legal to ride home drunk on a horse. The Record reports:
Luke Berger, deputy Helena city attorney, said he has not heard of anyone in Helena riding home from a bar on horseback. But, just because it may be legal, doesn't mean it's a good idea.

"I wouldn't recommend that anyone does that. But as the law says, you can ride your horse after drinking," he said.
Support HuffPost
The Stakes Have Never Been Higher
Popular in the Community