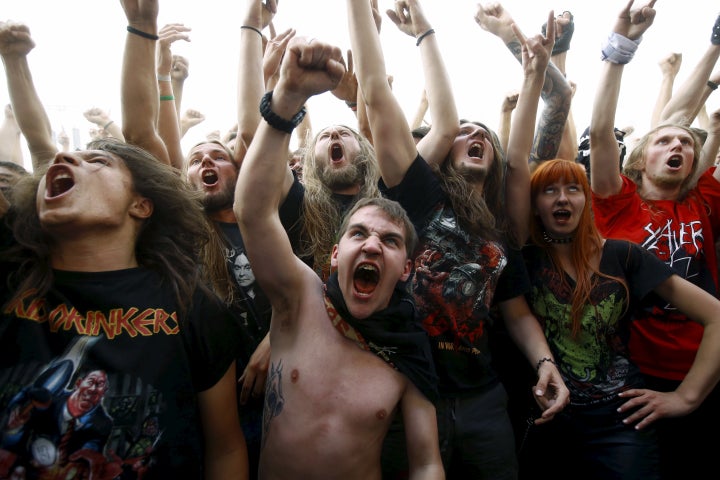 For many music fans, summer festivals are a beloved annual tradition to take in live sets from some of their favorite bands under the stars while surrounded by friends.
And for some fans, their festival experience isn't complete without knocking back a beer or two or, in more illicit cases, using other substances.
The fact that many festivalgoers drink and do drugs makes attending such gatherings especially difficult -- if not impossible -- for music fans who are struggling with addiction or are in recovery and fear they could be triggered into using again.
Patrick Whelan, an account executive living in Kentucky, was one of those fans who assumed that his days of attending music festivals were done when he stopped drinking and using drugs in 1997.
"I really thought my ability to go out and see music, amongst other things, was over," Whelan told The Huffington Post in a phone interview.
But before long, Whelan realized he wasn't alone. After he met fans in recovery who were tabling and holding meetings at a The Other Ones concert to provide support to other sober music fans, he was inspired to create similar spaces at other events.
He helped create "Soberoo," a makeshift annual gathering at the original Bonnaroo festival, in 2002, which grew to the point where, in 2008, the festival asked him to jump on a conference call "to define what it was we were doing."
Whelan thought their gathering was being shut down but, instead, Bonnaroo organizers asked how they could help.
Whelan has since helped recruit and deploy volunteers who staff tents at music festivals around the country. Over the years, they've added more festivals and have actually reached the point where more promoters are requesting their presence at events than they can actually handle.
"This really sprang from a group of music lovers who thought their life would be over without using," Wheland explained. "We're just filling the gap where no service was provided before. These festivals are creating a small city for the weekend and in that population there's a group of people who would need our support. Some of these festival promoters have said they can't believe they didn't think of this first."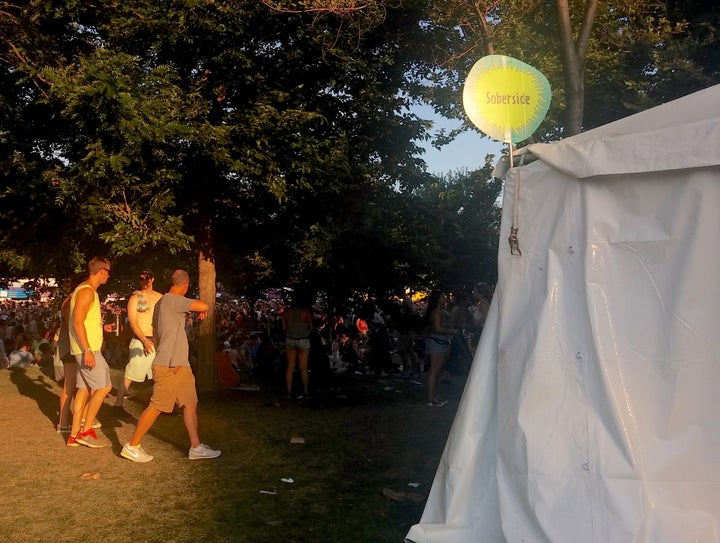 The group will have participated in 15 festivals by year's end, most recently at Lollapalooza in Chicago and continuing with Outside Lands in San Francisco this weekend. They'll also be at Nocturnal Wonderland in San Bernardino, California, come Labor Day.
At each festival, the group adjusts the name of their initiative to match the theme or feel of the event, so in Chicago, it was "Sober Side" -- a nod to the nomenclature used to divide the city's districts (e.g. South Side, West Side, Near North Side). At Outside Lands, the tent will be identified as "Sober Lands."
At Lollapalooza, the Sober Side tent's layout was straightforward -- a table covered with candy, festival schedules and stickers touting various sobriety-themed messages. The tent also offered water and shade and played host to meetings three times a day during which sober festivalgoers could find the support of others like them.
Their mission at Lolla and the other festivals is similarly straightforward. The group is not associated with any 12-step programs or larger sobriety and solely provides support "for anyone trying to stay clean and sober" over the weekend in Chicago, volunteer Danielle Vence said. It is not, she added, to pass judgment on those who are not practicing sobriety as a part of their festival experience.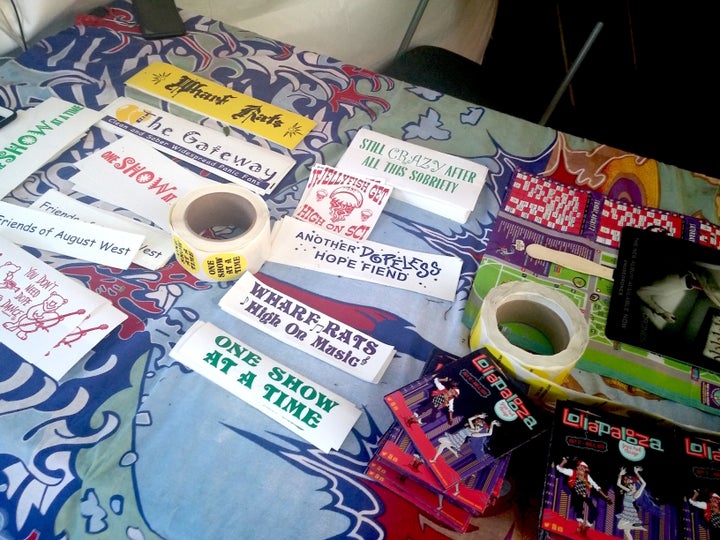 "I don't condemn anyone who drinks and I don't shoo them away," Vence said. "Drinkers will come by and ask, 'What is this?' and I'll answer their questions because you never know what that exposure is going to lead to. A lot of people come by and say things like, 'I'm so glad you're here, my son was going to come but he was nervous because he's in his first year of not using or drinking.'"
People who stop by tents like Sober Side fall into many categories -- maybe a designated driver or someone who's chosen not to drink until they turn 21 or even someone with a loved one in recovery. Though attendance was low at the meetings the group facilitated -- this year marked only their second time at Lollapalooza, so awareness of their presence is still an issue -- they are just as helpful to guests as the volunteers running them, Vence said.
Festival promoters have been hugely supportive of the group. The tent space for Sober Side and the group's other tents are donated by the festival promoters, who also provide social media and promotional assistance and help them secure prime, visible real estate on their grounds, Sean Brickell, another volunteer manning the Lollapalooza tent, noted. Promoters also provide free entry for the volunteers.
"You might think their attitude would be if we have this, then we're admitting there's a problem," Brickell said, "but instead they embraced it."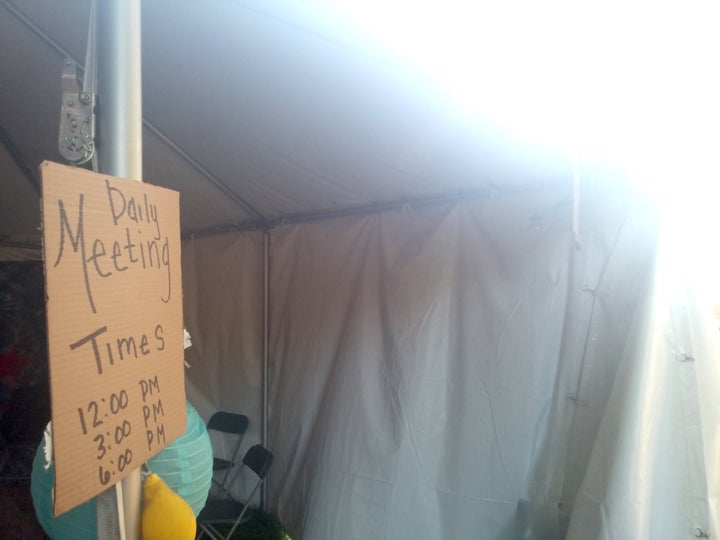 The group relies on donations to cover costs including insurance and the cost of the candy and water they provide and volunteers also cover their own transportation and lodging.
That may change if the group is able to secure additional funding going forward. They are also looking to have a presence at even more festivals, including those that take place over multiple weekends and concurrent events in different cities.
In the meantime, Whelan sees "no end in sight" for the group's efforts. It is experiences like a festivalgoer seeking them out after seeing the tent the previous year and making the decision, then, to change their lives that make all the work feel worthwhile.
"I never imagined that what we're doing would have that kind of impact on someone's life," Whelan said, "that when the festival was over they maintained their dedication to making a change in their life and 365 days later they come seek us out and tell us what we did inspired them to get sober."
Popular in the Community