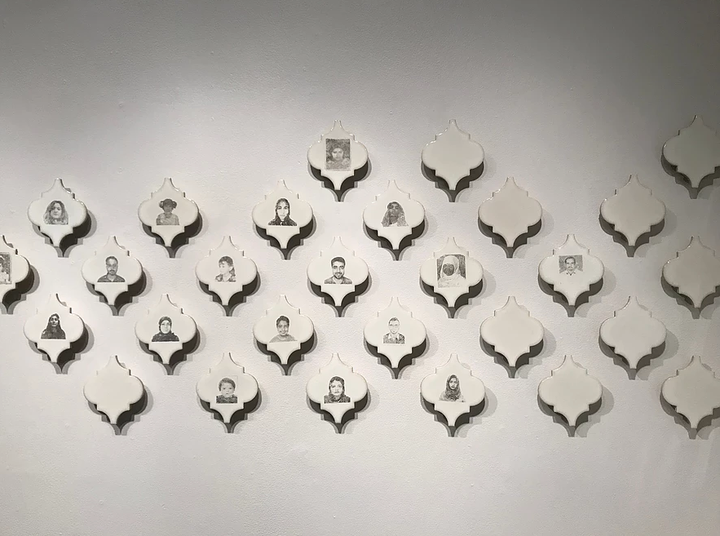 Last year, artist Sobia Ahmad began collecting black-and-white images of Muslim immigrants for an upcoming work.
It was the pictures she failed to obtain that would make the strongest statement.
Ahmad, who grew up in Pakistan and immigrated to the U.S. when she was 14, is an interdisciplinary artist whose work explores themes of identity and belonging. In 2016, she recorded a series of videos in which she prayed in public dressed in traditional Pakistani shalwar kameez in an act of "defiance and resistance" against the rising Islamophobic rhetoric engendered by the 2016 presidential campaign.
"As the political climate got harsher for minorities and marginalized communities, I wanted to explore narratives beyond my own," the artist told HuffPost. "I was interested in highlighting the Muslim immigrant experience and showing the diversity of the community."
In 2017, she began collecting passport-sized ID photos of Muslim immigrants.
She planned to solicit the black-and-white, 2-by-2-inch photos ― simple in appearance but freighted with personal and political meaning ― and print them onto Islamic-style white ceramic tiles to place on a white wall.
The artist was quickly acquainted with the challenges of highlighting the presence of a community that feels safer out of sight.
"Soon after I started collecting ID photos, people began to refuse," Ahmad said. Individuals told Ahmad they didn't want to provide their image for fear of being recognized. They worried publicly identifying themselves as Muslim could result in discrimination or violence.
She stopped collecting ID photos for a time because she didn't want to endanger anyone.
In late January 2017, President Donald Trump signed his first "Muslim ban," which was intended to limit travel from seven countries with predominantly Muslim populations.
"As the Muslim ban went into effect and headline after headline kept emerging of people being detained at the airports and families being separated, I felt stronger about using the ID photo because I saw it as a political symbol ― in this case, an example of racial and ethnic profiling ― something that determined whether or not you are worthy of being here," she said.
Ahmad adjusted the piece, called "Small Identities," to represent not just the vibrancy of Muslim communities, but how much of it has been suppressed by racist policies and xenophobic attitudes.
"I had to think critically about how to communicate this intense fear within my own community," she said. "So each time someone told me they are too afraid to submit their ID photo, I added a blank tile to the project to represent them."
"So far, there are more blank tiles than ones with ID photos in the project," she added.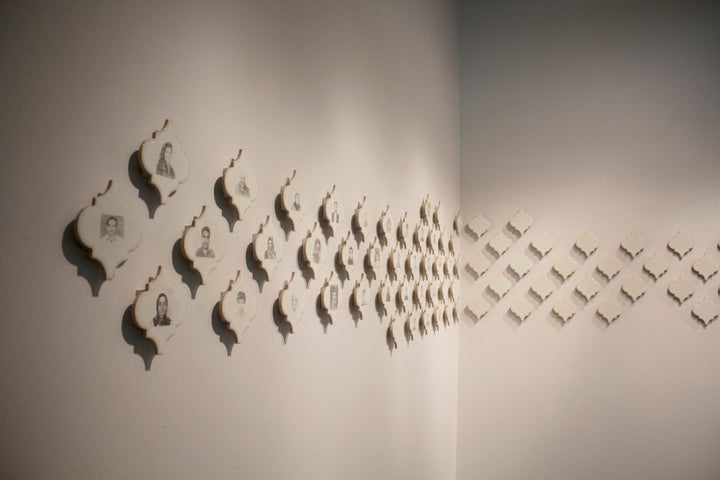 Currently, "Small Identities" is composed of 84 tiles in total. Thirty-one include passport ID photos and 53 are blank.
"I didn't expect this project to evolve into a visual representation of widespread fear among the Muslim immigrant community. But I had to allow for the project to evolve because it represents the times we are in," Ahmad said.
"When you look at blank tiles next to some tiles with ID photos, you can't help but wonder who these individuals are. The absence of a photo speaks for itself. It's a powerful representation of identities hidden and individuals belittled by unjust policies."
The title "Small Identities" is "a play on both words and ideas," Ahmad said.
"It not only refers to the ID photos of Muslim immigrants transferred onto Islamic-shaped tiles, but also alludes to politicizing of identities, racial profiling, and belittling of individuals at the hands of politicians," she continued.
"I didn't expect this project to evolve into a visual representation of widespread fear among the Muslim immigrant community."
Most of the individuals featured are Ahmad's friends or relatives. Many who declined to provide a photo live in her area around Washington, D.C.
"I wasn't expecting so many people in my own immediate community to be afraid of violence, especially living in a diverse and liberal area around Washington, D.C," she said.
Many of the blank tiles represent citizens and permanent residents who were fearful not of deportation or threats to immigration status but of the danger of publicly identifying as a member of a religious group frequently subject to hate and violence.
"It's not just about the Muslim ban. It's about being visibly 'other,'" Ahmad said.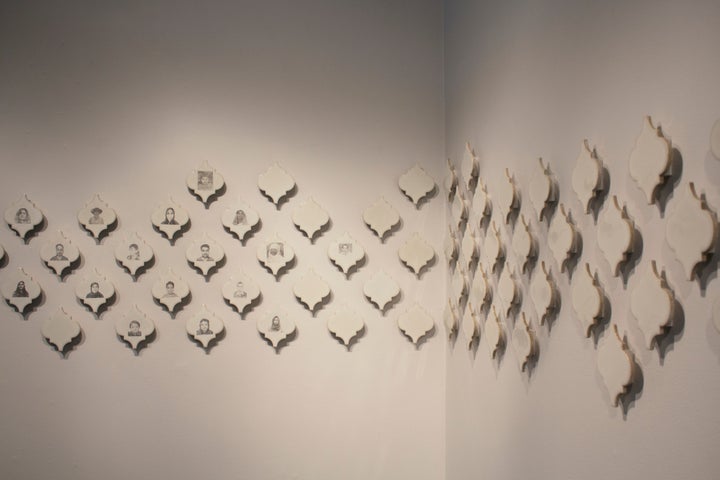 "Small Identities" was on display at VisArts in Rockville, Maryland, until earlier this month. It's an ongoing project, Ahmad said, and people have continued to submit photos since the project launched. Ahmad is also working with local advocacy groups to expand the project and raise awareness as the Supreme Court prepares to hear arguments on the legality of the "Muslim ban" in April.
"I think art is a powerful tool to raise awareness about issues of social justice," Ahmad said. "I want people to know that the current political climate is taking a psychological toll on individuals and communities on a very personal level."
Support HuffPost
At HuffPost, It's Personal
Popular in the Community