76 years ago this week, Karolina Cohn was torn from her Frankfurt home and deported in a cattle car for a harrowing journey to Minsk, where she was imprisoned in the ghetto. To mark this event, I travelled to Frankfurt to participate in the laying of a stumbling stone – known as a "Stolpersteine," a brass memorial plaque embedded in the pavement in front a Nazi victim's last known address – on this occasion, for Karolina Cohn and her family.
You may have recently read about Karolina's story. In 2016, during the excavation of the Sobibor extermination camp, archaeologists Yoram Haimi and Wojciech Mazurek discovered a silver pendant that carried no name but had the Hebrew words Mazal Tov, the date "3 July 1929" and "Frankfurt" engraved on it.  Based on those inscriptions, it seemed that the pendant reflected the birth date and home of a Jewish young girl – but who?  This mystery grew when it was discovered that Anne Frank, who was born in Frankfurt three weeks before July 3, 1929, owned a similar pendant.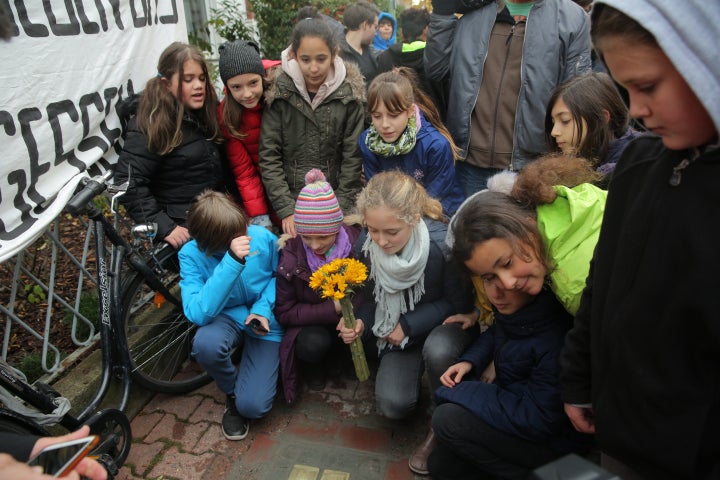 With the help of information obtained from the Frankfurt deportation lists and the victims´ database in Yad Vashem, funded by the Claims Conference, it was possible to trace the ownership of the pendant to Karolina Cohn. Further, Karolina's birth certificate, located at Frankfurt Registry Office, confirmed this suspicion and, 76 years after Karolina´s deportation to her eventual death, a hint of this young girl came to light.
More than seven decades after Karolina's death, most of the 40 members of her family that were located gathered on Nov. 13, 2017 to remember the life and death of a Jewish girl from Frankfurt. Karolina received no burial, and there is no gravestone for her in any cemetery. But this week, the family righted a wrong as they laid a marker in front of the former Cohn home in Frankfurt – a tangible memorial – reminding the world that Karolina existed, that she mattered, that she was loved.
The evening of my arrival in Frankfurt, I met the family at a reunion, where I held a replica of the pendant that started all of us on this journey.  It has become a symbol of remembrance of Karolina and our determination never to forget her, but also represents the deep-seated, multi-generational anguish that endures from the Nazi destruction of the Jewish world.  The journey has, understandably, been quite emotional, highlighted by Karolina's family coming together.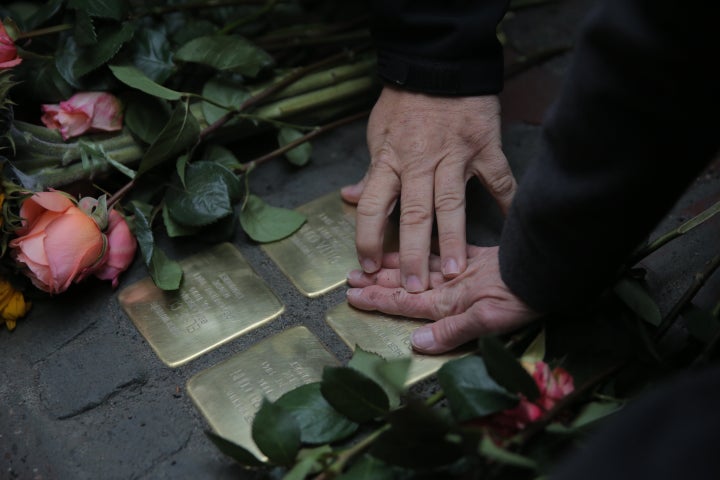 Chaim Motzen, the Israeli genealogist who was instrumental in locating the family members, explained in detail their German-Jewish family tree, most of whom were murdered during the Holocaust. Despite the silence with which attendees listened to Chaim, the profound feelings in the room were palpable.  Some didn't even know they were Jewish and most had only recently come to know about Karolina and her Nazi persecution; many didn't know one another. They ended up scattered around the globe in Japan, Houston Vancouver, Seattle, Israel and Connecticut.
Finally, however, as a unified group they together witnessed the laying of the stumbling stones, established family ties, and revived the memory of Karolina, her sister Gitta, and their parents, Else and Richard Cohn.
Karolina was one of 1.5 million Jewish children murdered in the Shoah.  Each child had a name, a face and a story.  Yet, so many of their personal stories were obliterated by the Nazis, and too many of their names and faces are not recalled today – they are not remembered; no one will get to hear their hopes and dreams or watch them grow. There are many things about Karolina that will remain unanswered – voids that can never be filled; but now what remains of her family has been connected... and she will be remembered.
I am proud to report that the Claims Conference led the initiative to lay the Stolpersteine, which was created by the artist Gunter Demnig, for Karolina Cohn and her family. Ruediger Mahlo, our Representative in Germany, welcomed more than 100 guests at the ceremony, including Frankfurt´s Mayor Peter Feldmann, members of the German Bundestag, a group of pupils and a number of other dignitaries. The account offered by Ernst Ludwig Heineman, Karolina´s cousin, who had survived the Holocaust in Italy by hiding, was especially moving.
"Without the discovery of the pendant at Sobibor extermination camp, future generations would have never found out anything about the life, suffering and death of Karolina Cohn. Even though, to this day, there is very little information about Karolina and her family, the laying of the stumbling stone means that her name will forever be etched in stone for the whole world to see", Ruediger Mahlo remarked. "It is also thanks to the wide coverage by international media that her name will be retrieved from the darkness of history."
At the ensuing commemoration ceremony at what is believed to be Karolina´s last known school, the Philantropin, the archaeologists involved, Haimi and Mazurek, described what they had discovered during their excavations in Sobibor. The researchers were able to provide evidence for the location of the gas chambers and the passageway through which people were herded, which the murderers, with a cruel cynicism, had referred to as "the road to heaven." The archaeological dig uncovered critically important data regarding the barbaric killing machinery in Sobibor. A film about the excavation, "The Sobibor Documentation Project," was funded by the Claims Conference.
The Sobibor excavation unearthed Karolina's pendant and, through the work of Yad Vashem and Chaim Motzen's dedication, an eternal flame, which will be carried on for generations to come, has been lit for a 12-year-old girl whose life, and every trace of it, the Nazis had sought to eradicate. The Claims Conference pursues the mission of trying to ensure that the victims of the Holocaust and the crimes committed against them will never be forgotten.  We are honoured to be associated with institutions and individuals that worked together to enable Karolina's life, albeit much too short, to be remembered and celebrated.  We are witnesses, not just for Karolina, but for all who perished. The torch is passed to us, to guarantee that the flame of remembrance is never extinguished.  We must be vigilant to never forget Karolina, because if we forget her – it can happen again.
REAL LIFE. REAL NEWS. REAL VOICES.
Help us tell more of the stories that matter from voices that too often remain unheard.