You know you're in Southern California wine country when the offerings include a yoga class called Vino Vinyasa and a wine pairing, not with a five course meal, but with your seven chakras. These signature services, as well as a crushed grape seed exfoliation and facial, are available at the Grape Seed Spa at the South Coast Winery, one of 35 thriving and award winning vineyards in the Temecula Valley, just one and a half hours from Los Angeles.
The Mediterranean climate here made it a no-brainer for planting grapes in the 1960s. The well-drained soils, plus a unique micro-climate of morning mist, warm midday sun, afternoon breezes and cooler nights are perfect for a vast array of varietals. Now, half a century later, the rolling hills are covered with vineyards, as well as organic and sustainable farms producing everything from parsley to prize-winning pigs. Most of the vineyards are family owned, were started as a hobby and are now successful commercial ventures.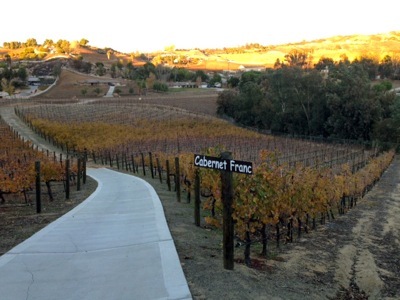 As in Napa and Sonoma, and other wine regions throughout the state, young chefs, farmers and purveyors followed the vintners and set up shop to cater to the wine loving tourists who began to discover the area, making it a popular weekend destination. Today, several of the vineyards have elegant hotels, spas, meeting facilities and delicious farm-to-table restaurants -- Temecula is one of those rare spots where practically everything on your table could conceivably come from less than 50 miles away.
We left Santa Monica after morning rush hour, and by noon we were unpacking our bags at the Temecula Creek Inn. Some of the area's winery/resorts have a brand new look about them: their stone facades do not have the patina that only the years can bring, their landscaping hasn't had time to mature and develop. By contrast, the Temecula Creek Inn, the grande dame of the area resorts, is set on 305 mature oak-studded acres, and many of the recently refurbished rooms look out over a 27-hole championship golf course above which, in the morning, hot air balloons glide over the hills. During the Temecula Valley Balloon and Wine Festival, held each year around Memorial Day, it must be a stunning sight.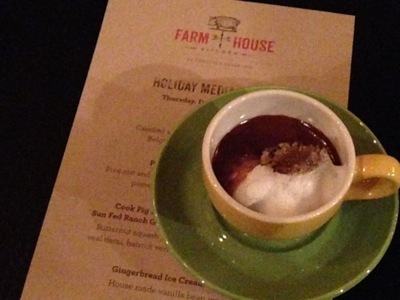 That evening, after lunching at Wilson Creek Winery and creating our own wine blends at Oak Mountain Winery, we had dinner at the Inn's Farm House Kitchen, which the LA Times recently called "a serious wine restaurant." We knew we were in for a serious food and wine experience when Chef Igor Krichmar, a CIA graduate and former executive chef at Montage Deer Valley, set before us a tiny espresso cup containing an extraordinary amuse bouche of melted dark chocolate, served hot and topped with shaved truffles and cappuccino foam. Each course of the meal -- scallops, beef tenderloin, bone-in pork chops -- was paired with a sumptuous wine from local Leoness Cellars. Chef Krichmar sources locally whenever he can, from purveyors like La Bahn Ranch, for free range chickens and eggs, and Crows Pass and Sage Mountain farms for exquisite fruits and vegetables.
A serious foodie joint like Farm House is quickly becoming the norm, rather than an anomaly in Temecula, which has its own Alice Waters, Chef Leah DiBernardo, founder of E.A.T. Marketplace. E.A.T. stands for Extraordinary Artisan Table, and Chef DiBernardo, besides running the E.A.T. shop and restaurant, champions the Local Artisan Food Movement. She partners with producers such as the Temecula Olive Oil Company, where in a light and airy banquet room above their shop, she caters small functions, and Harvest2U, which provides area families with weekly deliveries of local organic fruits and vegetables.
The Temecula Valley was cattle country from the 1800s until the 1960s, and the area's Old West lifestyle is reflected in its quaint Old Town district, with its narrow streets and 19th century architecture. During the holiday season, you can take a horse drawn tram around the town, getting off to shop for antiques, check out the exotic blends at the aromatic Old Town Spice Merchants and even ice skate at the rink in the center of town. Looking for something unusual to do for New Year's Eve? Instead of watching the Times Square ball drop on TV, how about watching the annual Old Town Grape Drop in person?
No matter the season -- September wine crush, Blue Grass Festival, Fourth of July Parade, harvest celebration -- add Temecula to the list of weekend destinations for savoring local food and wines.