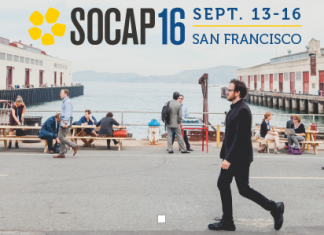 "This is not a new movement; it is a battle over centuries about the purpose of capital." — Jed Emerson
Last month, I previewed SOCAP in my blog here at Huffington Post. It's not in any impact investing glossary, but SOCAP's an acronym for "social capital markets." I call it the New Economy (although indigenous peoples have been practicing it for millennia.) An annual event occurring at Fort Mason, San Francisco, every autumn, SOCAP is the world's largest conversation accelerating the alignment of money and meaning as a driving force for positive social and environmental change. I do intend to spotlight particular personal highlights in coming posts. (Sustainable agriculture is becoming regenerative agriculture. Community-based waste recycling is happening in a big way. There's now a social stock exchange [SSX]. A variety of options are opening up for retail investors. Focus is shifting to African Americans. And so on.) Meanwhile, coming away, right now, from this year's iteration of SOCAP, processing the experience, for me, demands something akin to holding the reins of two parallel teams of horses (money and meaning, financial and spiritual, economic and ethical).
Each of the 2500 SOCAP participants, from the Americas and around the planet, carry their own secret sauce for blending and balancing price and value. You might find yourself sitting next to a veteran activist who's come to realize the necessity of engaging economics for the greater good, while to the other side of you sits a financier who's experienced the opening of the eye in his heart. I come to SOCAP as a journalist, but I realize you can't understand the dance from the outside. Thus SOCAP powerfully calls me to re-examine my own assumptions and reflexes about money, economics, and finance, and to re-interrogate my vision of a better world in new ways and reintegrate that into my daily life. This was a theme throughout this year's conference: we all need to do so, so that in our commitment to positive change we don't replicate and pass along the systemic inequities we're opposed to. ¿Who would've thought that a conference about capitalism would incite personal transformation? A re-evaluation of values means all values, across the board.
Everyone at SOCAP is working on something that reflects a special spark. I asked someone there how they came to their current path. They said they had been deploring something in society about which they felt somebody should do something, then realized, "I am somebody." As I revise my own, internal, white paper, I come away with not only a renewed sense of where my plan of action is wanting, and where it needs to go, and, moreover, seeing it within an inclusive community, the beloved community of which Dr Martin Luther King, Jr preached. For me, the after-party for SOCAP was walking the streets of Oakland and San Francisco and seeing the work as 24x7. As the conference taught, many times, we need to see our behavior in terms of relationality rather than just transactions (calculating possible gains of quid pro quo). As Cory Smith, co-founder and CEO of Wisdom Labs taught in one of his panels, everyone I see is just like me. Given events in the USA this year, intersectionality has already been at the forefront of my deal book.
It's quite an experience to be a drop of water in this rising tide. To describe the landscape to an outsider, I think of SOCAP as having an X- and Y-axis. The vertical Y-axis bores through all the strata of roles involved in capital markets: investors, entrepreneurs, institutions, nonprofits, lawyers, banks, media, thought leaders, colleges, students, etc. Across the horizon of the X-axis unfolds a procession of interlocking themes for the 100 concurrent sessions: Impact Investing, Meaning, Neighborhood Economics, Cities as Centers for Change, Inclusive Entrepreneurship, Clean Energy, Sustainable Agriculture, International Context, Open (crowdsourced topics), and WIldcard. Finding one's place within these two coordinates determines which sessions to attend, and which attendees to seek out in between, via SOCAP's online social network. For me, the sessions that held ascension for me were in the meaning rubric, often mindfulness- and faith-based. Yet, throughout the five days, you can always look to the person next to you and discover another unexpected ally; even better if it's someone who has nothing to do with what you do, to learn from. As Jessica Droste Yagan, CEO of The Impact Engine, summed it up, "Impact investing is not an asset class. It is a mindset across asset classes."
To round out my outline of where Wall Street meets Burning Man, as Jed Emerson put it in his superb summary of last year's SOCAP — I'll add a few more details, and a final reflection. Prior to the plenary, there's an impact accelerator for 150 entrepreneurs attending on scholarship from around the world, plus entrepreneur pitch sessions throughout the event. Besides the several trade-show booths, there was a showcase of over a dozen innovators, and a mini-bazaar with such item as sustainable skateboards and recycled sunglasses, moringa superfood, menswear manufactured by "returning citizens" in Detroit, a family social enterprise empowering women in rural Ghana through the sale of shea butter-based moisturizers, and more.
An underlying factor that made SOCAP such a success this year was the evidence of a wide span of solutions and tools for co-creating 21st-century social, economic, and environmental impact. In this, SOCAP reminded me of the book fair at Frankfurt, one of the world's first trade shows. Five centuries old, it began at the dawn of movable type. Every year, people came from all around Europe to compare and share and learn new best practices and open new channels of information and distribution. One person who'd found new source for paper pulp might meet somebody else who'd discovered a formula for ink, in tandem with a third person trailblazing a way of selling books outside of stationers. Today, books are commonplace, and Frankfurt is now biggest publishing event in the world.
More specifically, I'd liken SOCAP to how plant grows. Right now, the roots of the impact movement are digging deeper, gaining further solidity and a more complex root system. As it does so and branches out further, more and more energy from the total plant is going towards a transformation becoming visible as a flowering bud. SOCAP attendees, as they come together and return home to nurture their own garden, are like bees of the invisible, cross- pollinating the commons for the benefit of us all.
* The multi-point perspective is, in and of itself, rewarding, and is reminiscent of Arthur Koestler's theory of bi-association for the act of creativity, and reverberant with theories of groups as self-organizing systems, and self-organization (autopoiesis) as the basis of emergent consciousness. But Yogi Berra's adage applies: "In theory, there's no difference between theory and practice. In practice, there is."
Related
Popular in the Community