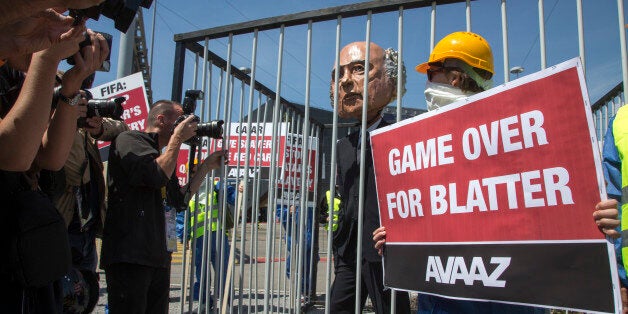 The frustrating thing about FIFA is that it still exists.
FIFA president Sepp Blatter still talks about the "worldwide soccer family" as though his tenure hasn't involved numerous corruption scandals, and he hasn't cynically responded to the reports of more than 1,000 deaths on the stadium construction sites of Qatar, where the World Cup will be held in 2022. It's unbelievable that he is still allowed to go up to the podium where he delivers his blunt, outspoken fantasies of power with the charm of a doddery James Bond villain. To say nothing of his many stupid suggestions of changing the rules and his sexist statements towards female soccer players.
No one wants to be hugged by Sepp Blatter. No one wants to be part of this family. No one wants to spend time with him, not even for a minute. No one wants to be in the same room with Sepp Blatter, not even in the same country.
Once again, the scandal currently engulfing the World Soccer Association shows what FIFA is all about. FIFA is not about the game, not about the world, but about the self-preservation of a well-oiled system. To be more precise: It's a fraternity of old men who aim to line their own pockets and whose alleged wrongdoing runs as deep as the Dead Sea.
Yet FIFA sees itself as a victim. This became clear when FIFA spokesman Walter de Gregorio stated, after seven officials had been arrested and the headquarter searched, that his association was the victim.
Just a reminder: Nine FIFA members were indicted on bribery and corruption charges by US authorities. That's in addition to five executives. The charges of bribery are largely centered around lucrative broadcasting rights to soccer tournaments, with an estimated $150 million of bribe money spent over the last 24 years.
The Swiss authorities (FIFA is based in Zurich) in turn have initiated investigations into the possibility of fraud in the awarding of the 2018 and 2022 World Cups. On Wednesday Richard Weber, head of the IRS criminal investigation division, said the following about FIFA's alleged machinations: "This is the World Cup of Fraud and and we're issuing FIFA a red card."
In short, the association appears deeply mired in scandal. The news, however, appears not to have reached Zurich. FIFA lives on as if nothing is going to happen, because for decades their officials have been "untouchable." They remain assured that the current excitement surrounding the tiny amount of $150 million will simply vanish.
Sepp Blatter has yet to consider withdrawing his candidacy for the upcoming FIFA board elections. But in the end Blatter's stubbornness could be his undoing. If he gets elected, he is responsible for cleaning up the scandal.
One can only hope that the Swiss police have gathered enough incriminating evidence. If the World Cups of 2018 and 2022 are not being held elsewhere due to mounting legal doubts, maybe the main sponsors will finally have seen enough to leave FIFA in the rain.
One must wonder what an ailing company like McDonald's expects in return for its enormous advertising investment in the association, when the only thing fans will likely remember of the 2018 World Cup in Russia is that the burger-maker cooperates with an elite group of officials, who hold their greatest "soccer party" in an autocratic ruled police state.
Japanese electronic giant Sony and the Arab airline Emirates have already taken appropriate action when they announced last year that they would no longer be sponsors of the association.
It would be best if all soccer fans would make it clear to the world that their passion for the game doesn't have anything to do with this grotesque show, which for decades, has been staged in Zurich by FIFA. It should be made clear that sponsoring a FIFA World Cup is bad business because real soccer fans would rather drink drain cleaner than the Budweiser flowing from FIFA taps.
No one needs FIFA. It has completely failed at its two main tasks: to keep the rules of the game as they were and to improve them if required, and to organize a World Cup every four years. In the future all of this can be decentralized and managed locally. Just as the Bundesliga professional soccer clubs in the German Soccer League Association have organized themselves and whose subsidiary, the DFL (German Soccer League), since 2001, has regulated the matches in the upper leagues.
It's a system that is largely decentralized in nature, and has proven to be far less prone to corruption and abuse of power.
FIFA legend Jules Rimet may have been a man of high ideals -- in 1950 he was even nominated for the Nobel Peace Prize for his achievement in establishing the World Cup -- but what's is going on right now in Zurich serves to only diminish the powerful heritage Rimet left behind.
FIFA has lost all credibility. It's time for a revolution in world soccer. Would the DFB (German Soccer Association) take part in it? But that's a completely different story.
This article was originally published on HuffPost Germany and was adapted for an American audience.
Calling all HuffPost superfans!
Sign up for membership to become a founding member and help shape HuffPost's next chapter