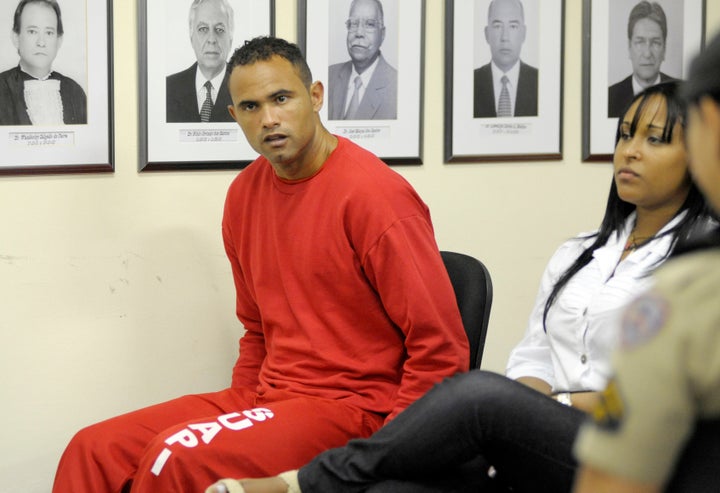 A Brazilian soccer player's heinous crime was no deal-breaker for a team in need of a goalkeeper.
Bruno Fernandes de Souza, 32, agreed to a two-year contract with second-division team Boa Esporte, just weeks after being released from prison where he was serving 22 years for arranging the murder of his ex-girlfriend, Eliza Samudio, outlets reported.
Here he is, all smiles for the team's announcement. 
He said at a Tuesday press conference that he was thankful for the opportunity and conceded, "People run from me because of what happened in the past," according to the Associated Press.
The player was freed last month by a Brazilian Supreme Court judge while an appeal is pending, the AP noted in a previous report.
The details of the case are chilling. In 2010 Samudio disappeared after suing de Souza for child support. In 2013 the player was found guilty of conspiring with associates who kidnapped and strangled her, and a court heard how he had her corpse fed to his Rottweilers, the Guardian reported. He was sentenced to 22 years in prison. Prior to the case, he had been considered a World Cup team hopeful.
The backlash was swift after the contract announcement. Several sponsors of the team have dropped out amid cries of outrage among women's advocacy groups.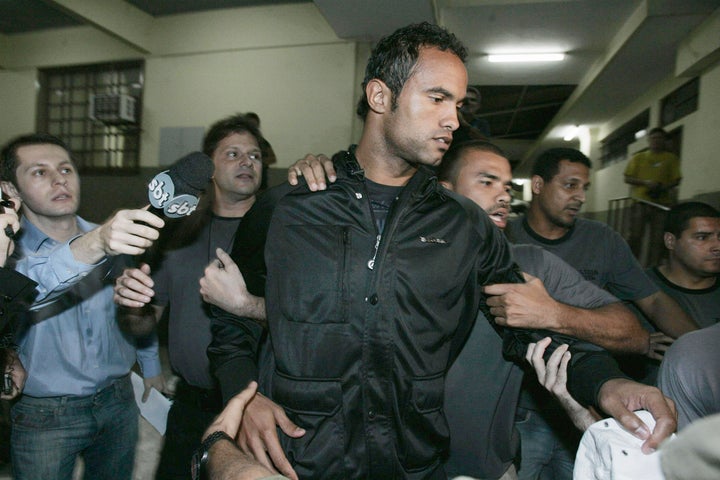 "We protest both against this contract and against the willingness of the team and its sponsors to have their images linked to femicide," the Popular Feminist Front of Varghina wrote on Facebook, per the Guardian. "A woman-killer must not be allowed a life acclaimed by the media. Bruno is no longer just a goalkeeper; his notoriety reflects the ease with which a woman's life is forgotten in the interests of a sporting career."
A Change.org petition by a victims group protesting the hiring has collected tens of thousands of signatures, CNN noted.
The news channel added that the team said Bruno, who is widely known by his first name, "deserves a new opportunity as a professional. The club has no relation with Bruno's personal actions, nor with his past, having hired only the professional."
REAL LIFE. REAL NEWS. REAL VOICES.
Help us tell more of the stories that matter from voices that too often remain unheard.
BEFORE YOU GO
PHOTO GALLERY
10 Major Crimes That Shocked the Nation (SLIDESHOW)