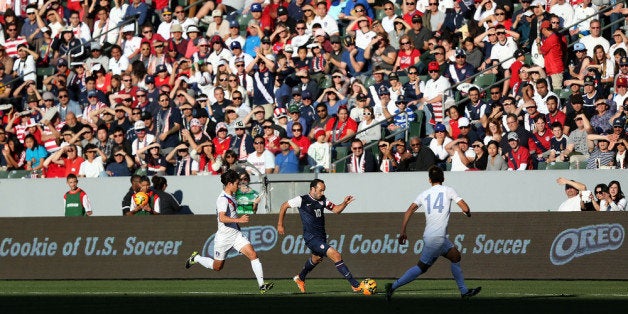 With more than 111 million viewers tuning in to watch the Super Bowl this year, the idea that soccer could compete for the honor of America's most popular sport seems preposterous on its face. But, before ruling out the possibility, let's take a closer look at the facts.
First, Major League Soccer (MLS), which is often viewed as a lesser cousin to the great and storied European leagues such as La Liga, the English Premier League, and the Bundesliga (Germany's soccer league), has achieved explosive growth over the last decade. As recently as a decade ago, the league had just 10 teams and only three owners; it now boasts 19 clubs with two more on the way. Most recently, English soccer star David Beckham, who has done much to popularize the sport in the U.S., announced his purchase of an MLS expansion team in Miami. Average attendance rates at MLS games now rival those of the National Hockey League (NHL) and the National Basketball Association (NBA).
Second, soccer's fans are young and growing. The two demographic groups most passionate about soccer are young adults -- those ages 18 to 29 -- and Hispanics. Demographers expect the Hispanic population to triple by 2050 making up roughly one-third of the population . And Hispanic sport preferences differ starkly from those of other Americans. Twenty-six percent of Hispanics say that soccer is their favorite sport to watch, followed by football (22 percent), basketball (14 percent) and baseball (13 percent). In contrast, only 3 percent of white non-Hispanics Americans say soccer is their favorite sport. Hispanics also report greater interest in the World Cup with 56 percent saying they are likely to watch the tournament, compared to 20 percent of white non-Hispanic Americans.
Football remains the most popular sport among young adults, but soccer is the runner-up. Thirty-two-percent of young adults say football is their favorite sport, compared to 13 percent who say soccer, 10 percent who say basketball and just 7 percent who say baseball. Further, soccer fans tend to be much younger than other fans. The average age of Americans who say soccer is their favorite sport is just 37, while the average age for football fans is 46 and for baseball 53. If baseball is America's past, and football is its present, then soccer may be its future.
Last year, we asked Americans if football had replaced baseball as the country's national pastime. Most agreed that it had. The exception to this view was seniors -- baseball's most avid fans -- who were divided over the question. Twenty years from now, if we were to ask whether soccer had replaced football as the country's national pastime I expect there would be more than a few takers.
Support HuffPost
The Stakes Have Never Been Higher
Related
Popular in the Community