Sports don't grow overnight. Until the 1980s, the NBA Finals were on tape delay. Twenty years ago, baseball not football, was America's No. 1 sport. The growth of both basketball and football has been due to star power, lucrative TV deals and most importantly a pipeline of youth leagues and young people excited to play their sport.
After hosting the World Cup in 1994, people declared that soccer had arrived in The United States. American fans knew the stars, knew the game, quickly MLS was formed and everything seemed to be in motion. But these things take time. It took basketball and football decades to grow to what they are now.
It all starts with young fans playing the game. In 2016, soccer has that. Around 3 million kids play in U.S. Youth Soccer leagues. Among 12- to 17-year-olds, MLS is now more popular than MLB. In fact, among that age group only basketball is more popular.
Add a growing concern around football and head trauma and you can see where soccer may rise even more. It's unrealistic to say that soccer will quickly become more popular than football. That kind of shift in popularity takes decades.
But the decline in baseball's popularity among young people can be directly related to a decline in kids playing it. That decline started in the 1980's and thirty years later, kids now are more interested in soccer than baseball.
The growth of soccer though is less about the potential negatives about football and more about the positive economics. This year, over 60 professional teams will play in North America. Below MLS, the second-division NASL and third-division USL have grown rapidly to meet consumer demand for competitive clubs. USL clubs have valuations of between $3 and $20 million. Even five years ago, that would have seemed impossible.
So why is it possible? Why is soccer now finally growing in the United States?
According to the Wall Street Journal, youth soccer participation doubles tackle football now and has over a million more kids than baseball.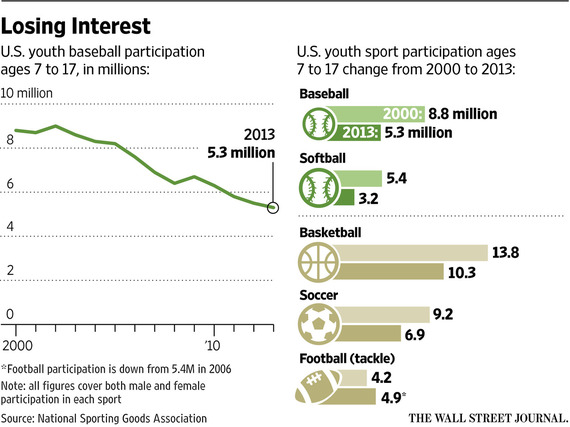 The 2015 Women's World Cup generated $40 million in ad revenue for Fox. That is more than double the projections. It outperformed the Stanley Cup Final, World Series and NBA Finals. Part of that is due to patriotism, of course, but it does show that advertisers like soccer.
Advertisers always follow the trends and where people are going. AT&T, Visa, Anheuser-Busch, Nike, Nestle, General Motors, Marriott, Allstate, Pepsi, McDonald's all have donated millions to upgrading youth facilities and training. They understand a young audience and how to reach them.
America's facilities and youth programs are finally able to compete on the world stage. The ESPN Wide of World Sports facility in Kissimmee, Florida and the Overland Park Complex in Overland Park, Kansas are arguably the two best, but the demand for tournament facilities has now skyrocketed. States like Kentucky, North Carolina and Arizona all have world class facilities with over 10 fields.
Great facilities do two things. They create increased excitement for the sport and they create better players. As soccer interest and leagues grow, we're going to need to create better soccer players.
That's why communities are looking to meet the demand, create better players and boost their soccer profile. The MLS, NASL and USL all have room for expansion. They are a lot of cities looking to turn their NASL or USL team in to an MLS team some day. That process has been successful in Orlando and Atlanta. The Orlando City MLS team, newly promoted to the highest league, draws an average of 34,393 fans a game. That's second in the MLS only behind the Seattle Sounders FC's 40,236.
Florida and Georgia both have great facilities, had good minor league teams that caught the eye of investors. Google "proposed new soccer facilities" and you'll see dozens all over the country.
Biggest Little Soccer City
Grand Rapids FC, last year, in its first season, playing in the fifth division NPSL, drew five thousand fans. That got the attention of MLS.
If you follow the data, soccer is growing rapidly in Texas, New Jersey and Michigan. Michigan, which doesn't have an MLS team, has 92,022 kids playing soccer. The largest of any state without an MLS franchise, 10th largest in the country and largest in the entire Midwest. Kansas, which has an MLS team and one of the best facilities in the country, has 25,258 youth players.
The Grand Rapids attendance is no fluke. To meet that demand River City Futbol Club has proposed a one-of-a-kind 80-acre complex to house regional tournaments, make the area a Midwest hub for soccer and expertly train the next generation of soccer players.
"Football and basketball are America's traditional backyard sports. We are creating an avenue for soccer to become one of those sports. Think of where Messi and Neymar learned to play," said Derek Dufendach, RCFC Executive Director.
Kyle Vela, RCFC's Director of Development, traveled to Liverpool last month to learn world-class training techniques. "I learned that it is our job to focus on the development of our players, which is completely different than trying to win a game. We want to lead our players to enjoy the game more. If we do that, everybody wins." said Vela.
U.S. Soccer's most recognizable player, Landon Donovan has recognized the growth in Grand Rapids, the 39th largest media market in the country, and will be holding a high-level camp there in July. His other camp is in another rapidly growing market, Austin, TX.
Soccer still has a long way to go before it surpasses baseball, basketball and football. But the youth participation, health of its minor leagues and valuations of its clubs show that its rapid growth is both real and spectacular.
Related
Popular in the Community