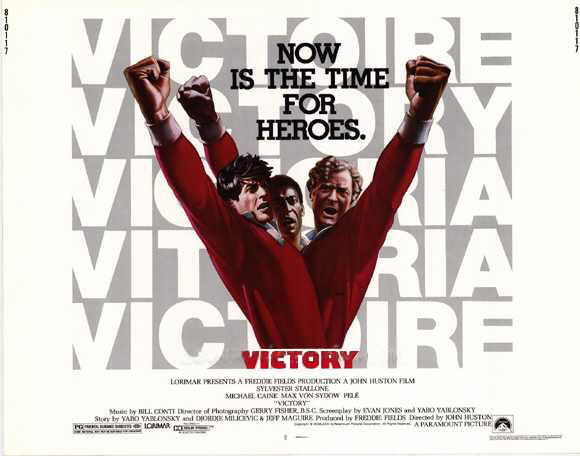 So we know Sly Stallone is all about knocking lumps out of the bad guys in the ring but what about him playing a heroic goalie in a rocky soccer match against the Germans during World War II? Stallone's goalkeeping heroics in the 1981 movie, Victory, a tale of Allied POW's taking on a German team in a bid for freedom has gone down in soccer lore as one of the great goalkeeping performances of the twentieth century. Sly saved the day. And the penalty.
The soccer film has blossomed since then. Keira Knightley's acting career bounced upwards after her cracking role in Bend It Like Beckham. Beckham himself shot to American fame on its wing. But while Hollywood has still to produce the smashing flick with the soccer ball, independent film has been heading up the titles.
The 2006 release, Zidane -- A 21st Centurty Portrait, tops the league in the art film category, a beautiful and fascinating study of the sport's most famous head-butter, French star Zinedine Zidane. Filled with Zidane's sweat, grunts and leers, the movie casts the audience into the action on the field. Watching it, you got the urge to yell, "Zidane. I'm open. Pass it to me."
The soccer documentary category has had several top winners. After the Cup -- Sons of Sakhnin flashed the lights on Israel's top flight Arab soccer team, Sakhnin, after they won the Israeli Cup. Soccer delivered a moment of acceptance into Israeli society for the nation's Arab minority. The flick, Pelada, garnished many trophies in the film circuit, the story of two US college players playing the street game across the global map from prisoners in Bolivia to Iranian women in hijab. Understanding nations and their citizens, open the soccer lens.
Next month, the Kicking and Screening Soccer Film Festival in New York City brings some new soccer cine to the fans. Highlights include Argentina Futbol Club, a documentary on the frightening rivalry between two of Argentina's top clubs, Boca Juniors and River Plate. It's a tango that never stops until someone dies. The electric atmosphere inside the stadium when the two connect could power the homes in Buenos Aires for a month. Match 64 is a film focusing on last year's World Cup Final in South Africa and goes behind the scenes of the world's biggest sporting event, the World Cup Final.
REAL LIFE. REAL NEWS. REAL VOICES.
Help us tell more of the stories that matter from voices that too often remain unheard.