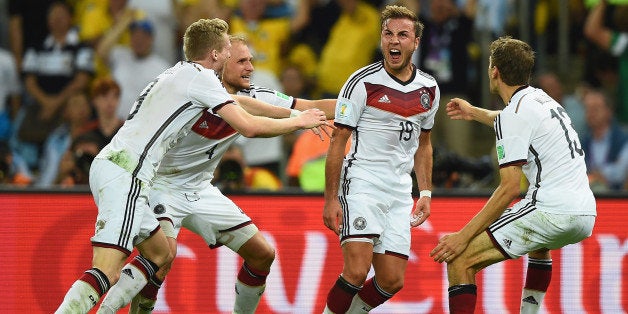 Now that the 2014 World Cup soccer tournament is over, and having imbibed more games than is probably healthy for me these past five weeks, I know why I'm feeling a major, Samuel Beckett-size void.
So much in American life these days doesn't work. But soccer does work -- magnificently. I am not looking forward to returning to dysfunction and snafu.
Ah, but soccer: It works -- and it works because of teamwork.
More than many sports, in soccer the full team is involved at all times -- backfielders, midfielders, wingers, attackers -- all pressing ahead to goal, maintaining a designated formation. The trick, when two teams clash, is maintaining formation. Trouble happens when a hole opens up in that formation, allowing an opposing player to dash toward goal. If you tape a game and fast-forward through, you can see the team formations moving like swarms about the pitch, and you can see when holes -- and trouble -- occur.
Of course, tight teamwork is required in other sports, too -- basketball, American football. But I prefer soccer because, well, may I just assert soccer entails greater finesse and I like that it involves normal-sized people and leave it at that?
Non-fans of soccer complain about the low number of goals. But isn't that like life: lots and lots of struggle, ranging over an enormous field, with no timeouts (except for injury or substitutions), with one or two, maybe three goals finally put through? So precious are goals in soccer that they are celebrated with the whole team joyfully piling on the goal-making player: It is indeed a team effort.
For me, the real pleasure in soccer comes in watching the play on the field -- the teamwork. Which player will break free of his marker and advance the ball; which player can chance a kick downfield to an attacker; which winger can foot the ball -- oh wow, the footwork! -- down the field; which winger can make a cross kick to an arriving attacker, as happened thrillingly in the final game last Sunday in extra time when Germany beat Argentina 1-0. And which player can save the team by scoring on a rebound, as Germany's Miroslav Klose did in the semifinal, making him the highest scorer in World Cup history, with 16 goals in four tournaments.
Additionally about teamwork: At a time when our Supreme Court recently dealt a blow to affirmative action, the World Cup tournament demonstrates the value to teamwork of ethnic diversity. The American national team is a shining example of this diversity, as is the German team, with Tunisian-German Sami Khedira, Turkish-German Mesut Ozil, and Ghanaian-German Jerome Boateng acquitting themselves as key players in winning soccer's ultimate prize.
Teamwork: It's so moving whatever the form, whether in the stirring music-making of an orchestra or chamber music group, or in the artistry of couples figure skating, or, of course, in soccer. What humans can do when they work together! But not only is teamwork emotionally moving, it is also winning. By wide agreement, going into Sunday's final game Germany was regarded the stronger team precisely because of its teamwork, while Argentina had one great player, Lionel Messi, accompanied by a lesser team.
This is not to overlook the game's un-beautiful aspects -- the fouls, the brutally physical challenges to get the ball, the theatrical dives, and in one noxious instance in this World Cup, the biting. Nor is it to overlook the allegations of game-fixing at the club level or corruption of the host organization, FIFA (also here and here). Still, this does not take away from the value of teamwork as the sine qua non for victory -- whether on the soccer pitch or in national life.
Which brings us back to the dysfunctional present here in the U.S. To extend the soccer-as-teamwork metaphor. Clearly forgetting he's playing on Team America, House speaker John Boehner has announced he is suing President Barack Obama, his team captain, for alleged executive overreach. And, compounding team breakdown, this week House Republicans will hold Congressional hearings to set Boehner's lawsuit into motion. All the attendant screech and spectacle, of this scurrilous act and others, reflect not just organizational disorder, but, in truth, national decline.
Memo to Washington, memo to Wall Street, memo to Corporate America: Ever hear of teamwork? Ever hear of Team America?
For those of us who love the beautiful teamwork of the beautiful game of soccer, there's Major League Soccer, which cleverly scheduled a game the night of the World Cup final, no doubt in hopeful expectation of capturing all the new American fans. And there is always the next World Cup tournament, four long years from now. Hang in there, team: We're one week down, only 207 to go.
_________________
Carla Seaquist's forthcoming book of commentary, "Can America Save Itself from Decline?: Politics, Culture, Morality," is due out soon. Her book, "Manufacturing Hope: Post-9/11 Notes on Politics, Culture, Torture, and the American Character," came out in 2009. Also a playwright, she published "Two Plays of Life and Death," which include "Who Cares?: The Washington-Sarajevo Talks" and "Kate and Kafka," and is at work on a play titled "Prodigal."
Popular in the Community