In less than six month, the eyes of the world will follow the Olympic spirit to the Black Sea Resort of Sochi, Russia and social media conversations are already heating up.
While athletes are documenting their preparation for the Olympic trials, the majority of social media conversations are centered around Russian President Vladimir Putin's legislation he signed last month giving the Russian government the right to detain foreigners up to 14 days before facing expulsion from the country for their "propaganda for nontraditional sexual relations." Fans and activists are turning to Twitter and Instagram to persuade Olympic partners to end their Sochi 2014 sponsorships.
Fans are tagging their content, increasing discovery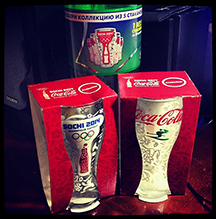 Social Media users are getting savvy using hashtags for their content which has increased their overall use.
Searching for the #Sochi hashtag on Instagram, you can find over 91,000 photos and videos. There are also over 22,000 posts with #Sochi2014.
Social Discovery and Distribution Obstacles
The challenge Coca-Cola, Procter & Gamble, "personal care and household products" partner and other Worldwide Olympic Partners like McDonald's, "retail food services" partner are having is distributing Olympic content since messages from activists already populate the social media conversation.
Photos that brands might not want to be associated with already have their unauthorized logos on them and users are finding that content instead of the content distributed by the partners.
Olympic partners need to respond to community concerns and generate trust with honest communication using the same social media channels fans and activists are using like Instagram and Twitter .
Instagram accounts for Coca Cola, Procter & Gamble, and McDonald's are easy to find and follow since their user name is the same as their brand name. But Atos, the "information technology" partner did not register the Atos account on Instagram. We found 18 other users with variations of the Atos name, none of which are associated with the brand.
Same with DOW, "official chemistry company" partner, GE, "energy generations systems" partner, Omega, "timing systems" partner, Panasonic, "audio / TV / video equipment" partner, and Visa, "consumer payment systems" partner. Without a simple way to find official accounts, users will not be able to follow or see the content these worldwide Olympic partners are creating.
Samsung*, the "wireless communications equipment" partner was not able to grab their name on Instagram, but they have several different accounts like Samsung_Company and Samsung_RU for their office in Russia.
It is not too late for Olympic partners to report trademark violations to Instagram. However, if they can't claim the accounts, partners can create new accounts and use their Web sites and social channels where their fans already engage with them, and encourage them to follow the new Instagram or other social media account.
Olympic Partner Web sites should provide a social media hub, with links to all of their social media channels for users that are looking for content. A social media hub also increases the signals the search engines can find and improve the brand's ranking on the search and social shelf space.
Coca Cola has a great social media hub that any brand should use as a guide. Not only does it provide their Social Media Principles and commitments to transparency, but it also provides links to the official social media accounts.
The only recommendations we would make to Coca Cola is to move the banner with the different links, social media icons and membership totals from the bottom of the page to the top of the page and as a global brand, they should list their different regional social media accounts on the same page.
Samsung does a good job linking to their different support, mobile and regional social media accounts but we were not able to find the links related to their Olympic programs and interactive Wireless Olympics Works (WOW) platform that will enable fans to get the latest news from the Olympics via their smart phones.
Businesses of any size should protect their trademarks on all social media channels and create a social media hub similar to Coca Cola's. Even if a small business does not have resources to engage users via Twitter or Instagram, or do not have videos to upload to YouTube, by creating the different accounts the small business can have a profile with a link back to their home page. Another benefit of this strategy is that you stop a spammer from impersonating you and creating a fake account with your trademark or business name.
We know users will search for Sochi 2014 content via hashtags on Twitter, Instagram, Google+ and even Facebook since they recently adopted hashtags as a discovery tool. This makes it too easy for spammers to highjack the Olympic conversation and drive traffic to unrelated sites. Next week we will cover how brands can fight back and increase the distribution of their Olympic content.
Is your company getting ready to distribute content during the Sochi 2014 Olympic Games? Are you following your favorite athletes and corresponding national Olympic committees? Who should we follow? Add your comments below.
*Julio Fernandez was a blogger for Samsung during the London 2012 Olympic Games, creating and distributing content via different channels. Mr. Fernandez is Vice President of Search Marketing and Analytics for SocialShelfspace.com, a marketing agency that combines search engine optimization with influencers outreach to deliver measurable effects. SocialShelfspace.com has a team in place to cover the Sochi 2014 Games and is hoping the Jamaica National Bobsled Team qualifies for Sochi.
Calling all HuffPost superfans!
Sign up for membership to become a founding member and help shape HuffPost's next chapter