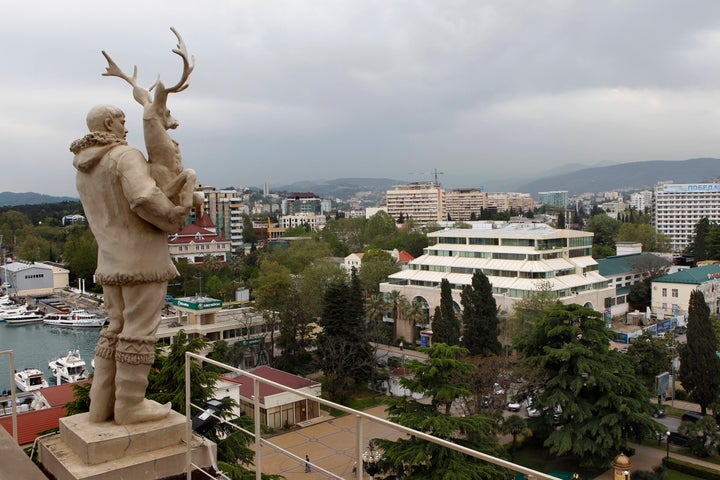 The 30 Olympiad has officially come to a close. There were many highlights -- including both the opening and closing ceremonies -- heart-felt defeat for some Canadians, like the men's 4x100m relay team, and a Canadian first with a gold media in women's trampoline from 23-year-old Rosie MacLennan.
The highlight: The closing ceremonies of the London 2012 Olympics featured performances by three openly gay musicians: George Michael, Neil Tennant and Chris Lowe of the Pet Shops Boys. The closing ceremonies also celebrated the late Freddie Mercury of Queen, to whom Jessie J did justice and who is also openly bisexual.
However, in a minor yet noticeable celebration of queer popular culture accomplishments, the 2014 Sochi Olympics in Russia pose tough terrain for out gay athletes to overcome. With the recent decision to ban an LGBT Pride House, the issue of a nationwide 'gay propaganda' ban up for consideration after gay and transgender propaganda was banned in St. Petersburg, the experience doesn't look promising.
The 2010 winter Olympics in Vancouver hosted the first ever Pride House at an Olympic event. London followed suit. Having a Pride House created a safe and positive atmosphere for LGBT athletes and their allies alike. It is a place where athletes can be themselves, share pride in their sexuality, but also their athletic abilities. Russia is banning the LGBT Pride House at the 2014 Olympic Games with Judge Svetlana Mordovina stating that a Pride House was "propaganda of non-traditional sexual orientation" that could incite "social-religious hatred."
How will it be possible to celebrate sexuality and the podium in Russia when the Games will no longer include a positive space for LGBT athletes? If an out gay athlete tweets about pride for their sexuality and their Olympic accomplishments in Russia, will that be banned, given the potential for a ban on 'gay propaganda'? That would be incredibly unfortunate and demeaning to out gay athletes everywhere, not just Olympians. Not to tag anyone with a 'gay role model' status, but there are out athletes who look to these out and proud Olympians for reassurance -- LGBT athletes not only compete in Olympics, but they also win medals for their countries; countries where an athlete's sexuality is a non-issue.
The practice of sport is a human right. Every individual must have the possibility of practicing sport, without discrimination of any kind and in the Olympic spirit, which requires a mutual understanding with a spirit of friendship, solidarity and fair play.
How will it be possible for out gay athletes to practice sport without discrimination of any kind in a country that might potentially ban all 'gay propaganda'? A 'gay propaganda ban' and eliminating a Pride House are certainly means of discrimination for LGBT athletes.
Likewise, here are some key points on the role of the International Olympic Committee, according to the Olympic Charter, in regards to acting as a catalyst for collaboration between all parties of the Olympic family:
To encourage and support the promotion of ethics in sport;
To act against any form of discrimination affecting the Olympic Movement;
To oppose any political or commercial abuse of sport and athletes;
To encourage and support the efforts of sports organisations and public authorities to provide for the social and professional future of athletes;
To promote a positive legacy from the Olympic Games to the host cities and host countries.
As Canada.com mentioned, the International Olympic Committee banned South Africa from the Games from 1964 to 1991 over apartheid, but it won't weigh in on the critical issue of Russia's 'gay propaganda' ban. The IOC needs to step up to the plate and take action against Russia's potential for LGBT discrimination, especially if one of its roles is to oppose any political (or commercial) abuse of sport and athletes. I believe administering a nationwide 'gay propaganda' ban is a political abuse of athletes that doesn't promote a positive legacy to this host country. Certainly the IOC's goal of promoting peace through sport will be overridden by Russia's lack of tolerance toward the LGBT community, and, in turn, out and proud queer athletes. If the IOC is supposed to promote ethics, promoting concepts of wrong behavior (homosexuality) in Russia's decision to ban (a) Pride House (and pending 'gay propaganda' ban) must be addressed.
From the perspective of an athlete, what will happen when Johnny Weir competes in Sochi 2014? He is a self-proclaimed Russophile who admires the skating style and culture of Russia. He also married Victor Voronov, who is of Russian descent. He is an internationally known figure skating super star who happens to be openly gay and rather proud of it. Will he be able to showcase his unique queer individuality or just be confined to competing in his sport of figure skating? I am referring to 'confined' as in no flamboyant costumes, no tiara, and no pink -- strictly a masculine persona. Even if Johnny Weir doesn't 'promote' homosexuality through tweeting, will Russia consider his open sexuality a promotion of homosexuality during the Games? Will that be considered 'gay propaganda'?
It will be interesting to see whether or not Russia's 'gay propaganda' ban will come into effect in time for the 2014 Sochi winter Olympics. If it does, what implications will this have for out and proud queer athletes from other nations where considering a bill for a 'gay propaganda' ban wouldn't even get passed the first reading in the House of Commons (in Canada)?
The International Olympic Committee needs to take immediate action against these noticeably international forms of LGBT discrimination that are cause for jeopardizing the Olympic Movement. Choosing a host country where there are no laws protecting against discrimination or harassment on the basis of sexual orientation, where propaganda of homosexuality among minors is prohibited, and, where, in Moscow, gay pride has been banned for the next 100 years, is not in accordance with the Olympic charter. Not one of those things promotes peace (through sport), a core role of the IOC.
Popular in the Community