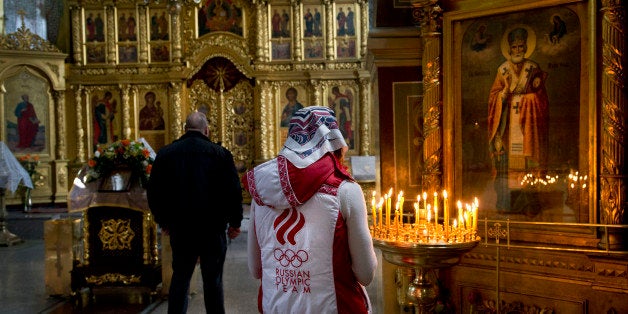 Carl Dambman has spent years preparing for Sochi, traveling from his Seattle home to athletic competitions in the United States and internationally, improving his skills ahead of the Winter Olympics.
But Dambman, 63, isn't an athlete. Instead, he's one of dozens of chaplains volunteering at the games, where organizers have set up three multi-faith centers at the Olympic and Paralympic villages for competitors and their coaches.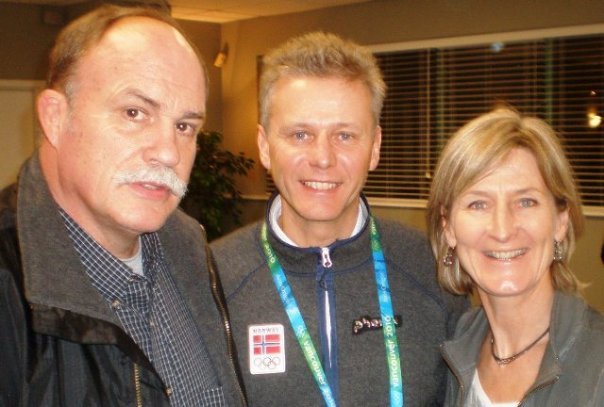 Carl Dambman, left, with fellow chaplains at the 2010 Vancouver Winter Olympics
"In such a high-pressure, high-stakes place, you never know what someone will want to talk about, but we're there for them," said Dambman, an Olympic wrestler in the 1970s who now ministers internationally for Athletes in Action.
The Christian sports organization is affiliated with Cru, formerly Campus Crusade for Christ. "I don't pray for victory, but I pray for the best of my potential and of [the athletes'] potential," said Dambman.
For the 6,000 athletes competing in the Olympics and the 1,650 Paralympians, officials have set up prayer centers for Christians, Jews, Muslims, Buddhists and Hindus. Following an Olympics tradition, each Olympic village will have a multi-faith center staffed with chaplains representing each religion. Christian athletes -- Protestant, Roman Catholic or Orthodox -- can attend Sunday services and celebrate Mass, while individual rooms catering to the other four faiths will be open 24 hours for competitors to worship, meditate or receive counseling.
"We're here to advise and encourage people. Personally, I meet with Christian athletes that are interested. We have Bible studies, we have prayer time, or we just give them a quiet place to be with themselves," said Dambman, a Baptist who worked as a Moscow-based missionary to Russian athletes from 1990 to 2010. Sochi is the fifth Olympic games where he has volunteered as a chaplain, and the 16th he's attended as a competitor, spectator or volunteer.
The majority of chaplains at the Olympic villages are from the Sochi area and were chosen by the host city's organizing committee. They include a California-raised Orthodox rabbi who directs the Chabad Jewish Center of Sochi as well as an imam from Kazan in the Russian Republic of Tatarstan, a majority-Muslim area. Orthodox priests, who represent the largest religion in Russia, will also be plentiful.
"An estimated 20,000 Jewish foreign visitors will be in attendance over the course of the next two weeks. Our staff is equipped to prepare about 7,000 kosher meals during that time," said Rabbi Ari Edelkopf of Chabad of Sochi. His organization has opened two temporary synagogues -- one at a Marriott hotel and another just outside the Olympic Park -- and additional rooms at official multi-faith centers for athletes. "Every person, from every background, affiliation or nationality will be warmly embraced and welcomed," said Edelkof, who is working with a team of 12 rabbis who will also conduct Torah classes.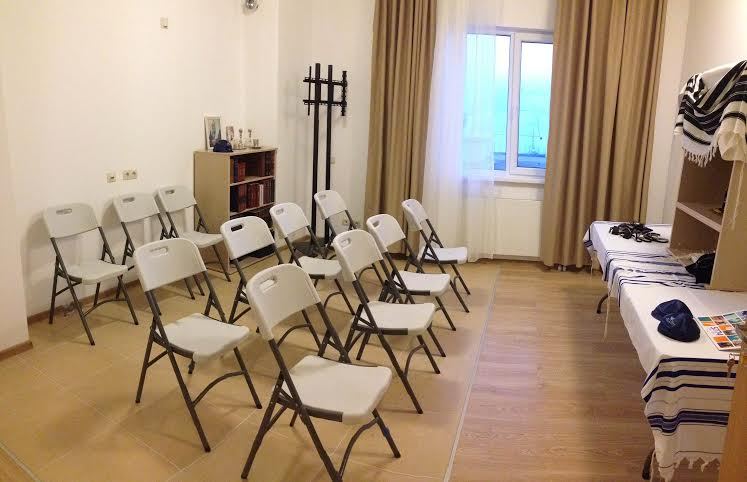 A Chabad-organized Jewish prayer room at one of the Olympics' multi-faith centers.
Temporary prayer rooms, both in the Olympians' multi-faith centers and in areas for tourists such as those set up by Chabad, are barebones. Typically, they'll include folding chairs and books appropriate to a faith's traditions. For Muslims, there will be an empty carpeted floor with space for group prayers. Buddhists' rooms often include incense and pillows for sitting during meditation, while Hindu rooms include deities, said Dambman. Muslims will be offered prayer caps and Qurans, while for Jews, there will be kippahs and tefillin. Athletes are greeted by a receptionist and can browse schedules for prayer times when they enter each center.
According to an Olympics spokesperson, organizers don't keep track of the religious backgrounds of athletes, though Christians are expected to be the largest group of competitors. There will be fewer Muslim and Hindu athletes, who tend to hail from nations better represented in the summer games. Hindu-majority India is suspended from the games, though three Indian competitors are in Sochi as independent athletes. The number of Buddhist and Jewish competitors is harder to estimate, even though members of those faiths practice in most countries taking part in the competitions.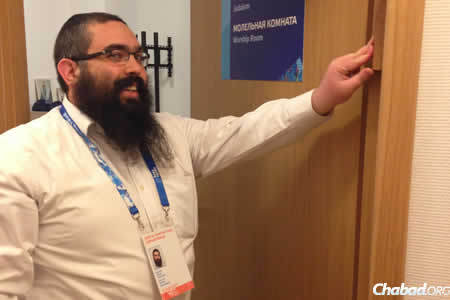 Rabbi Ari Edelkopf places a mezuzah in one of the temporary Chabad houses created for the Olympics.
"Religion and spirituality have always played a big role in the sports," said Dambman, who has consoled competitors experiencing deaths in their families, dream-shattering injuries and depression.
The original Greek Olympics were part of a festival to honor Zeus. Pierre de Coubertin, who founded the modern Olympics in 1896, once said that "the first essential characteristic of the modern Olympics is that, like the Olympics of ancient Greece, they constitute a religion."
But while many athletes are religious, not all of them use the centers. Athletes often observe their faiths alone or with their teammates and coaches, said Dambman.
One of the most famous Olympians of the 2012 London games, gymnast Gabby Douglas, has spoken frequently about how her Christian beliefs helped her excel through emotional and physical struggles, but said in an interview that she didn't know about the multi-faith centers at the games.
"I never went to any prayer center, but if you see my mouth moving at the Olympics or before any other competition, and I'm praying. It's all up to God. He delivers us from so many obstacles," said Douglas, who wrote Grace, Gold, and Glory: My Leap of Faith.
Religion, though diverse at the games, is less complex in everyday Sochi, a majority-Christian city of 343,000 people. Russian Orthodox churches are common, while there is also a handful of Catholic and Armenian churches. The Sochi Muslim community, a total of about 20,000 people, has its closest mosque 25 miles north of the city and has been unsuccessful in getting support for the construction of a central place of worship. The city had a large Muslim community until the 1860s, when Czarists pushed out or killed ethnic Circassian Muslims during the Caucasian War.
The Jewish community, meanwhile, is largely restricted to the Chabad center, which is run by Orthodox Jews but is open to all Jewish people. The Russian government is frequently cited as favoring the Orthodox church over other religions, and the Pew Research Center in January named the country one of the top five nations with the most restrictions on religion.
"Religion is still growing in Sochi, not all is officially established yet and it will take some time," said Sufian Zhemukhov, a visitor scholar at George Washington University who studies nationalism and religion in Russia. "But the games may give people who have access a broader taste of the various faiths."
Before You Go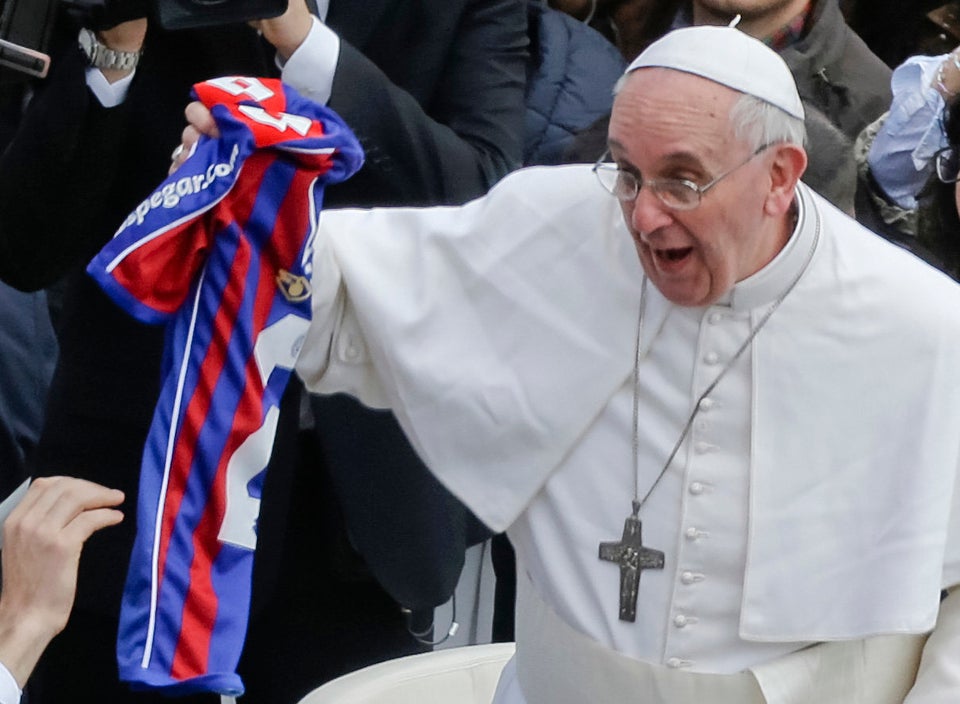 Pope Francis On Sports
Popular in the Community