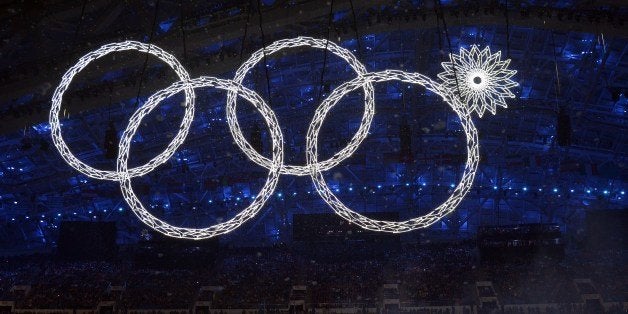 SCROLL DOWN FOR LIVE UPDATES ON CEREMONY
A record total of 88 nations are competing in the Sochi Games, with approximately 3,000 athletes vying for 98 gold medals. The Olympians will enter Fisht Olympic Stadium during the "Parade of Nations." As is traditional, the Olympians from Greece will begin the parade. Up next, Australia. The home team will conclude that portion of the ceremony. The United Stats will be the 67th team to enter the stadium.
Although entering the ceremony has always been an emotional experience for the athletes involved, Konstantin Ernst, the creative producer of the Sochi ceremony, told reporters that he has previously found it to be "one of the longest and more boring parts of the ceremony." As reported by The Washington Post, Ernst has a plan to make this segment of the ceremony more "dynamic."
The identity of the person who will carry the Olympic torch into the stadium to light the cauldron remained a secret before the ceremony. Whomever handles the honor will conclude a historic journey for the Olympic flame. The torch relay covered 39,000 miles during the relay.
The event will not be televised live in the United States but will be aired on tape delay by NBC on Friday evening. NBC will make every event available for live viewing online but opted to keep the opening ceremony off its digital platform.
STAY TUNED FOR LIVE UPDATES ON THE OPENING CEREMONY
REAL LIFE. REAL NEWS. REAL VOICES.
Help us tell more of the stories that matter from voices that too often remain unheard.