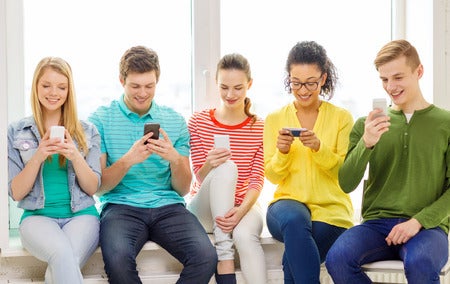 Most kids use their apps responsibly to connect with friends whom they already know in a friendly and respectful manner....but some kids get a little crazy. There are 5 categories of apps to be aware of: the (1) major players-used by people of all ages, but might have potential for danger when used by minors; (2) vault apps-these apps hide images, videos; (3) live casting apps-users broadcast whatever they are doing to wide audiences in real-time; (4) anonymous apps-users make posts or comments anonymously, so they are often used for bullying; and (5) messaging apps-these apps allow the exchange of text, pics, videos-but some have features that instantly delete content. You've got to know about these apps-so kids take you seriously and come to you if an issue arises. Ask kids what they like about the apps and why they use them. But above all, remember that apps themselves are not the problem. It's all about awareness and education!
Twitter-Users "microblog" their thoughts in 140 characters or less. This platform can be a great way for teens to get connected to positive programs for youth. However, there is a ton of porn on Twitter. Talk to kids about using Twitter to express themselves, but remind them to be thoughtful, as anyone can view what you do on a Twitter account.
Instagram-An app for users to make beautiful photo-centered profiles. You can create a private account, but the default is public, which can inadvertently invite attention from weirdos. Also, many teen girls are measuring their self-worth by how many likes their sexy selfies get. Teens often make a 'finstagram' account, or second (fake) Instagram account to fool parents into believing that they can see everything their kid is doing online. And again, the porn!
Tinder-A photo and messaging dating app used to find potential matches within a certain-mile radius of you. Swipe right to "like" a photo or left to "pass", if two people both like each other, then the app allows the two to message one another. However, with all geolocation apps, pervs use them to find potential victims. Make sure kids knows several different ways to decline offers to meet up with someone they don't already know or to refuse communication entirely.
Tumblr-If a blog and Twitter had a baby, it would be Tumblr. Teens often have "tumblogs" for sharing photos, videos, and things they find funny with their friends. However, porn and images of violence, drug use, and self-harm are easy to find on Tumblr and not censored.
Audio manager-This app has nothing to do with managing music and everything to do with hiding images. Behind the lock screen, users can hide messages, photos, videos, and other apps.
Calculater%-Same deal as audio manager, except hidden within a fake calculator. When you push a button within the app, it can hide any sketchy pictures instantly.
Vaulty-This app will not only secretly store photos, it also will snap a photo of anyone who tries to access the "vault" with the wrong password. The major problem with vault apps is that they provide a sense of security for sexting, which is why they are often the most common way to facilitate a sexting ring.
Periscope-The live casting app for Twitter which allows anyone to broadcast whatever they'd like over the internet. Teens sometimes do stupid things to get followers and may inadvertently share identifying information not knowing who is watching. Some use periscope for casting live sex acts.
You Now-A service which allows users to broadcast live footage to the world. The point is to get as many followers as you can to create a solid YouNow fan-base. There are genres like watching people eat, smoke, and sleep. Sounds like the world's most boring TV station to me, but each month 4 million viewers watch more than 100 million webcasts.
BurnBook-An anonymous app for posting text, photos and messages about rumors. The messages are organized by school-as determined by geolocation. You can imagine how bullying ensues.
Whisper-Users create anonymous memes on the app, which pair text with an image. This outlet can be great for expressing fears and joys, but a lot of the content is sexual in nature (nearly nudes) or dark (depression, self-harm, substance use). And again, anonymity creates a hot-bed for cyber-bullying.
Omegle-Similar to chat roulette, Omegle sets up strangers to chat to one another via text or video. However, many users ask for location, age, and gender upfront, so kids might comply without realizing they don't need to and put themselves in danger. Also, Omegle is filled with people searching to chat about sex and some offer links to porn sites.
YikYak-This app is like an anonymous Twitter. It allows users to post "Yaks" of up to 200 characters that can be viewed by other Yakkers within a 1.5 mile radius-as determined by geolocation. Given the anonymity of the app, kids use it to make threats, like bomb threats, for example.
Slingshot-Marketed to boys, this is a comparison app that allows users to create polls for other users to vote on. As you can imagine, the polls are often crude and about rating girls' sex appeal.
Wishbone-Similar to Slingshot, but marketed to girls. Interestingly, there are less polls about boys and more about girls voting on how lame other girls are.
Jott-An app that allows you to 'air chat' or chat without wifi. Jott breaks up users by school. Kids can chat on the bus, at school, or on an airplane as long as the other user is within 100-2,000 feet. There are similar features to other apps, like "disappearing photos" and fun stickers. The issue is many parents and schools turn off wifi capabilities to monitor online activity. This is a way to bypass that kind of monitoring.
Snapchat-Users think their snaps will disappear-with their timer function-and they are wrong. It's actually pretty easy to recover a Snap, take a screenshot of it and share it. The issue is that 'snap porn' is super popular and normalizes the posting and sharing of nude or nearly nude images. Make sure your kid knows there is no such thing as "gone" when it comes to technology.
Burn note-Like Snapchat, Burn Note is a messaging app that erases messages after a set period of time. Unlike Snapchat, this one is for text messages only, not photos or videos. Teens feel more comfortable revealing more with this app because of the "impermanence" of the texts.
Line-An all-in-one mobile hub for chatting as well as sharing photos and videos for free. Users can decide how long their messages can last (two seconds or a week). There is also a hidden chat feature. The other issue: kids can rack up the charges with in-app purchases.
Kik-A free instant messaging app that lets users exchange videos, photos and sketches. KiK does not offer any parental controls and there is no way of authenticating users, so pervs use the app to interact with minors.
Related
Popular in the Community