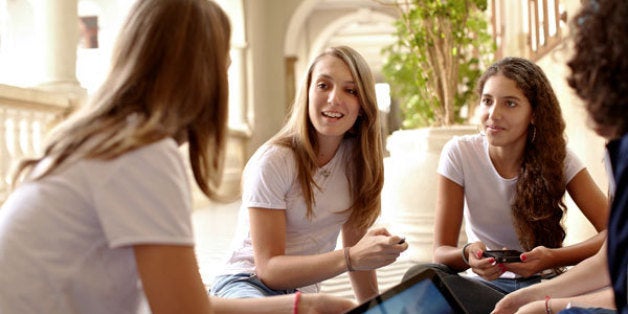 As I was growing up, my mother often told me "girls can be anything they want to be." She had spent her childhood in the South during a time when young women were limited to only a few career options -- nursing, teaching and secretarial work. "Dream big," she said, encouraging me to consider all and any path: science, law, medicine, politics, academia. When I decided to be an astronaut, a boy in my 5th grade class dismissed the idea because I was a girl; my mother simply noted, with remarkable restraint, that his comments were a reflection of his scope of vision, and not my potential.
Now, with two young daughters, I often reflect on how my own mother and early mentors urged me to think beyond boundaries. I too want my girls to be free to pursue their dreams, so I was shocked to hear of a recent trend that implored parents to stop telling our daughters the very words of encouragement that inspired me to have boundless ambition.
Despite my initial reaction, the rationale behind the recommendation indicates progress: in saying that "girls can do anything" suggests there is a question of ability in the first place. Preposterous.
Women are increasingly gaining their place and making strides in every sector. In 2011, 31.4 million American women over the age of 25 had a bachelor's degree or more, higher than the corresponding 30 million for men, according to the U.S. Census Bureau. 37.6 percent of employed women held management and professional positions, as compared to 34.4 percent of men that held similar positions, according to the U.S. Bureau of Labor Statistics for 2011. At senior levels, women continue to grow their ranks: in the last year, women have taken the helm at the Federal Reserve and the largest US automaker. There has been real progress.
But there is more to be done. Women do not yet lead at senior levels in representative proportions in the corporate or political worlds. According to the 2013 World Economic Forum Global Gender Gap Report, the gap between men and women on political empowerment remains wide - only 21 percent of the gap has been closed -- in the 136 countries that represent over 90% of the world's population. We are under-represented in technical and scientific fields.
Also, women worry that their decision to have children will negatively impact their career, and its progression. When I was expecting just a few years ago, a young woman told me that my career progress would slow as a result of motherhood, and to expect otherwise would be naïve. "Women with children," she said, "just can't work as hard those of us without them." I was speechless.
Yes, we must go further, but it's worth recognizing we have not made strides alone. Companies like Cisco have brought focus to hiring, nurturing, promoting and supporting women, especially in technical fields and leadership roles. While the tech field struggles to grow women in its ranks, Cisco has had female leadership since its founding days. And as shown by its March 6th, Women of Impact Conference, Cisco continues to invest and promote opportunities for women - and men who support and work alongside us - to build their professional networks, learn from one another and create connections that foster continuous career development and learning.
Perhaps equally importantly, Cisco carries those values outside the company so that women everywhere benefit. Cisco was a founding partner and remains a strong supporter of NetHope, the organization I lead as chief executive officer. NetHope brings together technology companies and humanitarian organizations to address the most pressing needs for the world's most underserved populations. Whether bringing Internet connectivity to a refugee camp to support service delivery or building IT skills among African youth, Cisco has consistently helped our member NGOs use technology to meet new challenges, some of which included gender as a key focus.
For too many girls today there is, sadly, still a question of whether or not they will be offered the opportunity to pursue their dreams. Too often, the answer is not an empowering one. But NetHope, Cisco and our member organizations and partners are working together to ensure that the progress we've made benefits women, and the communities in which they live.
Cisco helped build organizational and information technology capacity to improve coordination and effectiveness of international humanitarian and conservation organizations. For more information, visit: http://csr.cisco.com/pages/partner-nethope
This post is part of a series sponsored by Cisco and its partners promoting women in STEM. Check out more stories about women in STEM here. Find out even more on HuffPost ImpactX, where people, technology, and social impact converge.
Calling all HuffPost superfans!
Sign up for membership to become a founding member and help shape HuffPost's next chapter