From the outside, envisioning the business idea is the first step for adventurous entrepreneurs or new small businesses. But, before the entrepreneur believes in the idea, she must first believe in herself—social development before developing the business plan. Call it the first step before the first leap into starting a business. After observing a new family owned business employing Syrian refugees in Chicago, I was excited that they raised the seed money for their "brick and mortar" location. However, I was shocked that the new business had not thought of registering with their local Chamber of Commerce.
"What is the point when I am busy trying to train employees before opening day?" asked one of the business partners.
Recovering from my shock, I responded:
Well, your local chamber sponsors local events year-round— like the upcoming car show. They want food vendors. You sell your tasty food, for a profit, while introducing your business name to the community, which builds a local customer base. You save cost on mailing out your menus because you will have the opportunity to hand out your menus to car show enthusiasts. Win-win. It's good publicity.
Unfortunately, I was unable to convince him of the strategic imperative of good publicity or undertaking public relations. Perhaps he was overwhelmed with the variety of other small business challenges of preparing for a business launch. Either way, he was not alone in facing the social development challenge before leaping into a new business venture. I could relate.
Social Development: Bootcamp for Confidence
Back in 2014, I visited the Small Business Administration's partner in small business support, SCORE, weekly for my first year while setting up PITAPOLICY Consulting. I needed a marketing mentor. What I mistakenly referred to as "self-promotion", was actually the public relations I needed to market my business. Others may refer to "self-promotion" as "confidence" in your business idea; while some will refer to it as "hustling".
What really worried me, though, was I had all these resources to help me start my business in my home country. What about those—like refugees—who are not just new to business, but new to the country? Luckily, as a Polsky Exchange Member, I heard through the startup hub that Steve Lehmann created the 'Threadie Bear', which inspired him to share his entrepreneurial lessons learned with a new generation. Lehmann just returned from Turkey after leading entrepreneurship bootcamp training for 15 selected Syrian refugees. With an MBA from Notre Dame, Lehmann shared how entrepreneurship skills can be absorbed as early as in the teenage years. As such, the boot camp focused on how "thinking like an entrepreneur comes without necessarily having an idea to pursue", explained Lehmann. The business idea comes later. But the soft-skills must be learned by way of social and psycho-social development.
Take for example, Threadies: a crafted toy bear produced by women in the West Bank and given by way of the Karam Foundation to children who need them most. The 'Threadie Bear' arrives with a story and list of coping techniques drawn out in pictures for child psychologists to use with children who may be affected by post-traumatic stress disorder.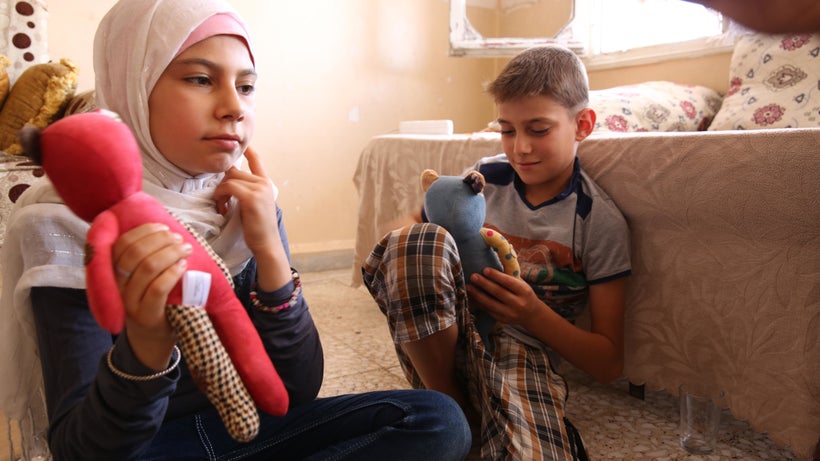 Meanwhile, the partnership provides job training and sustainable income for women while providing the psycho-social tool needed in refugee camps. (Now I want a blue teddy bear for my brainstorming sessions—or brief moments of small business anxiety.)
After speaking with Suzanne Akhras Sahloul, the Executive Director of the Syrian Community Network in Chicago (SCN), she described how "Syrian Delights"—a 10 person catering venture— could relate to the need for social development support required on the back and front ends of a small business. SCN offers a support network for Syrian refugees and helps them support themselves through social and financial skills development. That explains why SCN partnered with the Loyal Business School to ensure that entrepreneurs develop a business plan for "Syrian Delights". SCN completed a feasibility study before renting out a community kitchen and obtaining the relevant insurance and licenses.
The even better news: "Syrian Delights" is slowly growing while undergoing quality control in producing enough of the traditional date-cookie "mamoul" to meet the new demand in Boston. Sahloul explained that SCN mentors, like Bana Mashnouk Ahdab, introduced how 'quality control' and 'professional customer engagement' to the new entrepreneurs are key in building "Syrian Delights" reputation. SCN hopes that the catering company will pursue its next step in qualifying for a micro-loan to purchase a food truck. For sustainability's sake, the goal for the tasty venture is to be first seen as a professional experience, and not a charity case.
Someone asked Lehmann, just like I mistakenly asked Sahloul: "Can entrepreneurship revive Syria, or help the refugee crisis?" I now see this is an unfair, loaded question. Any new venture is risky. Add an extra layer of uncertainty, and the result is lower confidence. The better question may be: "how can social development prepare a new generation to be ready to implement that good idea when the opportunity presents itself?" Or "how can non-financial resources for entrepreneurs be more accessible?"
A small business's confidence signals that the product or service is worth it. Market it. Publicize it. Join your village's Chamber of Commerce. Have confidence by asking, rather than doubting yourself.
Calling all HuffPost superfans!
Sign up for membership to become a founding member and help shape HuffPost's next chapter
This post was published on the now-closed HuffPost Contributor platform. Contributors control their own work and posted freely to our site. If you need to flag this entry as abusive,
send us an email
.