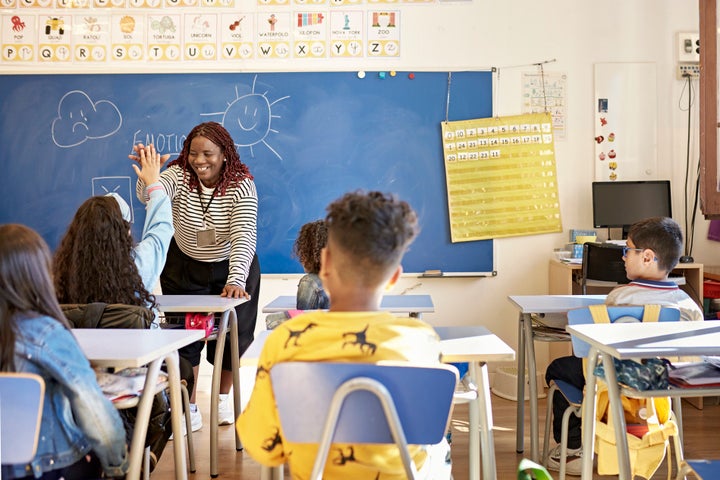 Social-emotional learning, or SEL, is nothing new in schools. But after a mostly controversy-free existence as part of curriculums for decades, it seems to have become another buzzword in the educational culture wars. Parents and legislators have called to ban SEL programming, leading to fiery school board meetings and much frustration from educators.
But what exactly is SEL? Where did it come from? And why the backlash today? Here's what you need to know.
What is social-emotional learning?
"Social-emotional learning is essentially a process ― one that helps humans communicate effectively, connect with others and make those all-important decisions for their future," said Andrea Lovanhill, CEO of the SEL-focused nonprofit Committee for Children. "Think of SEL as a power-packed tool kit filled with essential skills for life and learning."
Basically, SEL describes the way people cultivate life skills like problem-solving, managing difficult emotions, showing empathy, being assertive and staying motivated. As such, it plays a big role in education and development.
"These skills apply to all parts of our lives and help us achieve our goals, succeed in schools and workplaces, build healthy relationships, and contribute to our communities," said Aaliyah Samuel, a senior fellow at Harvard University who also serves as president and CEO of the Collaborative for Academic, Social, and Emotional Learning.
She noted that social and emotional skills, along with caring relationships and supportive environments, offer protection against mental health risks like anxiety and depression. Although you can find SEL in many contexts, it's present in schools through educational practices, frameworks and programs aimed at helping kids navigate challenges and thrive in and out of the classroom.
"If a child doesn't have strong problem-solving skills, they will likely struggle when it comes to solving a math problem or figuring out a complex science equation," Lovanhill explained. "But the struggle doesn't always end there. If kids don't develop these skills in their youth, think about the difficulties this may create for them as adults. We don't even have to look much further than the traumatic events of the last few years in this country, and across the globe, to see we can all do better by strengthening our social and emotional skills."
Where did SEL come from?
"In many ways, social and emotional learning has been around since the very first classrooms," Samuel said.
She emphasized SEL's role in supporting certain fundamentals of education, which include caring relationships between teachers and students as well as collaborative partnerships with families and communities.
"Educators have always focused on students' emotions and socialization because those aspects of growing up are vital to teaching and learning," Lovanhill said. "We know that students don't learn well when they are emotionally distressed, or when they are struggling with family dynamics at home, or if they're dealing with bullying or other traumatic events at school. About three decades ago, experts accumulated enough rigorous research around these aspects of childhood that it was given a name: social-emotional learning."
While educators can trace the framework of SEL back to Plato's "The Republic," many point to research at the Yale School of Medicine in the 1960s as the root of modern SEL. Professor James Comer piloted his Comer School Development Program at elementary schools in New Haven, Connecticut, and he found that fostering students' social and personal development helped improve their educational experience and academic performance.
By the 1990s, the term "social-emotional learning" started entering the lexicon, and researchers were working with child advocates, educators and other experts to formalize the field.
"Establishing an actual term for this approach has helped educators be able to search and draw from decades of research, have a shared vocabulary and a way to focus on the subject matter in order to drive excellent teaching and learning based on evidence and best practices," Lovanhill explained. "And it has become a bedrock of academic programs throughout the country."
Many of SEL's core principles have long been part of education in the U.S., but attached to terms like "character development," "workforce readiness," "noncognitive skills," "whole-child development" and more.
Today, Lovanhill added, it's hard to find any school not doing some sort of SEL teaching or learning ― whether deliberate or otherwise. Although the implementation of SEL varies across different schools, there's a generally consistent goal to make this educational model an essential part of the curriculum, rather than an addition to it.
"Some programs focus on improving students' academic-readiness skills like communication and critical thinking," Lovanhill explained. "Others focus on providing tools to reduce violence and bullying, and to protect against abuse. Others may concentrate on character-building life skills that prepare students for college and the workforce. Still others have a mix of all of those goals."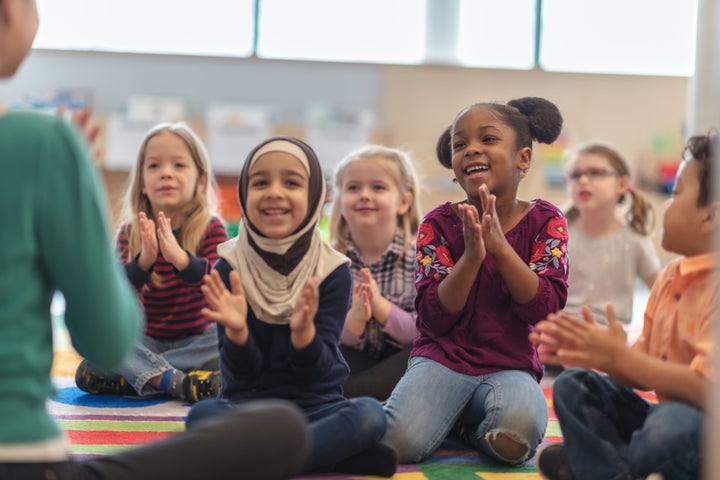 What are the benefits? Are there drawbacks?
Advocates for SEL point to studies that have linked this approach to improved academic performance and engagement, with higher attendance and graduation rates.
"Students participating in SEL report an increased sense of safety and support, better relationships with teachers, and stronger feelings of belonging and inclusiveness in schools," Samuel said.
A 2015 study from educators and economists at Columbia University found that for every $1 invested in SEL programs, there's a return of at least $11 due to increased productivity, decreased incarceration rates, better health outcomes and more.
Many experts also point to the role of SEL in preventing school violence, which helps free up teachers' time so they can focus on academics rather than disruptions and discipline.
Basically, when students feel like they belong in their school community, they're more likely to be engaged with learning and behave in an upstanding way. And students who know how to express and cope with their emotions in healthy ways are less likely to act out ― which helps their teachers succeed and increases teacher retention.
"Everyone needs social and emotional skills to be successful — whether it's learning how to be a good friend, partner, sibling, or a colleague," Lovanhill said. "And let's be honest, having strong social-emotional skills just makes people kinder. We all could use a lot more kindness in this world."
Not all SEL programs are created equal, however.
"In terms of drawbacks, SEL ― like any subject area ― can be done poorly," said Jordan Posamentier, vice president of policy and advocacy at Committee for Children. "Over the last half-decade, we've seen a proliferation of well-intentioned but underinformed offerings. It's important to ensure the SEL curriculum you're investing in is intentionally designed, rigorously tested and based on the most current evidence and research. I'd advise you to look at the research, analyze the data and be scrutinous!"
Remember that high-quality, research-backed SEL programs evolve based on real-life contexts and feedback from students, teachers and parents as well.
Why is SEL under attack?
Although SEL has been a relatively uncontroversial aspect of education for decades, the term started making headlines in recent years as part of the culture wars around schooling in the U.S.
Some conservative parent groups and politicians are waging anti-SEL campaigns, characterizing the educational model as "liberal indoctrination" and linking it to the academic framework of critical race theory. Lawmakers have even introduced legislation to ban SEL from schools.
Just this week, the Missouri State Board of Education vacated its plans to implement SEL standards for all K-12 students, instead offering guidelines as an optional resource for schools. This decision came after much pushback from SEL opponents as well as debate among parents and community members.
"In some areas of the country, due to more recent headlines, some parents aren't seeing the value of SEL skills," Posamentier said, adding that the term has been "smeared and maligned to confuse, scare and push people away from what it has meant for decades."
Indeed, there's much confusion and misunderstanding around SEL among its opponents. Tom Horne, Arizona's superintendent of public instruction, appeared to struggle to explain SEL when asked by Vox earlier this year. Yet he vowed to remove it from Arizona school curriculums.
"I hope that anyone who is making such a strong or declarative statement against something that has shown such an incredible benefit for kids, and has been thoroughly researched for decades, would take the time to really investigate the claims that they or others around them are making," Lovanhill said. "It's imperative for all parents to see social-emotional learning for what it is: the development and strengthening of the most important skills their children will ever need to learn."
Put simply, SEL is based on the idea that emotional intelligence is necessary to do well in school, connect with others and otherwise thrive in the world.
"When you put the term 'SEL' aside, there is overwhelming support for the underlying concepts across varying geographies, demographics and, notably, party lines," Lovanhill noted. "It turns out most people want kids to be self-confident, to communicate well and build healthy relationships. Those skills need time, attention and resources. That is also why most people want these skills reinforced in school."
Recent polling indicates broader parental support for the tenets of SEL than headlines might have you believe. A 2022 Pew Research Center report showed that 93% of parents, including a majority of both Republican and Democratic parents, say it is at least somewhat important to them that their children's schools teach them to develop social and emotional skills.
The National Parent Teacher Association released a survey in June of this year indicating that 90% of parents support the idea of schools providing resources and services to support their children's emotional and mental health, and 92% believe schools should "make sure all students feel seen, heard and included at school." According to a 2023 survey from the National Parents Union, 81% of parents believe public schools should provide teaching and discussion around the concepts of kindness, empathy, cooperation and collaboration.
"While there are a few loud voices trying to turn SEL into a political sound bite, there are many more educators, parents and students who understand the importance of social and emotional learning ― especially now," Samuel said. "It has historically had and continues to have bipartisan support because it reflects shared goals: We all want children to have healthy relationships, to have the skills they need to achieve their life and career goals, and to be caring and responsible members of their communities."
Although the bills to ban these sorts of programs have mostly failed thus far, the anti-SEL movement continues. Posamentier warned of the potential consequences if such bills were to become law.
"If any policymaking body actually banned SEL, it would mean educators would not be able to help students resolve fights on the playground, help students calm down to take their math test, set a goal for applying to colleges," he said. "I would encourage parents concerned about SEL being taught in schools to follow the research and understand the connection between academic achievement and social and emotional competence."
Lovanhill also encouraged parents to continue paying attention to what's going on with their children's education and to support their development at home in partnership with their teachers' efforts at school. They might ask questions about how the school plans to attend to students' social skills and emotional management.
"Some detractors insist we get back to basics, and we agree," Lovanhill said. "SEL is basic because all learning takes place in a social setting, with emotions as an integral part of the learning equation. Banning it means subtracting from the basic tasks of teaching and learning."
"At the end of the day," she added, "SEL is about positive impact, not political agenda."
Support HuffPost
A No-B.S. Guide To Life
Popular in the Community