The deluge of real-time information pounding my e-mail, Twitter feed, LinkedIn groups, RSS reader and Facebook is more than enough digital tidings to keep me current and my paper consumption in check. However, when the "Four Revolutions in Global Philanthropy" white paper (written by Dr. Maximilian Martin) popped into my inbox last week, scrolling was out of the question. And so, I hit print and endured the sting of burning ink onto 42 pages of paper. It was worth it.
The white paper breaks down four "key theaters of change in global philanthropy" and peels back the layers to the Impact Economy, a term which Dr. Martin is credited with coining, and was the subject of an interesting piece that Jonathan Greenblatt wrote last week. If you are a serious social entrepreneur, Dr. Martin's insights provide a hard-hitting perspective about how a new generation of the super-wealthy is "changing the logic" of philanthropy by moving dollars from inefficient, relationship-driven grant-making to investments in values-driven social impact business.
Like many pundits, Dr. Martin credits the philanthro-revolution in part to "a veritable global field of social entrepreneurship" and the role that pioneers like Ashoka have played in building infrastructure for the movement. He goes on to state that we are now experiencing a supply shortfall of high-performing social entrepreneurs. Here is an excerpt:
On a sustainable basis, and as a rule of thumb, one can find about one additional Ashoka-quality social entrepreneur per annum per 10 million inhabitants. This means that we could in principle source 680 new social entrepreneurs per annum (at a current global population of 6.8 billion) through this channel. Logically, one goal therefore has to be to enable these social entrepreneurs to reach scale faster. But the pool also needs to be enlarged. As social entrepreneurship matures and becomes a veritable social movement, new channels are now coming on stream to breed social entrepreneurs and social enterprises.
To enlarge the pool, Dr. Martin proposes a synthetic process "to incubate cohorts of social entrepreneurs and social enterprises." He calls these "synthetic social businesses." I am struck by the implication that a synthetic process to build formal incubation structures (i.e., fellowships, university-level programs) will shoulder the burden of solving the social entrepreneur supply issue.
However, for every Ashoka Fellow, there are countless social entrepreneurs working outside the esteemed incubators who are moving the needle in unprecedented ways. As a result of media technology/connectivity, open-source innovation, and unbridled access to information, many of the most extraordinary social entrepreneurs on the front lines today are self-sprung. After all, isn't entrepreneurism entrepreneurial by definition?
In developing Changents, we have collaborated with and identified hundreds of high-impact social entrepreneurs who fall outside of Dr. Martin's "synthetic process." Take Gretchen Wallace, founder of Global Grassroots' Academy for Conscious Change. Gretchen applied for an Echoing Green Fellowship and was not selected (nor, for that matter, was Kiva founder Matt Flannery), yet she is deploying highly innovative "creative resourcing" tactics that are trademark social entrepreneur principles.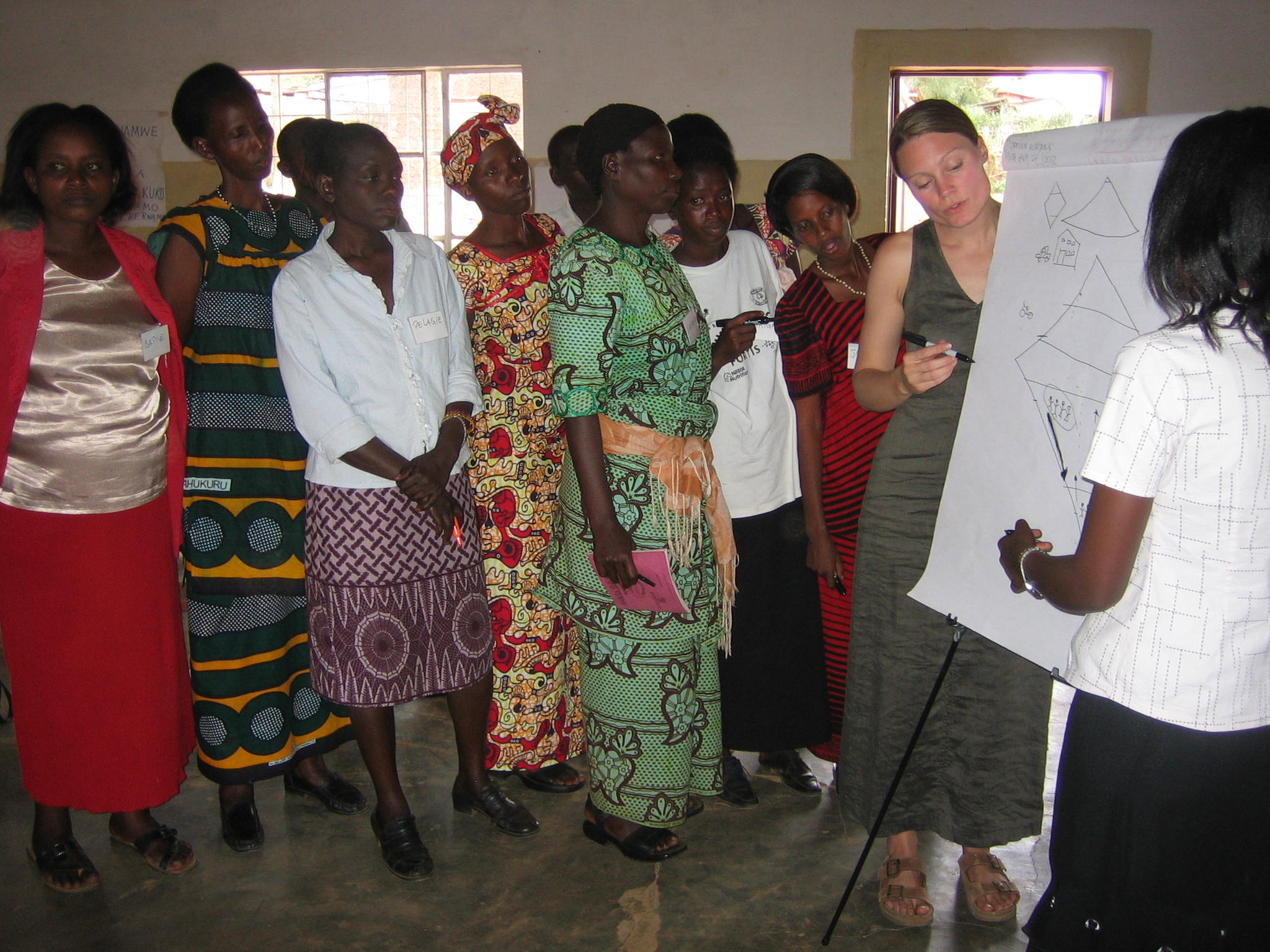 Photo: Gretchen Wallace, Global Grassroots
For example, to generate revenue for Invincible Vision 20/20 -- a social venture launched by graduates of Gretchen's incubator to provide illiterate women the skills to become fully engaged as citizens in rural Rwandan villages -- the team asked those who attended classes "to bring a rock, brick or stick with them to class as their fee for each lesson." Within two weeks, the program had accumulated a mounting pile in front of eight separate primary schools. They were able to fill at least one dump truck and sell the rocks and bricks as building supplies to a local construction company. They further bundled the sticks and sold them as firewood to the local villagers, earning enough money to pay teachers salaries for several months. With over 300 graduates serving over 10,000 women each year, Gretchen's work represents one of the most cost-effective, sustainable models for participatory development of post-conflict reconstruction.
Another good example of a self-incubated social entrepreneur is Emma Taylor. After college, Emma thought she'd spend a few months traveling until she figured out what she wanted to do. On a whim, she found herself in Pisco, Peru following a devastating 8.0 earthquake in August 2007. A few days turned into nine months of demolishing damaged buildings, clearing rubble, building a house, and constructing a school. What she describes as her "little recession born" social venture, European Disaster Volunteers, has deployed super-innovative social media fundraising and mobilizing models that are impacting more than 1,000 children and 144 families in just four months.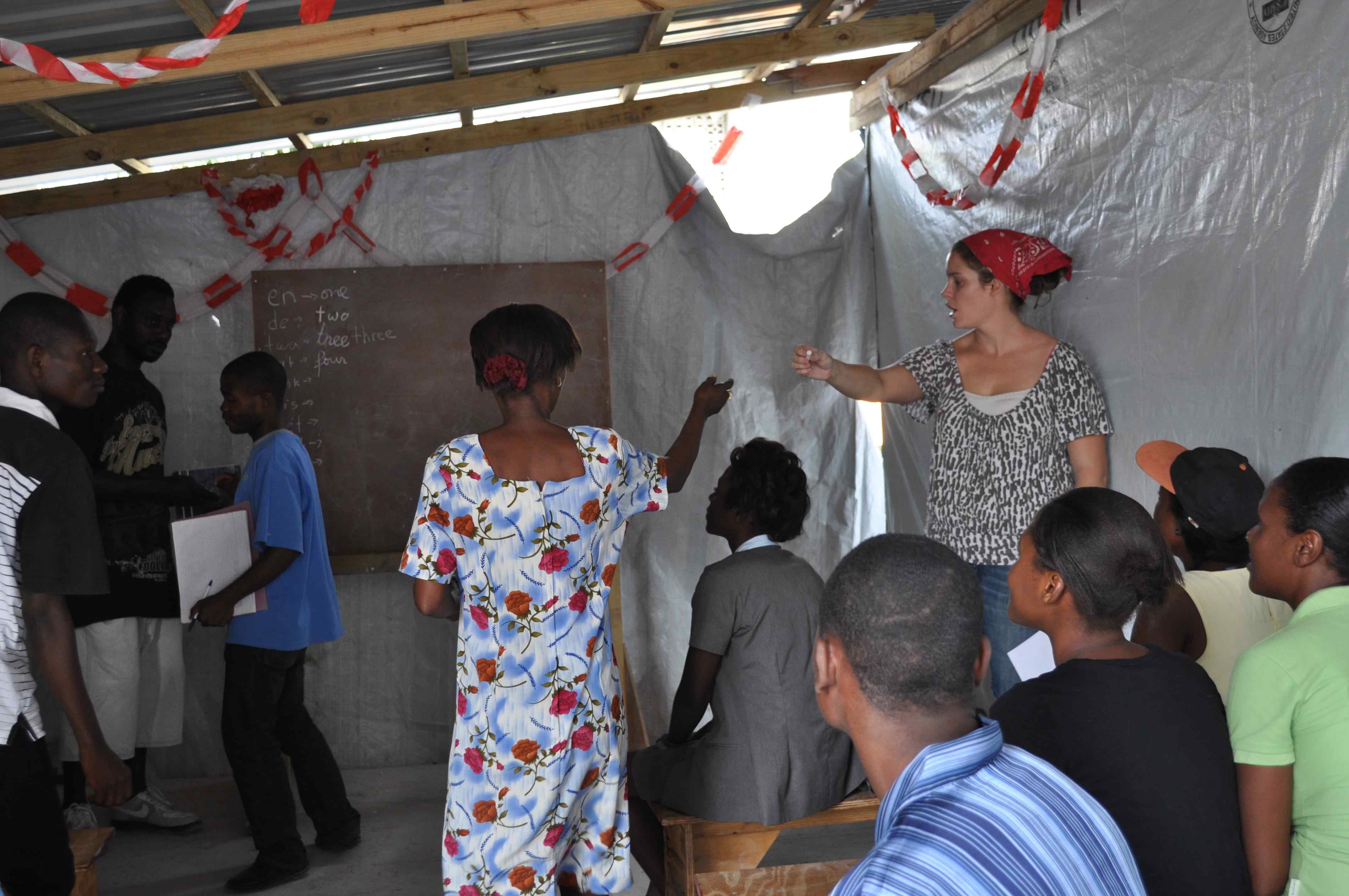 Photo: Emma Taylor, European Disaster Volunteers
Today, Emma runs EDV out of Port au Prince, Haiti. She spends her days working with disaster survivors to help them develop self-sufficiency plans, developing sanitation trainings to fight cholera, reviewing transitional classroom plans, and teaching sustainable disaster recovery. With no formal training, Emma recognized a social problem and uses entrepreneurial principles to organize, create and manage EDV as a social venture to achieve impact. She did not have the privilege of being a social entrepreneurship "fellow," yet Emma is very much a social entrepreneur who is changing the lives of disaster survivors and volunteers in unprecedented ways.
Dr. Martin is right that blended value investing in social ventures, and new structures such as social impact bonds, will put pressure on the social entrepreneur supply chain. That's a good thing. However, synthetic incubation channels are just one (albeit important) pipeline alongside many organic channels that will scale the number of high-quality social entrepreneurs in the marketplace. The revolution in global philanthropy is a story of entrepreneurship. For the few, a fellowship or a (Ashoka U-style) university training opportunity will be within reach but, for so many others, the trail will be blazed with bootstraps.
Related
Popular in the Community