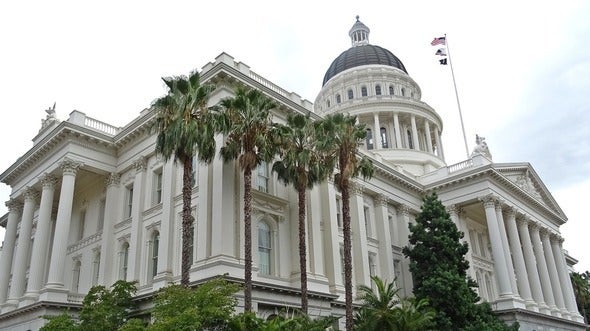 At the age of 22, I dropped out of my senior year of college to begin work as the top legislative assistant and aide-de-camp for a California state senator. Future historians will doubtless scratch their heads as they wonder why a state senator with approximately one million constituents troubled himself to hire me. Even I knew that I was utterly unqualified. No doubt a footnote will also record that it took me three whole months to discover that the second door in my office was, in fact, a private passageway connecting his office and mine (and not, as I had assumed, a storage closet).
Across the street from the Capitol was the Senator Hotel—the hub of social life among the political class, the scene of lobbyist-financed banquets and smarmy political plots. And, in the hotel's elegant Empire room, my first public event as the Senator's aide.
The night that the Senator was scheduled to receive the legal profession's 'Legislator of the Year' award, I found myself in a ballroom bursting with banquet tables adorned with crisp white linen, fine china and floral centerpieces. Like preening peacocks with law degrees, the legal profession was in full strut. As many as 500 trial lawyers (all men, as I recall) were wining and dining, laughing and talking over each other. Following standard protocol, after dinner, the Senator approached the microphone to accept his award. The din was raucous; unrelenting. At the back of the hall, straining my ears, I leaned forward to listen to my new boss.
"Ladies and Gentlemen, fellow members of the Bar, honored guests," he began. "Thank you so much. I am proud and honored to join you this evening. I know we are at a party, gathered here to celebrate with friends and colleagues, but, if you would indulge me, I want to take a few minutes to talk with you about our profession and our special responsibility, as lawyers, in building a better California."
A gradual hush befell the room as more and more heads turned to listen. The Senator's voice rose above the waning clamor—serious and sober, commanding attention. These many years later, his words remain the markings on my moral compass. I can repeat them almost verbatim.
"California is a wonderful place to practice law. Blessed with abundant resources and unlimited human talent, California's economy is growing and vibrant. But all is not perfect in our state or in our profession," he continued. "As attorneys, as officers of the court, sworn to uphold the law, here's what I want to talk with you about:
"Who are the corporate attorneys who told their clients that it is perfectly acceptable to dump poison in our rivers?
"Who are the school district attorneys who advised their school board clients that it is legal to shutter schools during the harvest season so young children could be forced into the fields to pick our fruit?
"Who are the attorneys who looked the other way when their clients exploited our glorious coastline for private gain? Who are the attorneys who allowed their bank clients to discriminate against women and minority customers?
"Who are the attorneys who wrote the legal memoranda sanctioning racial discrimination by their housing developer clients?"
By that point, the audience was rapt with attention. No talking. No whispering. No clanking food service. Not even a cough.
"My fellow lawyers, we are officers of the court. We did not take an oath to practice the law. We took an oath to practice justice."
Senator Petris wasn't just talking to a room full of lawyers. He was talking to me. He was talking to you. He was challenging us to activate our moral authority—as professionals, parents, voters, students, workers, writers, business leaders and ordinary individuals. He was calling us to be social entrepreneurs for justice.
If social entrepreneurship exists, it exists only because you and I swoon for justice. Our social entrepreneurial careers depend on a sustained reverence for fairness, decency, kindness and justice.
When you and I really think about it, when we burrow into our souls, we both know that at its core, social entrepreneurship is a love affair. Our life partner is justice.
Like any love affair, justice awakens an insatiable yearning. The more we embrace it, the more we are fulfilled by it. The more justice we get, the more we want—and the more it demands of us. Just like in any dynamic relationship, my mind focuses on what I can give, not what I can take. Thus, my happiness is fused with the happiness of others. As the old adage reminds us: giving is receiving.
I don't have a precise definition for social justice. I also don't have a precise definition for freedom of speech, or human dignity or, for that matter, the perfect romance. What I can confirm is that fairness, decency and kindness come naturally to social entrepreneurs, and from there, our hearts build our vision for a just world. Indeed, it's the pursuit of a more perfect world that is the euphoric part of our social justice work.
Jonathan C. Lewis, author of The Unfinished Social Entrepreneur (from which this commentary is adapted), is a life-long social justice activist and social entrepreneur. He is the Founder of MCE Social Capital, an innovative social venture that leverages private capital to finance tiny business loans to deeply impoverished people, mostly women, in 33 countries in the developing world. He is also Founder and President of the Opportunity Collaboration, an annual strategic business retreat for 450 senior level anti-poverty leaders from around the globe. In addition, Jonathan is the co-founder of Copia Global, an Amazon-like consumer catalog serving the base of the economic pyramid in Kenya. Jonathan is a Trustee of the Swift Foundation and serves as a General Partner of Dev Equity, a social impact investment fund in Central America. #UnFinSocEnt @SocentClinic (Photos by Pixabay)
Related
Popular in the Community