 This is the third installment in a new Impact series, #SocialGoodStars. The people highlighted here are passionate, dedicated philanthropists, strengths to their communities, and social media masters. They also happily share their vast knowledge with others, making them shine as leaders in the Social Good world. You can read the second interview with Twitter's Claire Diaz-Ortiz here.
"Be the change you wish to see in the world." - Gandhi
Amanda Hite, @sexythinker on Twitter, is a paradigm-buster that will inspire you to drastically change the way you think and behave. CEO and founder of Talent Revolution Inc., she's a change agent who's bringing sexy back to corporate thinking and people performance. As an Army kid who lived in 32 homes by the age of 18, she earned her Masters in street smart psychology. Her approach is sharp, focused and funky. She lives her message of "be the change" with authenticity and purpose, and for those who work with her and have heard her speak around the world, that message is forever tattooed in their conscience (just as "Be the Change" is tattooed on her arm). These creative attributes have helped generate massive awareness and donations to causes she supports, proving it's possible to make both meaning and money by utilizing social media for social good.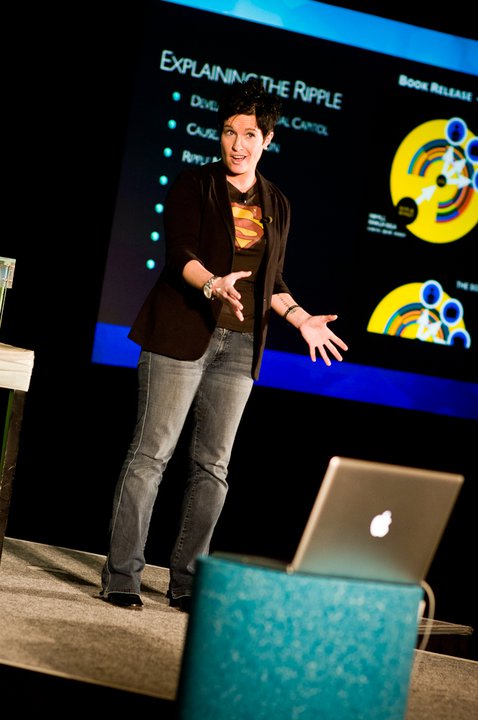 Can you talk about the inspiration behind the phenomenally successful Share Our Strength #NoKidHungry campaign?
Last summer I joined the advisory board team for Dine Out to help them with a social media strategy. We decided to create a movement on Twitter to raise awareness for and drive consumers into restaurants during the Dine Out for No Kid Hungry campaign -- one week every September where thousands of restaurants and millions of consumers join together to raise money to help end childhood hunger.
We recruited bloggers and tweeters to help us spread the word about a "tweet-a-thon." It was a huge success, driving over 40,000 hits to the site, rallying over 1,000 bloggers and tweeters. Dine Out had an 108% increase of funds, raising over $1.5 million dollars. The online grassroots team consisted of consumers, social media influencers, participating restaurants and their employees, Restaurant industry advocates and media like the FoodNetwork, and even some celebrities. The results are epic! More than 121,000 people have pledged to help end childhood hunger, 60,000 in the past couple months alone.

What tips would you offer someone trying to raise awareness and money for social good using social media?
Don't approach and execute it as if you were starting a campaign. Approach it as if you are igniting a movement. Campaigns have a beginning and end. Movements grow and live on as long as passionate and committed people are involved. So your first step is rallying your advocates and ambassadors. Let it be "their" movement let them be a part of planning and igniting it.
#BeTheChange is a hashtag I started using every time I speak, with the purpose of inspiring people to apply their talents to making meaningful change, specifically igniting online movements that inspire offline action. I follow the model of connected capitalism and am one of the founding members of the Changers of Commerce movement working to connect business to society on four platforms: community, institutions/government, philanthropy and employee values. While many call me a social media strategist, to me social media is just the tool we're using; creating movements is the strategy and making meaning and money is the purpose.
Ideally we can all can do something productive with our social media "Influence" -- join together and use it for good. Here's more on how to "Be The Change Influencers."
What and/or who inspires you?
There's nothing like sharing that "first time" experience where people realize, "Wow, I can make a difference!" and then afterward saying, "Wow, we did make a difference!"
A few people and organizations who are inspiring examples of being the change would be
Billy & Debbie Shore of Share Our Strength, Newark Mayor Cory Booker for how he sets the example in public service, my family, and one of my heroes, my great grandmother.
Positive, enthusiastic people who help others and look for ways to improve the world are inspiring and there are a lot of them on Twitter, Facebook, and social media in general. Always being the authentic, unapologetic you, applying talents to meaningful change and by example inspiring others to do the same is my personal mantra, message and purpose in this world. Everyone can #BeTheChange!
"The privilege of a lifetime is to become who you truly are." - Carl Jung

Amy Neumann is a writer, speaker and consultant on social good marketing. Check out her CharityIdeasBlog and follow her on Twitter @CharityIdeas.
Popular in the Community