 Nonprofits have longed for years to have access to the best technology. Often, even the best of ideas have challenges when technology is involved, whether it's a technical or a funding issue. That's where the newly-announced Google Global Impact Awards come in.
When you think of advancements in technology, engineering and creativity, you probably think Google. But the tech powerhouse also has a generous philanthropic side. Its new Global Impact Awards program has a mission for funding innovation that solves critical issues.
Supporting tech-driven philanthropy, Google's Impact Awards focus on creating large, paradigm-shifting changes in social good.
Jacquelline Fuller, Director of Charitable Giving and Advocacy at Google, shared some insight on why this was an important mission for Google to tackle.
"Google looks for opportunities with explosive, innovative impact. The organizations here have an entrepreneurial spirit, embrace technology, and are in the sweet spot between technology and impact that can create massive, positive change."
Fuller also notes that like Google, these nonprofits aren't afraid to take informed risks, or "fail forward fast" and learn quickly from mistakes through metrics and measuring results. Following the Google model of "launch and iterate," they will be on a constant learning and recalibrating adventure, making rapid technological strides.
The first round of $23 million in Global Impact Awards funding goes to seven nonprofits:
* charity: water
* DonorsChoose.org
* Geena Davis Institute on Gender in Media
* World Wildlife Fund
* Consortium for the Barcode of Life
* GiveDirectly
* Equal Opportunity Schools

Learn more about Google's Global Impact Awards and this year's grantees by clicking above to go to the Google Impact Awards video. Graphic courtesy of Google for Nonprofits
Each organization is already doing outstanding work, and these awards for specific, new technology will help advance that work.
The clean-water nonprofit charity: water will leverage their $5 million Global Impact Award grant to pilot the installation of real-time water monitoring technologies at 4,000 water points across Africa by 2015. The impact of being able to monitor and measure water well performance on this scale will provide invaluable data not only to charity:water, but also to help other NGO's and governments with their own well projects. This rapid learning and cataloging of information will allow new advances in building, operating, and maintaining more working wells.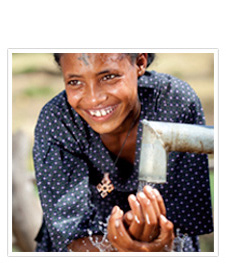 More than 800 million people globally do not have access to clean drinking water. However, charity:water is working to change that. Photo courtesy of charitywater.org
"We have embraced technology at charity:water since we started, with things like GPS units on every well so people can see their money in action on Google Maps. This project takes that transparency to another level. Now people can also see how much water the well they donated to is pumping, how many children, men and women in a community are now able to have clean drinking water. Information we learn from this data can be acted on to proactively create better training, maintenance, and building plans. And when people 'check back in' years later, they can see how their well is doing."
DonorsChoose.org will use their $5 million Global Impact Award grant to provide public schools across the U.S. with materials to create ~500 new Advanced Placement Science, Technology, Engineering, and Mathematics (STEM) courses, partnering with College Board. In the U.S., girls and minority students are less likely to study math and science in college or pursue related careers than their counterparts. More exposure to these programs at public high schools that commit to AP STEM enrollments reflecting their school's overall diversity can lead to more growth in this area.

World Wildlife Fund's $5 million Global Impact Award grant will be used to help detect and deter poaching in Asia and Africa. The illegal wildlife trade, estimated to be worth $7-10 billion annually, is emptying our forests, landscapes and oceans. This grant will help implement specialized sensors and wildlife tagging technology, and ranger patrolling guided by analytical software to help nature's front line curb this poaching.
At the forefront of promoting gender equality in children's media and entertainment, the Geena Davis Institute on Gender in Media will use its $1.2 million Award to support the development of automated technology that analyzes female portrayals in children's media.
The Smithsonian Institution's Consortium for the Barcode of Life (CBOL) will use their $3 million Global Impact Awards grant to create and begin implementing 'DNA barcoding' as a cost-effective, rapid, standardized, and actionable tool for protecting the world's most endangered wildlife. More than 35,000 of the world's 1.8 million named species are considered to be in danger of extinction, and of these, 2,000 are protected from illegal international trade by the strictest trade regulations under a UN treaty. CBOL will build a public library of DNA barcodes that law enforcement officials can use to identify confiscated material.
With their $2.4 million Global Impact Award grant, GiveDirectly will scale up its model of direct mobile technology cash transfer to Kenyan families living in extreme poverty, and expand operations to a second country. Despite assumptions, cash transfers are a proven approach to lifting people out of poverty, with substantial positive impacts including business profits, farm profits, investment and savings, adult work hours, children's school enrollment, children's health, and infant birth weight. GiveDirectly's mission is to make direct giving available to donors everywhere, and in doing so to set a new benchmark for the nonprofit sector.
Equal Opportunity Schools will use their $1.8 million Global Impact Award grant to identify 6,000 high-performing yet under-represented students in 60 high schools and move them into advanced high school classes. Every year over 600,000 low-income students in the U.S. miss out on the opportunity to be placed in advanced classes that could provide the training they need to succeed at college. EOS results show that AP pass rates increase or stay the same in more diverse classrooms. Students will be selected using data that demonstrates potential to succeed and readiness for greater challenges.
As these projects progress, nonprofits and social good fans will have an opportunity to learn from the processes the six grantees are going through in their innovative journeys.
Amy Neumann is a social entrepreneur, writer, speaker and consultant on social good marketing. Check out her Charity Ideas Blog and follow her on Twitter @CharityIdeas. Amy is also Director of Public Relations for POGCO, the People's Oil and Gas Collaborative - Ohio, a grassroots organization focused on sustainability, regulatory, safety, and property rights issues in the oil and gas industry.