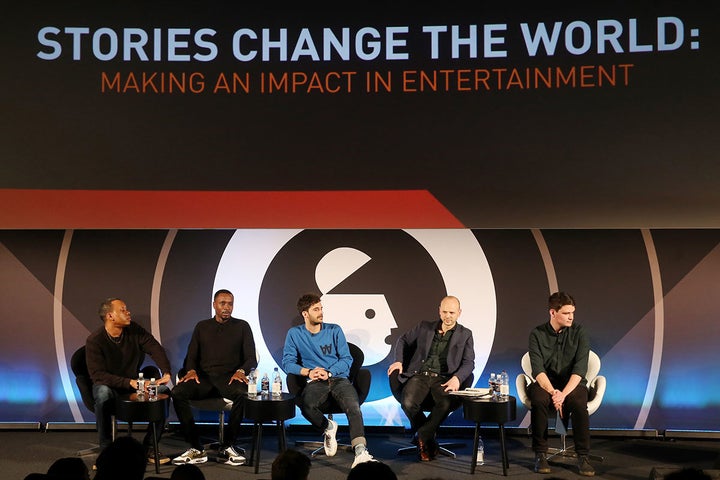 More people are going to the cinema than ever. According to a DCM study in the UK, 78% of the population considers themselves 'cinemagoers'. Be it Hollywood superhero flicks or independently-funded social realism, our thirst for stories has never been greater – at a time when the need for social and political engagement is obvious. With box-office hits such as Moonlight, I Am Not Your Negro, and I, Daniel Blake putting the focus on social causes - can the films we make and watch change society for the better?
This tentative cultural trend, labeled 'Social Impact Entertainment', was neatly defined by Richard Williams, a film specialist at production company elevenfiftyfive, as he opened a seminar on the matter at Advertising Week Europe: "The use of entertainment to have a positive impact on society and communities, people intentionally trying to effect social change, and using entertainment as the delivery system for that change."
And does it work? Well, according to the Skoll foundation's Social Impact Entertainment (SIE) foundation, an organisation dedicated to measuring the tangible output that the empathy created by films has on society, the answer is: yes. Addressing a panel of film makers, producers and distributors, Williams pointed to "the Marigold effect", a trend named after research suggested a significant portion of 60+ viewers of The Best Exotic Marigold Hotel had been motivated to volunteer their time to help disadvantaged younger people, just as Judi Dench's character had in the film. More Skoll foundation research is reportedly underway to conclusively prove what we might already have guessed – that films can lead to increased empathy. But how does SIE play in the business of filmmaking?
For Hamish Moseley, Head of Distribution at Altitude Film Distribution (responsible for the distribution of indie hits as Moonlight, Amy and The King's Speech), while the benefits films like Moonlight have on society are certainly a welcome consequence of his work, from a distribution point of view much of the eventual impact is merely incidental; he is simply in the business of finding new and interesting stories, and delivering the "magic in a bottle" to as many people as possible. Sometimes, in fact, a "social" angle to a film can be a hindrance, rather than a help, Moseley said, pointing to the example of Gus Van Sant's Milk, a film about the US gay rights activist Harvey Milk, which flopped at the box office in 2008 as the distribution campaign was "too heavy".
From a filmmaker's point of view, though, the mainstream success of films such as Moonlight p a beacon of hope. Dwayne Gumbs and Alex Williams, co-founders and CEOs of performing arts in education company Diverse Voices and the team behind upcoming urban comedy Running Out of Grime, believe audiences are crying out for more diverse stories on the big screen.
Gumbs, who started work on Running Out of Grime in 2007, said: "I wrote this film because I wanted to tell a story that showed urban youth in a different life, because – I find – it's rare to find a film that depicts people from my background positively, and as filmmakers we feel that we have a responsibility to show different sides to a culture that is too often portrayed negatively…
"There's more to life on a council estate than drugs and crime, and we've got to hear the other stories that aren't being told."
But can all these films be successful in actually reaching the big screen? David Kapur – the co-CEO and founding director of both elevenfiftyfive and ourscreen, a new people-powered cinema project that allows viewers to book and plan their own cinema screenings (with their film of choice) as long as they can crowd-source enough people to fill the cinema, certainly believes so. Films can find their way to audiences via alternative routes, Kapur explained, citing My Feral Heart, a film about an individual (played by an actor with Down's syndrome) dealing with the loss of his mother, that had been unable to find backing to make it to the box office. A crowdfunding campaign put My Feral Heart in an ourscreen-booked cinema, where it was watched, and subsequently reviewed by Mark Kermode. Nearly 100 screenings and a British Independent film award nomination for the lead actor (the first for an actor with Down's syndrome) later, the benefits of such a success story are evident, Kapur said:
"Even though the film was made to just be a really interesting film, along its journey it's raised lots of different topics that have made lots of people think 'am I one of those people that wouldn't have bought a ticket to that film ... just because I haven't seen a film like that before, with an actor with that genetic make-up?' and it broke down a lot of those kind of barriers."
Can cinema change the world? Buy a ticket and see.
About Advertising Week Europe
Now in its fifth year, Advertising Week Europe is a hybrid of inspiring thought leadership, entertainment and special events celebrating the industry and its people. For one week, from 20–24 March, the brightest leaders from the marketing, advertising, technology and entertainment industries join together in London to share their visions, passions, and best practices. From seminars and workshops led by some of the greatest minds in the industry by day, to world class entertainment in London's most iconic venues by night – Advertising Week Europe's premier roster of events is like no other.
Popular in the Community