Exactly a year ago United Nation's Assistant Secretary-General Robert C. Orr declared, "We will innovate, then we will renovate." At Social Innovation Summit 2014, renovation indeed was in full swing. There was a tinge of nostalgia letting go of General Assembly Hall giving life to a metaphor as the UN rebuilds itself, so too, the financial landscape is under reconstruction as referred to from "the great disruption" toward "the great distribution."
The bricks and mortar of this new economy in part are being held together by courageous and dedicated individuals unleashing the power of peer impact.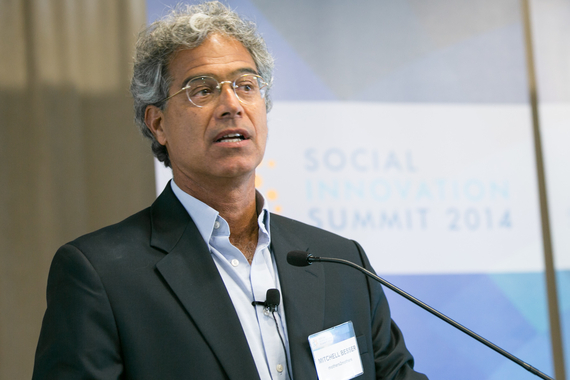 (Dr. Mitchell Besser photo courtesy of Zeev Klein & photographer Jeffrey Holmes)
Medicine does not equal medical care. -- Dr. Mitchell Besser
It is rare to see such an accomplished physician as humble as Dr. Besser. He has dedicated his life in sub-Saharan Africa, where HIV infections are more prevalent and doctors scarcer than anywhere else in the world. The issue with HIV is both medical and social due to the stigma. Medicine is not medical care. Information, support and a network of care are what enable medicine to heal. That is why he has enlisted the help of his patients to create mothers2mothers -- an extraordinary network of HIV-positive women whose support for each other is changing and saving lives. In the U.S., a mother only has a 2 percent chance of infecting her unborn child with HIV. In Africa the rate is 40 percent and this is the number to track as progress is made.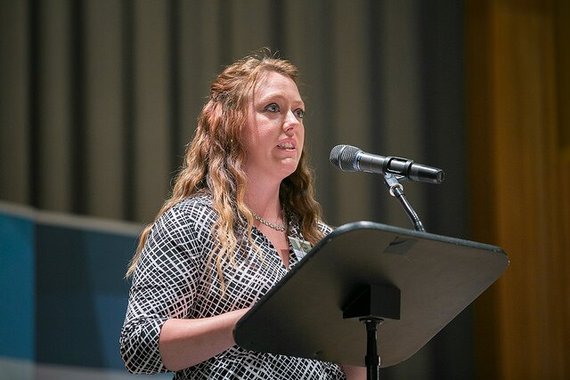 (Katrina Gilbert photo courtesy of Zeen Klein & photographer Jeffrey Holmes)
The struggle itself towards the heights is enough to fill a man's heart. One must imagine Sisyphus happy. -- Albert Camus
Most people would rather talk about sex than money. That is why the only word to describe Katrina Gilbert is courageous. For an entire year she allowed a camera into her home to track the life she had as the single mother of three working on minimum wage. The HBO documentary is called Paycheck to Paycheck. Each day, Katrina faces struggles familiar to the 42 million women living at or below the poverty line. Instead of having her called "the face of poverty" it would be much more effective to have her known as "the face of truth" as many of us are living above our means out of fear of shame and loss of social status. Her bravery invites a solid look in the mirror and the possibility of focusing on smart solutions rather than denial or digging deeper into debt without help. We all need banking but we do not all need banks, and Jennifer Tescher, President of Center for Financial Services Innovation is working to create solutions for people like Katrina. Poverty is not a personal issue, it is a systemic issue. Repeat: There are 42 million women in America just barely making ends meet for their families. Who can raise a family of four on $9.49 an hour?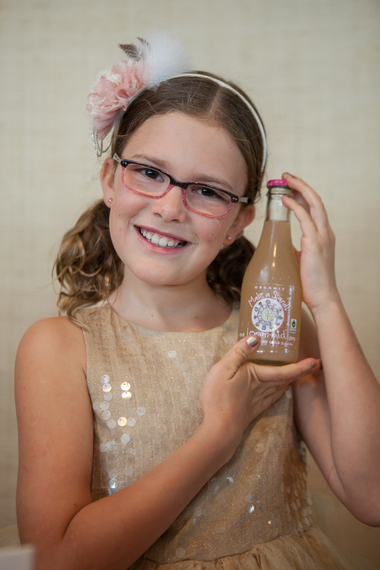 (Vivienne Harr photo courtesy of Zeev Klein & photographer Jeffrey Holmes)
When life gives you lemons, change the world. -- Vivienne Harr
The biggest gift the Social Innovation Summit gives is the power of hope. And this year's "hope" came in a bottle of lemonade wrapped in the story of confidence in our youth to carry us forward with gracious strength and clarity. Nine-year-old Vivienne Harr was with her family in a museum looking at photographs. She noticed a picture of young boys clearly distressed and tired from working. The swell of injustice in the innocence of VIvienne's heart exploded into an idea: "I will have a lemonade stand to end child slavery." And there it was, a movement #standwithme. Every movement needs a champion, and in addition to great parental support Vivienne's champion was filmmaker Patrick Moreau of StillMotion. So far, Vivienne has donated over $101,320 to Not for Sale, a nonprofit that works to eradicate human trafficking around the world. A perk for such generosity? A little bird informed that she got to ring the bell when Twitter went public.
Nassim Nicholas Taleb in his book Antifragile states, "Wind extinguishes a candle and energizes fire... You want to be the fire and wish for the wind." May these stories of social innovation and peer impact light a fire in your own desire to talk more about healthy habits, be more courageous in examining your own financial truth, and take a stand for what you care about.