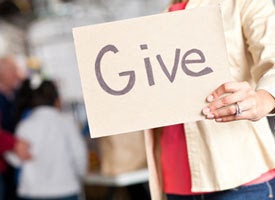 Whatever right-wing media would have us believe about the likes of George Soros and Warren Buffett and the philanthropic pursuit of "social justice," the truth is that social justice grantmaking is still a small fraction of foundation giving in this country.
A new analysis of social justice philanthropy among the nation's largest foundations by the National Committee for Responsive Philanthropy reveals that "social justice" philanthropy comprised 15 percent of grant dollars on average from 2008-2010. In a country experiencing levels of inequality not seen since the Great Depression, that's less than one in six grant dollars classified as supporting any kind of structural change that benefits the least well off in our communities.
There are signs of hope on the horizon, however, if philanthropic professionals can be encouraged to play the catalytic social role their charitable assets purportedly play. Nonprofit leaders and foundation program officers must continue making the strong case for more social justice philanthropy to foundation executives and trustees.
As anyone who has attempted to secure foundation dollars for advocacy, community organizing or other civic engagement efforts can attest, such fundraising is tough-going. The Citizens United ruling has unleashed a torrent of political giving. Corporate lobbying has never been more prevalent or lucrative. Often outspent by wealthy and well-connected opponents, nonprofits advocating on behalf of lower-income families, people of color and other underserved groups look to foundations for the large, flexible capital that can power movements for change. These advocates are often disappointed.
Even today, many grantmakers mistakenly believe that funding for advocacy and the like is illegal. The Alliance for Justice's new "Bolder Advocacy" is a great resource on what is legally permissible.
Others worry that social justice may violate their commitment to their founder's charitable intentions. However, as Emmett Carson, president of the Silicon Valley Community Foundation, has noted, it can be a disservice to a founder's vision not to fund social justice. "The magnitude of societal change envisioned in change-oriented mission statements cannot be achieved through the support of direct human services," he writes. "Change-oriented mission statements -- by necessity -- require a foundation to pursue public policy efforts that attempt to fundamentally change how the system operates."
Others are simply reluctant to fund anything related to public policy and, through restrictive grant agreements, needlessly hamstring nonprofits' ability to speak out on their own behalf and on behalf of the communities they serve.
As a result, foundation funding for social justice remains relatively scarce. The median foundation gives a paltry 3 percent of grant dollars for social justice.
Nonetheless, our review of the data found that, over the past four years, more funders are engaged in social justice philanthropy, and more funders are investing at higher levels. The increases are slight but real. Nonprofits working for social change should continue to make their case for funding work that meets persistent and pressing community needs:
Social justice philanthropy has tangible, measurable impact. Our research shows that for every dollar grantmakers and other donors invested in advocacy, organizing and other forms of policy and civic engagement, communities saw $115 in benefits, a tremendous return on investment. These benefits came in the form of increased wages and jobs, broader public benefits and even savings to local, state and federal governments.
Social justice philanthropy makes for more responsive, effective and democratic government. As social justice funders, philanthropy can finance creative policy solutions and keep governments accountable in budget discussions by making certain that all our citizens have a voice at the table. Contrary to critiques, social justice philanthropy is not about bigger government. It's about helping to create better government, which saves taxpayer dollars now and in the long run.
Social justice philanthropy creates movements for the future. Deepak Bhargava, executive director of the Center for Community Change, points to an exciting convergence of important moments, that are influencing oru culture and public consciousness -- from Occupy to LGBTQ movements. Grantmakers can support and encourage these movements and others, broadening political participation to include more women, more people of color and other historically disadvantaged groups and hold public and private actors accountable.
A diverse, inclusive and responsive philanthropic sector can challenge other interests and enhance the common good by funding the rich ecosystem of advocacy and organizing groups across the country.
Whether foundations are focused on health, education, the environment, the arts, or all of the above, the decisions officials and legislators make affect the causes and the communities we care about. It is vital to participate and fund public policy-related activity that advances the common good and strengthens our democracy.
This post was written by Aaron Dorfman, Niki Jagpal and Kevin Laskowski.
Related
Popular in the Community