 One afternoon, a tweet addressed to @OmniHotels said simply, "Dear Omni Hotel: Key lime pie: Win. Wi-Fi: Fail." The eCommerce team, who monitors and responds in social channels, responded to the tweet and contacted the hotel to rectify the situation. What the team did not realize at the time was that the tweeter was actually the keynote speaker of a PR, marketing and social media conference at their Jacksonville location. They had deployed the GM of the hotel to alert the tweeter that the issue had been resolved (along with a slice of key-lime pie as a tongue-in-cheek goodwill gesture). While this was only one tweet of many that Omni Hotels saw and answered that day, the results of the action Omni took perfectly illustrates the power of social listening. The end result was a resolved issue for an influential customer that resulted in word of mouth about the exceptional service due to social listening from the other participants at the conference.
Kerry Kennedy, corporate vice president of eCommerce for Omni Hotels, shared that it has learned a number of lessons from social listening. I met Kennedy when he was my client of the digital agency I was with, and the Wi-Fi story is what solidified my belief in the power of social listening.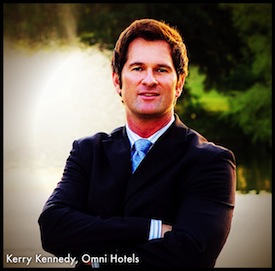 While a less competent social media team might have written off this humorous tweet, Omni's approach showed that exceptional service prompted by social listening could drive substantial online word of mouth and impact guest satisfaction positively.
Being a privately held company, Omni manages its social media efforts centrally from its Dallas-area headquarters. Establishing key operational processes internally has allowed the eComm team to respond quickly in social channels and adjust course based on trend insights uncovered. Because social interactions move so quickly, Omni Hotels realizes that its operations must respond at the "speed of social." Social media managers really have minutes, not hours, to respond to customer concerns.
Omni's use of social media listening reveals four strong best practices:
1. The Voice of Many. A single tweet may be representative of many customers. By handling the humorous tweet about the pie and Wi-Fi seriously, the eComm team and the hotel management were able to resolve the issue of 500 guests, showing competence in both social media listening and operational response. In this case, the PR-centric audience shared the results with their social networks, making the response legendary within the company. Even if the tweeter is not at a conference, the social media participant's concern may be one that others are facing but not raising. Social listening enables the evaluation of the size and scope of an issue.
2. A Vocal Focus Group. If customers share strong opinions and express their views on a company via social media channels, the firm should take advantage of these free insights. It is an opportunity to ask these passionate customers how they want to see the product improve and develop. Kennedy indicates that updates to the company's Select Guest loyalty program include enhancements sourced through social. If a vocal fan base exists, there is an opportunity to use passionate input to evolve and improve the product.
3. Value Trumps Price. While it's an easy assumption that social media participants are after the lowest deals, Kennedy indicates that his customers have proven that value is key. As a result, packages have proven successful as guests want experiences such as dining and spa (not just the lowest rate). By listening, Omni's pricing and revenue management processes have improved.
4. It Takes a Village. Neither marketing nor corporate communications at Omni's headquarters have sole ownership of the social channels. They work in harmonious partnership with operations, technology, executives and the property management to react at the "speed of social." By having engaged stakeholders in each functional area, Omni Hotels can move quickly based on issues as they happen.
Brands have an incredible opportunity to uncover and rectify issues, learn customer insights and gain competitive intelligence in social channels via listening. The brands that achieve consensus among key stakeholders as to the value of social insights and how to respond when issues arise are able to respond at the "speed of social." While every approach is context specific to the firm, Omni learned early on in its Twitter usage that it could provide a simple and powerful way to engage its customers and strengthen its relationships.
This post is part of my ongoing investigation into the Connected Consumer. If you would like to share how you use mobile and social technology as part of my Ph.D. program research, join the study online.
Popular in the Community