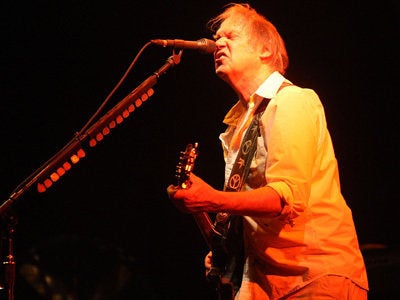 He isn't on Twitter, he has no official Facebook fan page,
and his website is a Flash disaster stuck in the '90s.  So
what can Neil Young teach celebrities today about social marketing?  Canada's legendary mutton-chopped musician was
leveraging 5 key principles of social marketing decades before the Internet
came to be.
Young's massive collection of recording studio
outtakes and radio interviews since 1963 makes him an early lifestreaming
pioneer.  Today's celebs and TV shows
would be wise to follow his lead and provide us with their own outtakes,
behind-the-scenes footage and interviews. 
Look to the Rachael Ray Show website for an example of backstage exclusives and celebrity soundoffs on the site, and
behind-the-scenes pics from their Twitter account.
After
the Gold Rush went viral in 1970 because it was a great album.  Danyl Johnson's
X Factor audition has over 5 million views on YouTube because it's an impressive
performance.  Most "viral videos" share
one thing in common:  they're entertaining
enough to make us want to watch it again and share it with others.  All the web marketing tricks in the world
won't compensate for simply average material.
Ever sit around a campfire where somebody isn't strumming a Neil Young song?  Young believed early on that music should be
shared and he wrote his songs with that intention in mind.  Learn a few chords and you can play recognizable
versions of many of his best songs.
Want people to spread your material to their friends or share
links to your sites and profiles?  Make
it easy for them.  Provide short clips
and posts in addition to your longer material. 
Roger Federer has an 8-second video clip on his Facebook Page that received 95,856 likes and 29,259 comments.  Simple, easy to consume, and easy to share.  Look to the newly launched ArtOfTalk.tv for a great example of community sharing and commenting around bite-sized content.
Compliment others publicly
Compliments are a powerful force, and not just for their
karmic potential.  Recognizing your peers
and competitors enhances your own image. 
Compliments spread and make headlines. When John Mayer praised Demi Lovato's musical abilities on Twitter, everybody
won: Mayer for supporting another artist,
Lovato for the publicity, and the tabloids for being able to report on a positive little celebrity exchange.
"I didn't really know what I was
doing when I started. I just started writing songs. After two songs I just
continued to explore it." - Neil Young, quote from tv.com
Gary Vaynerchuk's initial Wine Library TV webisodes were clunky
but he found his groove somewhere between #1 and his latest, #737 .  After a somewhat shaky start trying to
integrate Facebook and Twitter into their show, MTV's It's On with Alexa Chung
quickly gained speed and is now actively including their 74,000 Facebook fans and 384,000 Twitter followers.  Getting solid advice and creating a smart
plan are important but once that's in place it's up to you to summon up the
courage and get out there.
Neil Young is a marketing-savvy pioneer who continues to
build his fan base thanks in part to his embrace of social marketing.  Today's social web and tools simply make it
easier and faster than it was when the Godfather of Grunge started his career back
in the '60s.
REAL LIFE. REAL NEWS. REAL VOICES.
Help us tell more of the stories that matter from voices that too often remain unheard.