Last Friday when you first learned about the catastrophic tsunami that washed away entire Japanese communities, I bet the morning conversation around your breakfast table or office water cooler was not "Hey Susie, did you hear that JCPenney is running a 20 percent off sale on shoes?" Or, "Mike, how about Groupon's movie deal for Battle: Los Angeles?" Yet on Twitter and Facebook -- the global switchboards where hundreds of millions of people were engaged in high-velocity conversations about the disaster in Japan -- corporate America could not put down the sales sheet.
Like you, I follow dozens of my favorite people and companies on Twitter and Facebook. But reading urgent calls for disaster relief right alongside updates from companies pushing their products precisely during the boiling point of a global calamity left me, well, dumbfounded. On Friday, did corporate America flunk the main lesson of Social Media 101: Be human?

Not one tweet or Facebook status update from any of my favorite companies signaled that they were getting behind (if not financially or strategically, then at least empathetically) our friends in Japan. Or in "pocket book" terms, there was not one shout out of support from any company that I follow for the people who live in the fourth largest export market for the United States and the second largest investor in our economy.
Now, in times like this, I rush to find the silver lining. Wallowing in the despair is a waste of time (at least that is what Charlie Sheen believes and I'm not one to contradict a #WINNING celebrity), so I turned to Google News this morning and set up a few key words to find out which American companies were going to give me something to believe in.
Here is what I found. You be the judge whether corporate America is stepping up to the plate for Japan:
Engineering giant General Electric (the 4th largest company in America), which made one of the reactors that was compromised in the earthquake and tsunami, has offered technical assistance to its nuclear energy joint-venture partner Hitachi Ltd. and the Japanese government. In addition, GE has committed $5 million in relief aid.
Starbucks announced earlier today that it would contribute $1.2 million to the effort. Good to see from a leading socially responsible corporation.
LivingSocial (Groupon's arch rival) has hooked up with GlobalGiving to help funnel money from its 24-million-strong subscriber base to disaster relief in Japan
.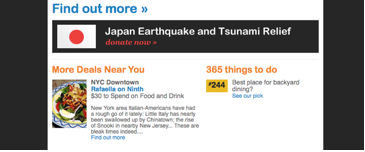 iTunes is enabling Red Cross donations directly through the iTunes Store, even waiving its 30% cut!
Sony Corporation is donating 300 million Japanese yen (approximately $3.5 million) to help relief and recovery efforts and has set up a fund to collect donations from employees worldwide, which will be matched by the company. Sony will also donate 30,000 radios to assist the relief efforts.
Zynga (creators of mega-popular Facebook games) are enabling players of CityVille to plant a limited edition sweet potato crop to feed their populations and stock their restaurants. Players purchase the crop with real money and Zynga will donate it to Save The Children's Japan Earthquake Tsunami Emergency Fund.
Panasonic is planning to ramp up production of dry batteries to meet the shortage in Japan's earthquake-hit areas, which need them to alleviate severe power outages.
Visa, which boasts the world's largest credit and debit card network, will waive "interchange fees" on donations made through April 30, 2011.
Microsoft is offering $250,000 in direct aid and 1.75 million in software and services designed to help communications efforts and put hard-hit Japanese businesses back on their feet.
AT&T is offering free calling and texting to Japan, though if you use a landline (remember those?) you will need to call the company to remove the charges from your account. Verizon is also offering free calling and texting.
AOL has given advertising space on its network to rally consumers to contribute to the relief efforts. The AOL community has already raised $100,000.
Crises create opportunities for American corporations to harness their Twitter and Facebook "networks" and strategic resources for social good, most often in ways that concurrently strengthen business objectives. It's a win-win.
While cash may be king, a tweet of support, a moment of compassion and a gesture of goodwill can humanize a corporation in tough times and reveal the "soul" that consumers are increasingly seeking from the brands they support. It's the ultimate driver of customer loyalty.
Calling all HuffPost superfans!
Sign up for membership to become a founding member and help shape HuffPost's next chapter