Facebook-promoted posts helped Loessfest 2014 in Council Bluffs, Iowa beat attendance goals by driving website traffic, raising awareness and reinforcing messaging through traditional radio promotion.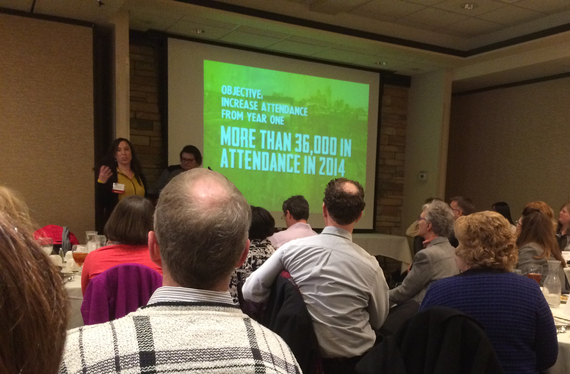 Sarah Lake, vice president of community engagement, and designer Lynn Schneider at Emspace Group used digital marketing to win the PRSA Nebraska top award in December.
A $40 Facebook buy reached 17,000 people, Lake said. "That social media was really huge for us in promotion in helping us with one of our goals and objectives, which was to raise awareness." The park page now has more 2,872 likes.
Emspace monitored Instagram photographs from the festival while it remained focused on Facebook and the website. The overall Facebook reach was estimated at more than 193,000. "A lot of people were talking about it," Lake said. "It was neat because it wasn't just us."
At a luncheon talk last week, Lake and Schneider revealed secrets to their success. By using a small budget for paid advertising, the city park festival generated an estimated more than $622,000 in earned media publicity value, according to Universal Information Services. The riverfront event near Omaha, Nebraska had launched in 2013 with more than $979,000 in estimated earned media.
Actor and musician John Stamos, who promoted on Twitter his 2013 appearance, was followed by headliner Loverboy the next year. The 2014 plan focused on a realistic goal of growing festival attendance and drew more than 36,000 to Tom Hanafan River's Edge Park. The city and the Iowa West Foundation used a variety of events, including music, fireworks, movie showings, food trucks and family fun to spark interest in the festival that begins each year at the end of May and runs for three weeks.
Google Analytics reported that the Loessfest.com website had 43,074 visitors, 122,633 page views and an average of 2:36 minutes on site, Schneider said.
New for 2015, marketer Christopher Penn says that organic search has shifted away from SEO keywords to context: "not individual words or tiny phrases, but the actual topics for which you're relevant."
Loessfest, named after the Loess Hills area of western Iowa, had 28 community sponsors, and they helped generate word-of-mouth about it. The event marketing offers broader insights into best practices:
•Develop a clear plan with quantifiable, realistic goals and objectives.
•Book live music to generate initial interest.
•Target key demographic groups by programming a series of specialized activities.
•Use pre-event promotion available in local radio, television and newspapers through "sneak peek" or "behind-the-scenes" access.
•Develop "a recognizable brand," and build upon successes from previous annual events.
•Create opportunities for sponsors and fans to be brand ambassadors by sharing great and unique content.
"The thing that's tricky about social media is if you don't already have a following, you have to be smart about how you're going to do that," Lake said. "Reaching out to partners and connecting with people (who might already have more of a following) can help spread your message."
The convergence of PR event planning and execution, traditional mass media, websites, earned and paid social media, and digital marketing offer amazing opportunities to rise above the noise and win in 2015.
Related
Popular in the Community