Recently, I published an article about my disability and beauty on The Body is Not An Apology's blog. Within 24 hours, editors from The Hairpin, Huffington Post and XOJane contact me with plans to republish it. "Why I No Longer Apologize For My Crutches" was even re-posted by New York Times best-selling author Cheryl Strayed and reblogged over 100 times on Tumblr. I got over 600 Facebook friend and Twitter follower requests in less than a week. People I knew very well and people whose names I didn't recognize but "confirmed" asked to share the article on Facebook, at their schools, with this parent or child they knew, who had a disability or not. It was overwhelming, but positive. I updated my Facebook status to say it was the best week of my life.
For a hot minute Denise Jolly's #BeBeautiful project was trending. And that was the point: to highlight that no/body should be made to feel invisible, or ugly, or ashamed of their body, or in my case, the crutches or wheelchair that have become the symbol for who I am in the world. But not the only one.
The article first appeared on April 28, and that night I was updating my social media accounts, liking and thanking people as much as I could in one sitting. I accepted someone's friend request. We had no friends in common. He appeared immediately on Facebook Messenger:
Him: hi. how ru? thanks for adding me. I really enjoyed reading the article.
Me: Thank you for your support.
Him: What are you doing? Can we talk?
Me: I'm really swamped right now.
Him: k
I muted my chat on Facebook.
What followed over the next few days was the same hi, how ru, can we chat? I explained that I cannot chat at work and asked if he had a specific question or concern. On May 3, I updated my Facebook status to say "Just had a bad fall. Glitch in the writing work day. Oh well." After seeing my status, the same user Facebook messaged Hi Natalie, r u ok?. I didn't reply.
I didn't post it for sympathy, but to share more about my disability than I usually would on social media. I also created an Instagram account shortly after the article was reprinted because, when people did contact me directly, what they asked for was more photos.
Here's what happened next:
May 6th, 9:31am
natalie if u do not wish to even talk to me why did u accept my request?
May 7 3:26pm
I can't use chat at work, and my time is limited. I offered to email. That's the best I can do.
May 7 5:13pm
do u have BBM or KIK messenger?
May 7 6:29pm
what is ur email address natlie ?
May 7 9:24pm
provided e-mail, which is also in the public domain
May 8 6:12 am
can i say u are a very very sexy young woman
is that gmail.com?
May 8 7:24pm
have mailed u... u ca reply some day
May 9 Time N/A
What is your email? I did not see anything. What is it you'd like to talk about?
May 9 Time N/A
i am very open to talk about anything .... my email is (provided) i would love to get to know u as a person natalie ....
IF u would like natalie
May 12 6:20am
hey natalie did u email me yet ??
Later that night, I met with a friend to plan the upcoming Bodies Visible reading series in Washington, DC, which will feature writers and performers who identify as having a disability, but also be open to any ally that wants to participate in the open mic. My friend also has a disability. I mentioned my concern this particular Facebook user. She suggested I block him, or if I wanted to be more direct and professional, to send him a reply asking him to stop contacting me. Before I left she took a photo of me holding her assistance dog in my wheelchair and I posted it on Instagram and Facebook.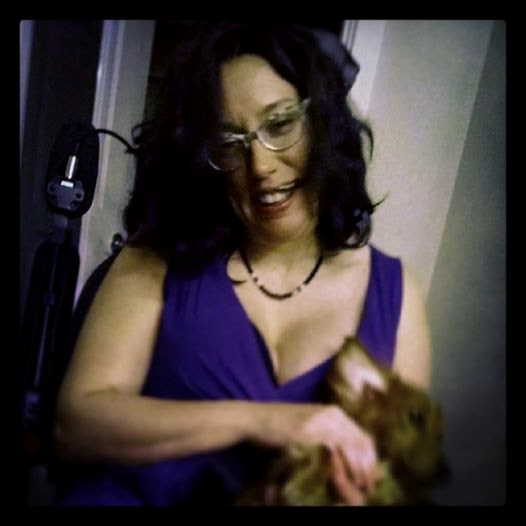 May 12 8:41pm
you look lovely natalie
i love your picture natalie
May 12 11:01 pm
Thank you for the compliments. Your original email went into my spam folder. In general, I do not use Facebook to make new friends. I do not use it to check in with people that I do not know. I use it as a social media platform to raise awareness and promote events that I produce and share things I care about. Right now I work a full time day job and then freelance articles, as well as tour to various universities and classrooms to perform or teach poetry. I barely have time to keep up with the close friends I do have. I am glad that you saw the article and that you appreciated it. But I honestly do not have time to check in with each person and develop a friendship. If you have a specific question or project, I will do what I can to answer it. But I'd appreciate it if you didn't contact me daily asking me if I'm going to say hi or email you. It feels harassing. Thank you.
Him: then do me a favour i have no time for stuck up b*tches like u .... delete me u waste of space and time
and infact ur fat and ugly
and aint worth the sh*t on my shoes.
I debated whether or not to write this article and give this person's harassment and misogyny any more of my time (or yours), but here's why I did: Before the Internet, it would have at least taken a few days, and much more effort (i.e., postage and possibly a phone book) for his hate speech to reach me. But thanks to instant messaging, I can go from "lovely" and "gorgeous" to "ugly and fat" in less than 12 hours. In fact, his last two opinions reached me in under a minute.
Is this the social media equivalent of a catcall? If I get to the end of the proverbial block without acknowledging your attention, does that make me a virtual "stuck up b*tch"?
I am not a naive person. I did not expect him to go quietly and politely abstain from contacting me; I was prepared for the backlash. One of the major mantras of the #feminist movement in the 1970s was the personal is political. The same holds true in 2014, I'm not going to cower, or be bitter or be man-hating. I'm going to call you out, because this sh*t is NOT (and was never) OK. I'm going to add my voice to a much bigger movement, because that is the best use of any social media platform.
I have been a writer and performer for about 15 years. I know that putting yourself out there means exposing yourself to criticism. That's fine. But allowing strangers to engage in hate speech as though that is the acceptable outcome of a "friend request" should not be. I know blocking and reporting it to Facebook is an option, but that's not the point.
I know I am not alone. Misogyny, harassment and verbal abuse toward women goes beyond what's trending in social media. In fact, they are so embedded in our society that they often go unchallenged. There must be millions of similar stories out there. Let's share them. Let's use the media tools we so easily have at our disposal have to push against the hate speech that tries to tear us back down into believing we are ugly. Let's create a better trend: #socialmediabacklash #cybercatcall #putmisogynyonblast. I'll follow you.
Popular in the Community