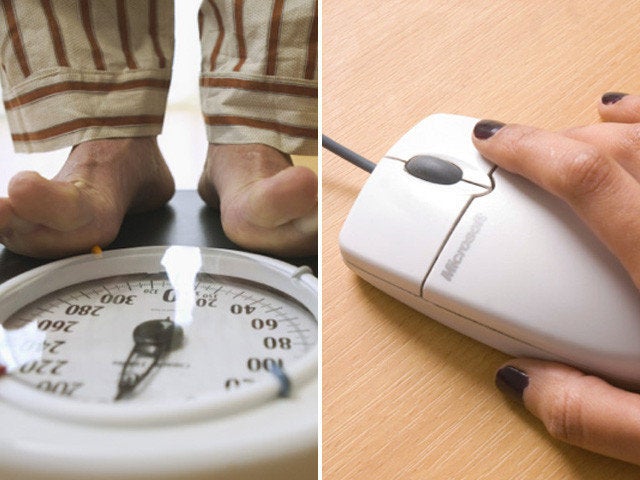 For the past several months I've been on a "social media diet." No, I haven't been refraining from using Facebook, Twitter and other social media. I've been on an old-fashioned food diet with a 21st-century twist. I've been using social media and other technologies to help me lose weight.
The diet began on a Saturday morning in February -- the day after I gorged at the Poor House Bistro, which bills itself as "San Jose's New Orleans Joint." There's nothing wrong with moderate amounts of blackened chicken wings, Cajun popcorn or fried seafood, but in excess they can definitely add to your bloat. But the real problem wasn't one meal -- it was months of too much food and too little exercise.
So, when I got on the scale and saw that I weighed 186 pounds, I vowed to take off at least 21 of them and, thanks in part to my use of technology, I accomplished that goal.
This isn't the first time I've been on a diet. Ten years ago I dropped my weight from 200 to 155 pounds and many years before that -- when I was in my early 20s -- I dropped from 230 to 150 pounds. And there were a few other gain-and-loss spurts along the way, which makes me an expert when it comes to weight loss -- I've lost hundreds of pounds during my lifetime.
Until this last diet, every successful weight-loss program I've been on has involved a human diet counselor. Either I would use the services of a company like the Diet Center or I'd work with a nutritionist. These weight-loss professionals would not only provide good advice but plenty of motivation.
At this stage, I don't need a lot of advice. I know what foods are low in calories and have a pretty good idea of what is good for me. My problem has always been motivation. Without a counselor or nutritionist to "report to," it's too easy to abandon my diet. I have to admit that I need external validation.
But instead of hiring a counselor this time, I decided to rely on public exposure of my weight loss by using Twitter, Facebook and my fitness blog (NobellyPrize.com) to share my progress and setbacks. And to help me keep track of food intake, exercise and progress I used LoseIt.com, which is both a website and an iPhone app that allows you to set your goal, log your food and exercise and track your progress. The site gives you the option of sharing your progress with other LoseIt users and it has links to Twitter and Facebook, allowing you to automatically share the information with your friends and followers.
So as not to spam my Twitter followers (who care more about my tech postings than my fitness regime), I set up a special Twitter address at @NoBellyPrize. I posted to Facebook on a selective basis -- occasionally but not every day.
I'm not suggesting that LoseIt.com is necessarily the best weight-loss site and app. There are plenty others out there, including SparkPeople, CalorieKing and of course WeightWatchers.com. But LoseIt, which is free, served me well. Its search engine makes it easy to locate foods by ingredient and brand name. It allows you to create your own foods, like my 275 calorie "Larry sandwich," made of whole wheat bread, tomato, pickle, mustard and avocado. And in addition to its database of foods, it knows how many calories a person of any weight, gender and age burns per minute for most exercises.
For those of us who need a little help from our friends, the best thing about LoseIt is its "motivators" that allow you to automatically post your progress on Twitter and Facebook or email reports to others. My diet isn't medically supervised, but if it were, I'd probably send results to my doctor.
Another tool I've employed during this diet is the Withings Wi-Fi body scale ($159) which can be configured to automatically record your weight on a password-protected website and, if you want, can pass that information on to LoseIt.com, Twitter, Microsoft HealthVault or you can embed the information on any Web page. You can track my progress at NoBellyPrize.com but, truth be told, my data is incomplete and not necessarily up-to-date for a number of reasons, including my frequent travel.
In addition to its Wi-Fi scale, Withings also makes a blood pressure monitor ($129) that connects to an iPhone, iPad or iPod touch to take your blood pressure and -- at your discretion -- share it with others. Even though my blood pressure is normal (and lower since my weight loss), I've decided not to share it. But for those who need close monitoring, it's a great way to keep their health providers or loved ones up-to-date on how they're doing.
Of course, the only way my "social media diet" will work is if I stay with it. Just as with human diet counselors, it's easy to find excuses to disengage, which is one of the reasons I've had a lifelong battle with my weight.
Popular in the Community