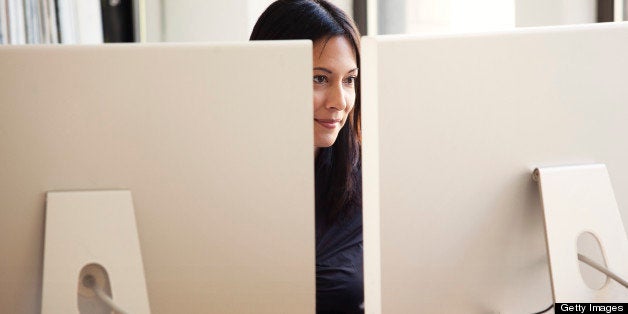 Seriously, I sat on the floor.
Journalists from across the country amassed to hear the gospel of Twitter and Facebook as preached by four of the best-known names in mainstream social media. They were prepared to hear stories of fantastic sourcing and little-known tools that aided newsrooms in ways only possible with 21st century networking technology.
So the room got a little quiet when Eric Carvin, the AP's social media editor, posed the question, "Do we need to exist?"
But he's not entirely right either.
Fishman's piece, "The Rise And Fall Of The Social Media Editor," makes sense. Gone are the days when having a large Twitter following gives you enough clout to really be considered a valuable resource in the newsroom, no matter what your Klout score. It's become virtually unheard of for journalists to not have multiple Twitter lists incorporating the influencers who tweet about the intricacies of their beats. Just about every editor at the Huffington Post at least has TweetDeck and is following the most prominent names in their respective fields. For many recent graduates with degrees in journalism, social media is second nature, and with time, that expectation permeates the newsroom and becomes core to its existence.
There was a time when the social media editor was the only person in a newsroom responsible for obsessively monitoring social platforms. That era is over, and in that sense, Rob may have a point.
So what then becomes of the social media editor?
What isn't mentioned in Rob's piece specifically and what often goes undiscussed about this space in general is that very little of what social media editors do is standardized across the industry. Rob himself mentions how he worked closely with our tech team. Anthony De Rosa has done more reporting than many others, while helping -- until recently for Reuters -- make product decisions. Callie Schweitzer of Vox Media sits on the marketing side of the business and Lauren Bertolini of Gawker technically oversees their broader community base.
When a massive tornado ripped through Moore, Oklahoma, last week, the HuffPost social media team didn't catch the news first. The editors behind our Green section were all over it, from emerging videos to breaking news updates from official sources. In fact, they relied heavily on local news sources KFOR and 9News who were tweeting on-the-ground updates themselves.
Yet the social media team was crucial to our coverage, and social media played a massive role in how major news organizations disseminated their updates on the disaster. The same was true during the Boston bombings.
What made this possible was that our social media editors -- Kerstin Shamberg, Laura Hibbard, and myself -- actually acted as editors. We didn't waste time tweeting news for ourselves; we didn't share unconfirmed tweets; we didn't write jokes; we tried to separate wheat from chaff and update our followers as quickly and accurately as possible.
Our social media editors curated Twitter and Facebook feeds with millions of followers on behalf of our newsroom. They judged the appropriateness of what was shared and how it was done in a way similar to any front page editor at any major organization. They wrote original tweets and evaluated information as they received it to make decisions about what the organization would say on these highly public platforms. They edited tweets others wrote to make sure they had maximum impact and fit within our editorial standards. In other words, they edited, curated, and delivered the news.
At the Huffington Post, at least, this is all done by our social media editors, for whom the two halves of their title -- "social media" and "editors" -- are of equal importance. Good social media practices matter just as much as good editorial judgement. Both are crucial to their day-to-day and to the newsroom, just as the role, we think, is essential to any news organization that wants to be fast and accurate in the age of Twitter and Facebook.
Social is a wide world. Our current team often crosses over into product, sales, marketing, PR and fields you'd never expect. But the core of the job, the day-in-day-out work, is an editor's job. And the proof is, in part, in the numbers. HuffPost has placed a big bet on social and added more hands to get the most out of social presence. Our already substantial social presence has skyrocketed in recent years, and we're consistently ranked among the most social news brands on the internet.
And HuffPost is obviously not the only player in the space, or the only newsroom to have understood the value of a strong social media editor and what they can do for a news operation. The three panelists from the ONA conference -- Niketa Patel, Liz Heron, and Anthony DeRosa -- have since moved to broader editorial roles. Other news organizations are desperately trying to scoop up anyone with knowledge about these mediums.
Perhaps then the rumors of the social media editor's demise have been greatly exaggerated. In our newsroom, at least, the role is very much alive and well.
Related
Popular in the Community