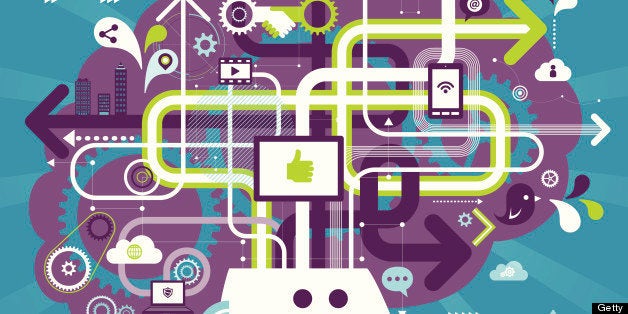 Social media is now solidly at the center of the communications industry. A diverse and vast landscape of social networks, each with its nuances and demographic makeups, means that there is something for every type of business, marketing campaign, and sales pipeline. Below we share some advice that will help businesses, both large and small, accelerate their 2015 growth through social media platforms.
Facebook still rules, and content still matters
Despite reports that Facebook is struggling to appeal to newer generations, it still is the biggest social network out there, with 1.35 billion monthly active users as of September 2014 (YouTube takes second with 1 billion). The increase in average age of Facebook users may actually be a blessing for marketers, with users' spending power increasing as they grow older.
Content on Facebook remains the focal component of the product. Changes in their Edge Rank algorithm, which governs which content is displayed on feeds, have consistently been geared to squash out cheap marketing content, pushing marketers to get more creative and produce rich, engaging content.
Fortunately there is a form of rich content that will help marketers succeed on Facebook this year: video. Facebook auto-play is going to define content strategies on this platform in 2015.
To illustrate how powerful this feature is, let's take a look at the success of the ALS Ice Bucket Challenge. The challenge was launched shortly after FB rolled out auto-play, which starts playing videos on your newsfeed without any prompt. It therefore became impossible to ignore your half-naked friend dumping a bucket of water on him or herself. Although there are many other valid reasons behind the challenge's success, this feature is certainly one of them. Since the feature was rolled out a little over a year ago, the number of users watching videos on Facebook has more than doubled.
There will be a lot more Twitter ads
Twitter's growing revenue is certainly due to an increase in ad money spent on this platform, but we believe marketers still haven't realized the platform's true potential. Ads on Twitter can be incredibly powerful, and here's why: Twitter's public API makes it possible to easily create lists of users that are discussing a certain topic. Marketers can even identify users with specific intentions, by using search terms such as: "I want [enter any product type]". Lists of usernames can then be uploaded to Twitter Ads to create custom audiences to which marketers can communicate highly tailored messages. Conversely to Facebook, Twitter has not spoon-fed us targeting tools, but they have maintained an open culture that greatly empowers savvy markers. This blog post is a really good resource for getting better at targeting Twitter ads. In addition, Twitter cards now allow marketers to increase conversions and display more rich and engaging content than a mere 140 characters.
Keep an eye out for Snapchat
Snapchat's growth has been incredible to witness. As of May 2014, over 700 million photos and videos were being shared per day on this platform. Although they have not released how many monthly active users they have, such large traffic would suggest they could be larger than Instagram, which currently has 300 Monthly active users. With the introduction of Snapcash, Snapchat's Venmo-like money transfer service, Snapchat has at the very least shown that it will evolve considerably in the near future. One year from now, Snapchat is likely to have significantly more and diverse features than it has now. Marketers that are capable of capturing a significant audience on this platform will likely gain considerable returns.
Creative Data Collection will be key
There are a surprisingly large and growing number of tools that empower non-coders to collect data and insight about online behaviors, and most of them are free. In the past month alone, for example, we have used this Google Spreadsheets add-on to append number of followers to a list of Twitter users. We have used the Kimono Labs Chrome extension to scrape a list of accounts from a landing page. And we have used IFTTT recipes in more ways than we can remember. All of these are free tools that require no developer knowledge. Successful marketers will be those who can think creatively about ways to learn more about their target audiences by efficiently collecting data.
What does this all sum up to? The role of the marketer is shifting quickly to encompass far more than it traditionally has. In addition to effective communication, marketers will be called to understand new and changing platforms, collect and analyze data, and find new tools to work more efficiently.
High-quality, rich content will win over quantity, and informed, data-driven decisions will determine success.
Popular in the Community