"Saudi cleric says chatting online is haram" (religiously banned in Islam).
According to Saudi daily al-Eqitisadiya, Sheikh Abdullah al-Mutlaq, a member of the Saudi Committee of Senior Scholars, said that chatting online through social networks falls under the forbidden "khulwa" (a religious term describing a situation where a man and a woman are alone in a private area).
Sheikh al-Mutlaq, speaking on a local Saudi radio show, warned that "the devil would be present when women talk to men" and urged women not to talk to males, even if the purpose of the discussion is to obtain guidance and advice.
A jarring contrast to this year's Arab Media Forum organized by the Dubai Press Club with an agenda focusing on where media are heading, sedition, sectarianism, and whether the proverbial Arab Spring had become an Arab Autumn.
"Autumn is a loaded word," insisted Mamoun Fandi, director of the London-based Global Strategy Institute, noting that non-government media in his native Egypt were not private or truly independent since their shares were not sold on the stock market.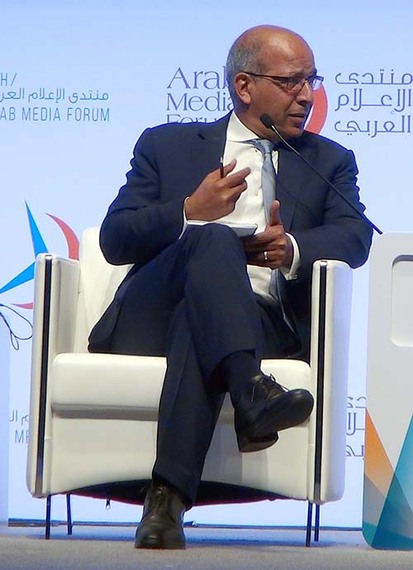 Mamoun Fandi (Abu-Fadil)
Co-panelist Abdallah Shaiji, chair of Kuwait University's political science department, said there was media chaos in the Arab world following revolts of the past three-plus years.
"Children, not just youth, are using media: all you need is initiative," said Mohamad Al Hammadi, editor in chief of the United Arab Emirates daily Al Ittihad.
This initiative is driving legacy media to seek innovative ways to reach audiences across a proliferation of platforms and formats, with increasing reliance on digital and virtual newsrooms.
Enter the Arab world's first futuristic intelligent newsroom inaugurated at the forum where journalists can replace telephones and writing tools with touch screens and video walls to collect, curate, edit and disseminate their reports.
Egypt's president-elect Abdel Fattah El Sisi also made an indirect appearance at the event where participants flocked to see and meet his biggest cheerleader.
The woman made famous by a viral YouTube video in mangled English dubbed "Shut Up Your Mouse Obama," slamming U.S. President Barack Obama for backing deposed Egyptian president Mohamad Morsi, and praising Sisi, created a buzz when she appeared at the convention.
A participant in one session, echoing other members of the audience who felt Mona Al Beheiry didn't belong in the gathering of media professionals, referred to the woman as uneducated and a poor example of "new media's" marginalization of traditional outlets.
To which Al Beheiri objected saying she may not be well educated but had every right to express her views.
A talk show host later said the woman capitalized on being in the spotlight by demanding $300 per TV interview.
Another key issue at the forum was online incitement to violence along religious lines and via mushrooming Arab satellite channels and ways to control, or minimize, it.
"Sectarian sedition is the greatest danger to the Arab world," said Mustafa Agha, an anchor on the Saudi-owned MBC channel, adding that whoever speaks the truth to criticize it pays a price.
An editorial in Dubai-based Gulf News said experts and observers had expressed concern about extremist political groups' growing ability to spread insurrectionary messages and exhortations through the virtual world.
"While laws and government regulations have a role to play in containing this contagion, what will restore the equilibrium between cyber wars and real-world resolutions for peace is heightened awareness among the youth and women on the machinations of the virtual world," it said.
Various panelists openly criticized Qatar's Aljazeera network for fomenting trouble in the region and backing Egypt's outlawed Muslim Brotherhood.
Conspicuously absent from this year's forum were Aljazeera editors, anchors and correspondents who had previously spoken at the event or presented prizes at its Arab Journalism Award ceremony capping the two-day extravaganza.
A session entitled "Qualifications: Pretty Face" stirred a hornets' nest of comments, among five attractive female TV presenters on the panel as well as the audience, on whether beauty queens' and supermodels' looks trumped qualifications as anchors or light fare stars.
"Some people think if a woman is beautiful she can't be intelligent, and I'm against this portrayal and persecution," opined Nadine Njeim, a former Miss Lebanon who appears on a popular TV show, noting that her looks hadn't barred her from setting up an IT company, speaking four languages, and acquiring two university degrees.
Other sessions included discussions on the future of media in general and news in particular, as well as a workshop tying academic offerings and achievements to the job market.
Calling all HuffPost superfans!
Sign up for membership to become a founding member and help shape HuffPost's next chapter